GEORGIA — Three local teams earned championships at the Georgia High School Association golf state finals held at several courses May 17-18.
The Lambert girls continued their dominance of the competition in the state's highest classification, winning their seventh state championship in the last eight years. The Johns Creek boys also extended their championship streak to five, and the Milton boys won their second state title and first in nine years.  
Several other local teams had strong showings at the finals.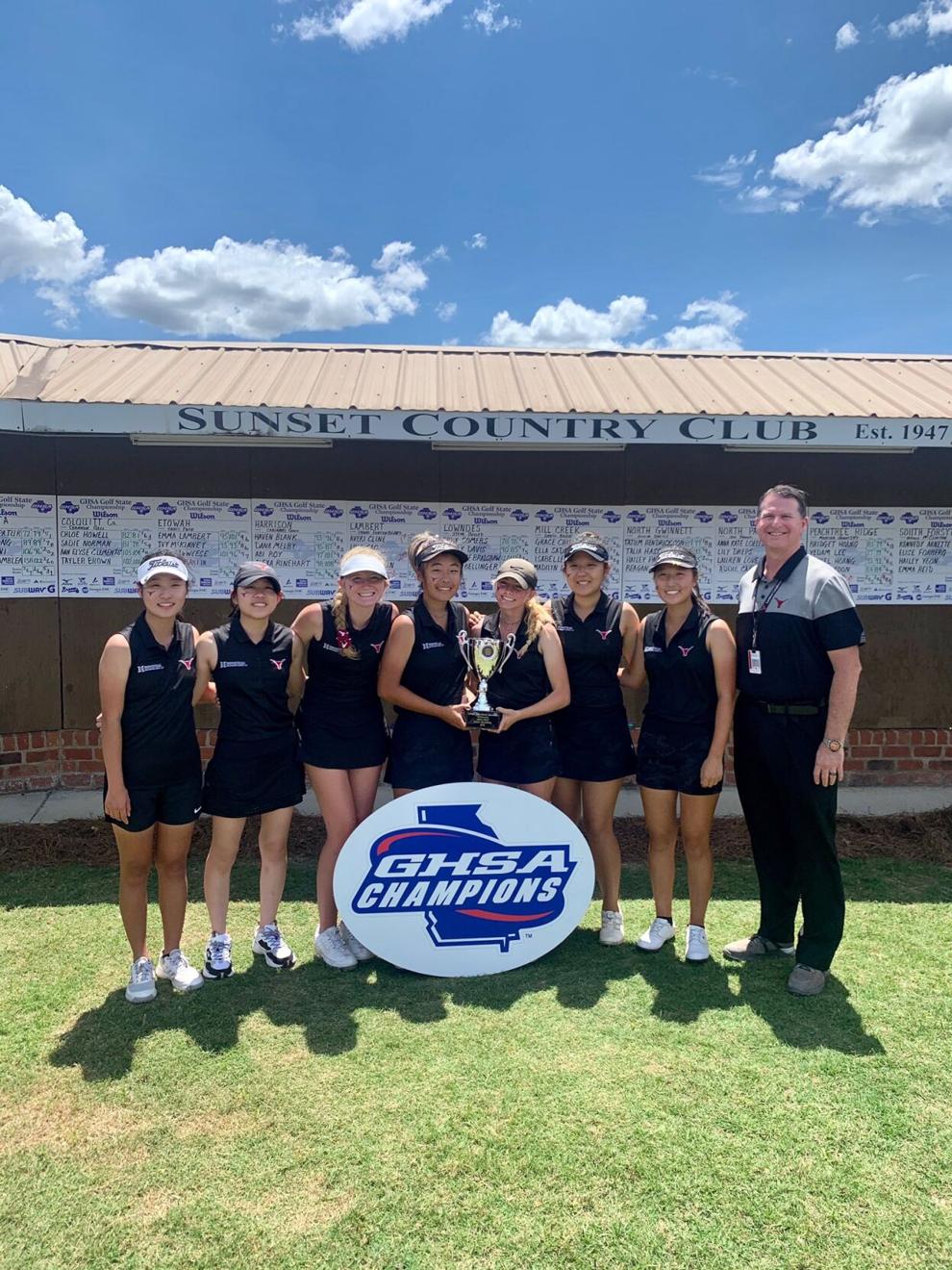 Class 7A boys
Milton boys golf led throughout the Class 7A boys finals at Spring Hill Country Club in Tifton, outpacing the field by 16 strokes to capture the program's first state championship since 2012.
The Eagles finished the two-day tournament at 22-over-par, 16 strokes ahead of Lambert and more than 40 strokes ahead of West Forsyth in third.
Milton led by nine strokes after the first round and cut their team total by six strokes in the second day of play.
The Eagles were led by three golfers placing in the top-5 in individual play, including a low-medal win by Craig Long, who shot a 73 and 72 for a 1-over-par finish.
Long had six birdies, 23 pars and seven bogies through the tournament to beat the field.
Teammate Rahul Rajendran started the second round tied for seventh and improved his second-round score by five strokes to take second at 3-over-par. Will Jones tied for fourth at 5-over-par through both rounds.
Mason Fundingsland rounded out the Eagles' scoring with a 13-over-par performance, good for 16th overall.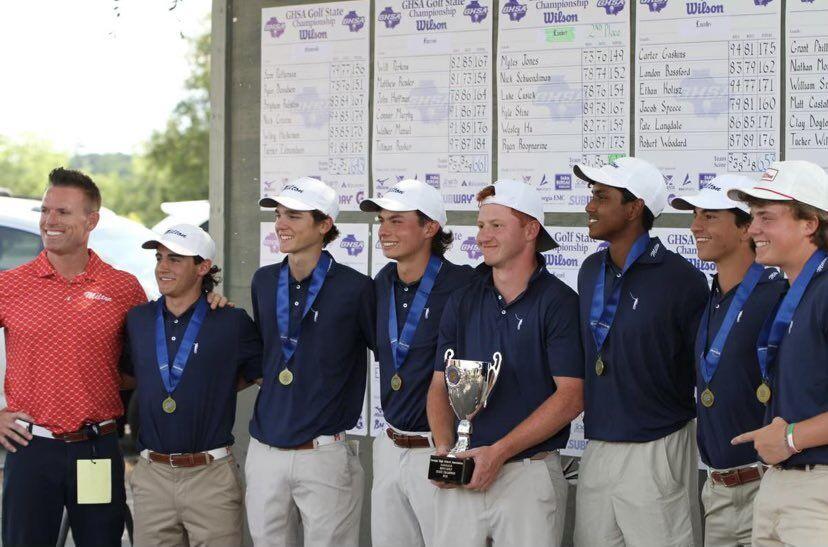 Though Lambert couldn't keep pace with Milton, the Longhorns bested the rest of the field by 25 strokes to finish as state runner-up.
Lambert had all four of its scoring players place in the top-20, led by Myles Jones, who tied for fourth at 5-over-par. Nick Schwendiman was ninth, Luke Cusick tied for 11th and Wesley Hu improved his second-round score by five strokes to finish 18th.
West Forsyth, the 2019 Class 7A champs, earned another podium finish this year by placing 25 strokes behind Lambert for third.
Jimmy Coleman led the Wolverines, tying for seventh at 7-over-par.
Roswell improved its second-round team total by 14 strokes to place seventh overall in a logjam of teams. The Hornets were edged by Lowndes by one stroke but beat out North Gwinnett by a single stroke to take seventh.
Roswell's Tommie Methvin and Julian Krone tied for 19th.
Class 7A girls
The Lambert girls continued their dynasty with the program's seventh championship in eight years and left no doubt during the state finals at Sunset Country Club in Moultrie. The Longhorns outpaced the field by 21-strokes in each round to finish at 10-over-par, 42 strokes ahead of Peachtree Ridge.
The Longhorns nearly had a perfect tournament with their four scoring players all finishing in the top-5 in individual play.
Averi Cline defended her crown as the low medalist in 7A girls competition, shooting a 73 and 72 for a 1-over-par finish with eight birdies, 19 pars and nine bogeys.
Cline beat out teammate Sara Im, the individual state runner-up at 4-over-par, who shot two rounds of 74. Iris Cao completed the podium sweep for Lambert with a 5-over-par finish.
Sharon Mun rounded out the Longhorns' scoring with a 9-over-par performance, good for fifth.
Alpharetta placed fourth in team scores, finishing three strokes behind Colquitt County. The Raiders' Mahima Vurupatur led the field after the first day of competition at even, with a 79 in her second round, placing her fourth overall.
South Forsyth entered the second round tied for ninth, but the War Eagles improved their second-day total by 10 strokes to finish sixth. Kennedy Arnette led South with a 22-over-par performance to place 12th.
Forsyth Central's Samantha Dewendt competed as an individual and shot an 84 and 88 to tie for 17th.
Class 6A boys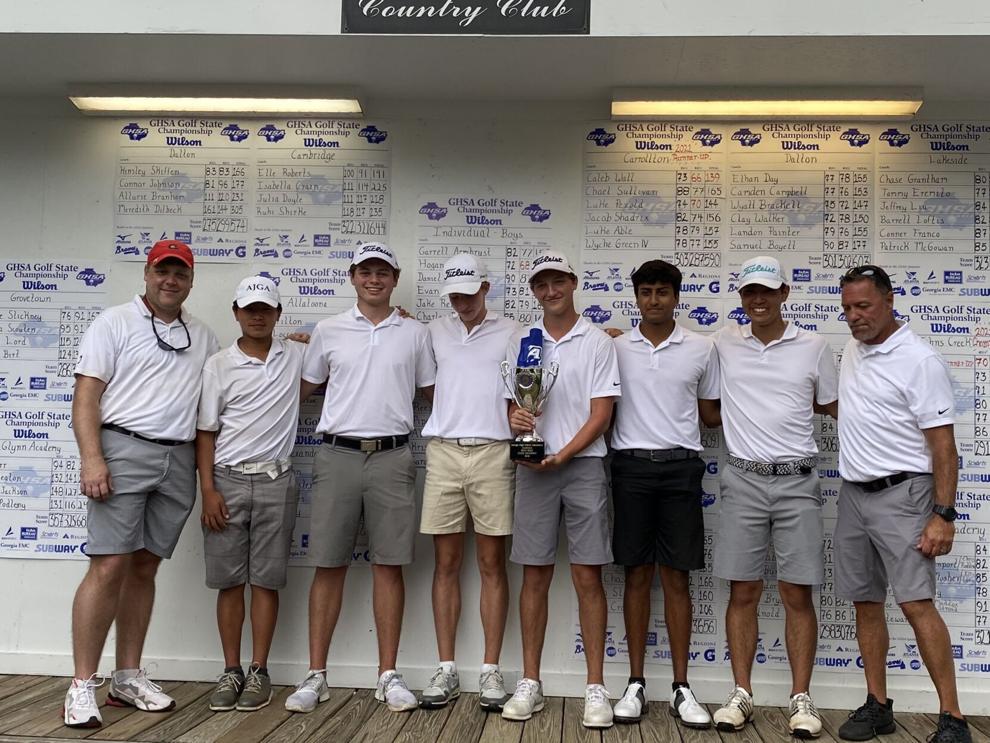 Johns Creek now has a handful of consecutive championships. The Gladiators took their fifth straight 6A championship May 18 at Sunset Hills Country Club in Carrolton. Johns Creek is the fourth team to win five straight championships in boys golf since 2002.
Johns Creek led the field by seven strokes after the first round, ahead of North Fulton foes Cambridge, but they improved on that round by nine strokes in the second day of play to beat hosts Carrollton by 17 shots.
Devel Patel led the Gladiators and finished second overall at 5-under-par. Patel improved on his first round by three strokes to edge a Carrollton golfer for state runner-up.
Teammate Bruce Murphy placed fifth, Taiki Miyagi was ninth and James Baker tied for 12th to round out Johns Creek's scoring.
Cambridge's second-round total increased by nine strokes, but the Bears still captured a fourth-place finish in team scores, two strokes behind Dalton and two ahead of Creekview.
The Bears were led by Jake Peacock, who shot two rounds of a 1-over-par 72 to tie for seventh. Teammates Patrick Burns (T12) and Clay Taylor (T19) also placed in the top-20.
Class 6A girls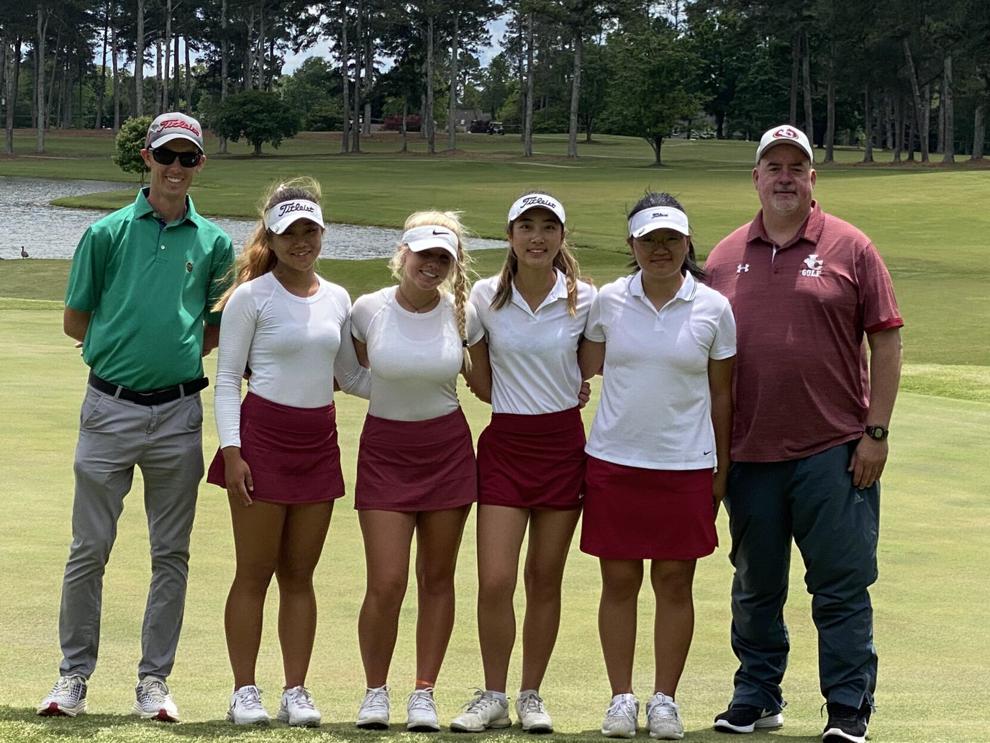 The Johns Creek girls fell short of their third 6A state championship in four years but still earned hardware finishing as state runner-up. The Gladiators shot 64-over-par over the two-day tournament at Sunset Hills, 10 strokes behind champions Creekview and 16 strokes ahead of Carrollton.
Kate Song placed second in individual play for the second straight year. Song improved on her first-round score by eight strokes to finish the tournament at 6-over-par, five strokes off the low-medalist.
Ella York knocked off seven strokes from her first round to finish alone in 13th, four strokes ahead of teammate Gen Wu who tied for 15th.
Cambridge placed 10th in team scores in the 12-team tournament. The top four scores for the Bears shot two rounds of 322 to finished at 218-over-par. Elle Roberts led the team with rounds of 100 and 91 to tie for 26th.
Centennial's Elizabeth Powell competed as an individual and earned a strong finish at 6th, making her the highest non-team player in the tournament. Powell was ninth after the first round and improved her second-day total by a stroke to finish at 21-over-par.
Class 5A boys
Northview competed in its first state finals since moving down to Class 5A and earned a top-10 finish at Green Island Country Club in Columbus.
The Titans scored a 342 in each round, resulting in a 116-over-par finish, five strokes ahead of Union Grove.
Kevin Park led Northview with a 24-over-par performance to tie for 36th. Teammate Jack Lazewski was a stroke behind and tied for 40th.
The Blessed Trinity boys also competed at the 5A tournament and placed 11th in the 12-team field.
Class 5A girls
The Northview girls also competed in their first 5A finals tournament at Green Island and had a strong showing to place second. The three-time state champion Titans finished at 53-over-par, nine strokes behind champs Woodward Academy.
Northview's Erica Scutt placed fifth with an 11-over-par performance.
All four of the Titans' golfers placed in the top-20. Alicia Choi improved on her first-round score by six shots to place ninth, Lauren Siegel tied for 13th and Julia Yun-Thayer tied for 17th.
The Blessed Trinity girls placed 33 strokes behind Northivew and earned a fourth-place finish. The Titans cut 14 strokes off their first-round total to finish 13 shots ahead of Calhoun.
Allie Kantor was the low-scorer for Blessed Trinity, shooting 9-over-par. Kanto shot an 81 in the first round but improved by seven strokes on May 18.
Class-A Private boys
No local teams competed in the boys Class-A Private finals, but Jack Schoenberger of King's Ridge had a strong showing in individual play.  
Schoenberger was tied for seventh at 1-over-par after the first round of play and improved on that mark by three shots in the second round to finish sixth overall. The junior had one eagle, six birdies, 22 pars and seven bogeys in the tournament at Heritage Golf Links in Tucker.