ALPHARETTA, Ga. — Juniors at Valor Christian Academy who have interest in a career in the medical field, developed and led learning stations for first grade students Feb. 14.
The learning stations featured hands-on activities focused on the ears and eyes.
The workshop was organized through Valor Christian Academy's Diploma of Distinction program, which provides high school students an opportunity to receive credit for further study, research and experience in their area of interest. The school creates a space in students' schedules for internships.
Because of the program, Head of School Jennifer Gastley said one student will be a licensed pilot by the time he graduates.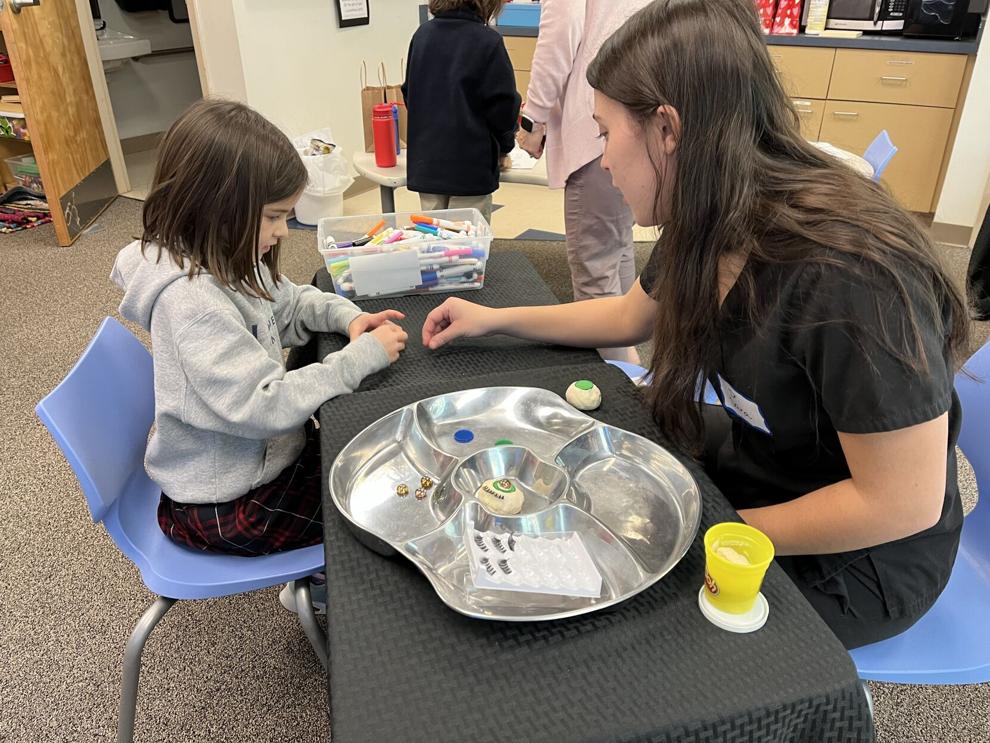 Gastley said Valor Christian Academy is one of the least expensive private schools in the area. Parents pay $10,500 for a full-time, 12th grade student at Valor Christian Academy. Meanwhile, Mount Pisgah Christian in Johns Creek asks for $25,095 annually for upper school students.
Opened in 2020, Valor Christian Academy on Kimball Bridge Road combines a hybrid school named Legacy Community Academy and a traditional school named Bridgeway Christian Academy.
"What we realized is that students learn differently, and not everybody needs to be sitting in a building five days a week learning," Gastley said.
Students are given many options. They can be hybrid, receiving education at home and at school. They can go the traditional route, attending five days a week. High school students use Friday as an independent learning day, Gastley said, which helps them prepare for the college experience.
Parents can also do home school and pay Valor Christian Academy for a curriculum and standardized testing.
In the fall, the school is launching a fully virtual school program, but has one student piloting the program now.
More plans are in the works. Next year, Valor Christian Academy is rolling out a tiered special education support program. Special education is hard to come by in private schools, Gastley said, because there's often not a mandate for private schools that they have to meet student needs.
"[Valor Christian Academy] is kind of like a one-stop shop for all modes of instruction," Gastley said.