CUMMING, Ga. — Forsyth County high schools are well represented on U.S. News and World Report's list of "2021 Best High Schools."
In its annual ranking, the magazine reviewed data from nearly 24,000 public high schools across the country and ranked approximately 18,000. The publication has compiled the annual list since 1985 using a range of factors including college readiness, math and reading performance and graduation rates.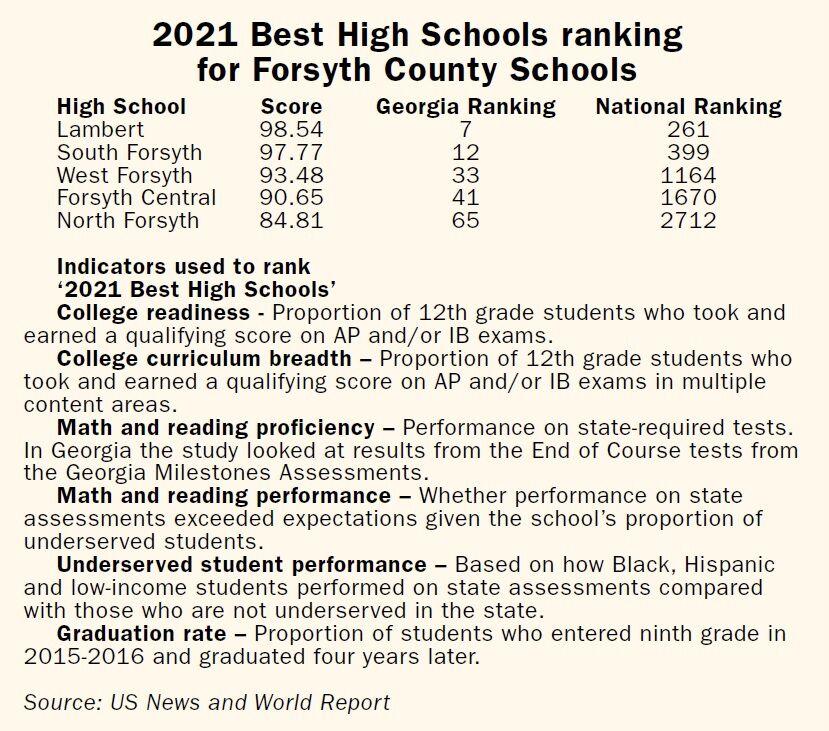 Topping the list for Forsyth County schools is Lambert High School which ranked 261 nationally, followed by South Forsyth at 399, West Forsyth at 1,164, Forsyth Central at 1,670 and North Forsyth at 2,712.
The district's two newest high schools, Denmark and Alliance Academy for Innovation, were not eligible to be included in the 2021 U.S. News ranking. Data for this year's list drew from data covering the 2018-19 school year.
Statewide, Lambert placed as the 7th best high school in Georgia out of 426 public high schools. South Forsyth was ranked 13, with the remaining high schools ranked in the top 15 percent of public schools.
"We congratulate the staff and students of our five high schools for being included in U.S. News' top 65 high school list for Georgia," said Jennifer Caracciolo, director of communications for Forsyth County Schools. "This recognizes their commitment to having all students graduate and be college and career ready."
She said the district has the highest graduation rate for county school systems in Georgia at 94.6 percent.
While the national rankings have been compiled for 35 years, U.S. News significantly changed the criteria in 2019 to open the survey to more schools, including charter and magnet schools.
Prior to 2019, only about 14 percent of the nation's public high schools were evaluated, based primarily on performance and participation in Advanced Placement and International Baccalaureate exams. Today, any public high school with at least 15 students is eligible.
A statement from U.S. News noted the publication "wanted to greatly expand the number of schools that are evaluated so that there is broader differentiation among all high schools, not just those that are top performing."
Also gone are the familiar gold, silver and bronze medal categories for schools. Instead, U.S. News numerically ranks the top 75 percent of the schools nationally, and it lists the bottom 25 percent alphabetically along with the ranking range.
Schools are now assigned a 0-100 percentile scoring system. Lambert High School has a score of 98.54, which means fewer than 2 percent of all schools nationally scored higher.
Private schools are not included in the rankings because most do not give statewide accountability tests, such as the Georgia Milestones Assessments, which are federally mandated for public schools.
Statewide, Georgia's percentage of schools in the top 25 percentile of the nation puts it closer to the top of the list than the bottom. Georgia is ranked 21st out of the 50 states and Washington, D.C., with nearly 25 percent of its 426 public high schools ranked in the top 25 percent nationally.
Among Southern states, Georgia is behind only Florida, which is ranked 6th in the nation with 36 percent of its high schools in the top 25th percentile. Topping the list of 50 is Massachusetts with nearly half its high schools making the top 25 percent. At the bottom is Maine, which researchers noted did not provide sufficient test scores to be adequately evaluated.
View the entire report at: usnews.com/education/best-high-schools.