SANDY SPRINGS, Ga. — After more than two years of research and public engagement, officials have approved a plan to make Roswell Road in Sandy Springs a "pedestrian and bike-friendly boulevard" through a sweeping set of safety improvement projects and roadway upgrades.
The Roswell Road Access Management Plan, presented to the Sandy Springs City Council at its Feb. 21 meeting by Traffic and Transportation Unit Manager Kristen Wescott, seeks to address safety concerns on Roswell Road, which had 11 fatal crashes and 29 "life-altering" injury crashes between 2015 and 2019.
Safety concerns
According to Nithin Gomez, senior transportation engineer with the design firm Gresham Smith, one in every four crashes on Roswell Road results in a serious injury, which is double the statewide average for similar roadways.
Gomez, who presented a draft of the plan at the council's previous meeting on Feb. 7, said Roswell Road's startling crash statistics and a list of risk factors were identified by a safety study conducted during the planning process.
More than any other factor, Gomez said the largest risk identified by the study was from traffic in and out of driveways on Roswell Road. Of the fatal wrecks reported on Roswell Road, 33 percent occurred while vehicles were entering or exiting the roadway.
The study also concluded Roswell Road's long two-way turn lane, numerous "curb cuts" and the lack of pedestrian crossing opportunities were also risk factors likely causing wrecks.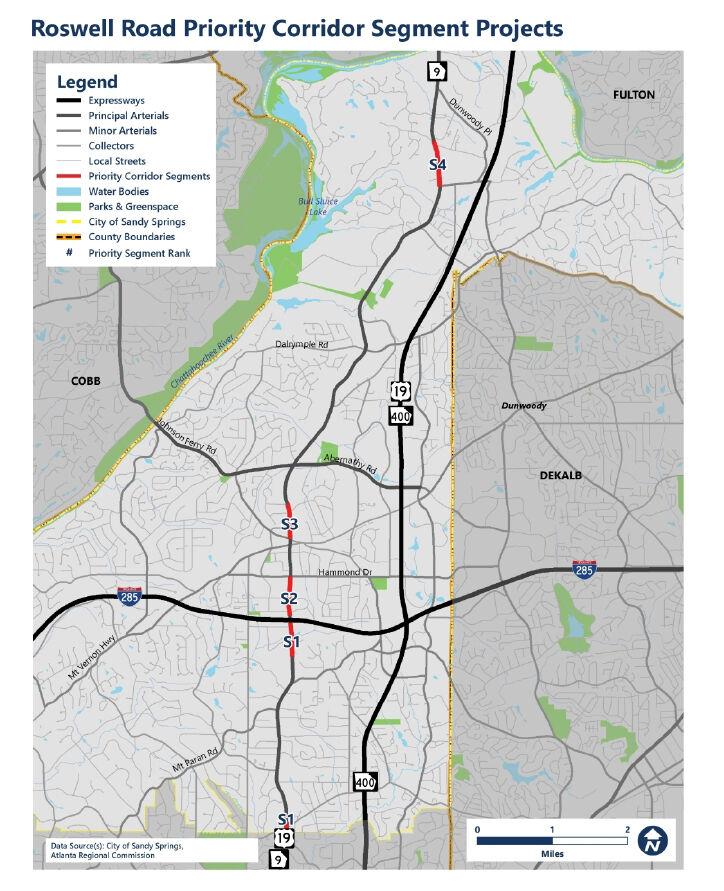 To fix these issues and make the road safer for drivers and pedestrians, Gomez said the plan recommends eliminating the two-way turn lane and building restricted turn lanes with a raised median at four sections of Roswell Road, from just south of I-285 up to Hightower Road.
It also recommends building five mid-block pedestrian crossings at Lake Placid Drive, Trowbridge Road, Mystic Place, Northridge Parkway and Dunwoody Place, he said.
Additionally, the plan would provide guidance on how the projects should be completed as the plan progresses and recommends updating the city's development code to reinforce the plan's mission.
"Even though we are prioritizing four segments … We want to be prepared for these other projects which might take much longer than capital projects to happen," he said. "Reinforcing why access management is good, why medians should be considered."
Community members respond
At the Feb. 7 meeting, Sandy Springs residents and officials voiced concerns about how projects proposed by the plan would affect those who use Roswell Road for their daily commutes.
Residents in multiple neighborhoods along Roswell Road said they fear the new restrictive turn lanes will prevent them from turning into their neighborhoods easily, forcing them to drive out of their way to get to and from home.
"Obviously we need to keep them safe, but we don't want them to have to go take a trip around the country to get back home," District 3 Councilwoman Melissa Mular said.
Mular said whatever is built for the project will need to utilize "smart design" to make sure those residents' fears don't come true.
District 1 Councilman John Paulson asked whether similar improvement projects completed by the city have reduced crashes and whether making it harder for people to turn on Roswell Road has had a negative economic impact on nearby businesses.
Paulson said the city previously extended a raised median preventing some turns at a Roswell Road shopping center, and now the shopping center appears to be struggling.
"Is it struggling because of our island?" he said. "I'm sure it's safer because nobody's turning that way now, but still, if we're causing a struggle to that shopping center, that'd be what I'd be interested in looking at."
Speaking to both concerns, Wescott said the plans they have developed can be refined with more community engagement once they reach the concept stage. For other parts of the project, which might not be completed for 20 years, they will need flexibility to adapt to the changes those years will bring, she said.
"We have so much changing technology with vehicles … we don't even know what it's going to be like five years from now," she said.
After a brief discussion at the Feb. 21 meeting, City Council approved the Roswell Road Access Management Plan with an addendum preserving public and officials' comments "for future consideration and action."