SANDY SPRINGS, Ga. — When she paints, Fran Scher says she is an observer.
"It's totally a journey. It's totally intuitive," Scher said. "Every stroke informs the next stroke."
Her abstract work, on display at Sandy Springs City Hall, takes on a pastel color palette, indicative of spring, but broken up with dissonant strokes of black. A Sandy Springs resident, Scher has had her paintings showcased in local Atlanta galleries and in collections around the world.
Around 50 people attended the gallery's opening reception May 3. City Hall's lobby serves as a rotating art gallery and changes every quarter. Scher's paintings will hang through the beginning of August.
Starting with paint-by-numbers as a child, Scher went on to become an arts education teacher. But she always painted "here and there." While her kids napped, she would go to the basement to paint. Scher got involved in painting groups when she moved to Atlanta and began submitting her work, with more courage.
Scher, 77, described her experience in painting "abstract reality," or what is more representative. Maybe the painting would be of a dog or a person, she said, but technical elements would be broken apart.
In the current display, more searching may be required to find some semblance of reality. But if you stare at it long enough, you might see familiar figures, and in some, they perform familiar actions.
With any painting, Scher said viewers bring their own experience to interpretation, but perhaps more with abstract work.
"When you look at an abstract painting, each time you might focus on something else, and see things differently," Scher said. "But the painting hasn't changed. It's the viewer that changes the painting."
Scher said abstract work allows for more self-expression. Unlike photorealism, she said her work is more whimsical. But she said abstract is still difficult, and she keeps in mind good composition that has a focal point where the eye can rest.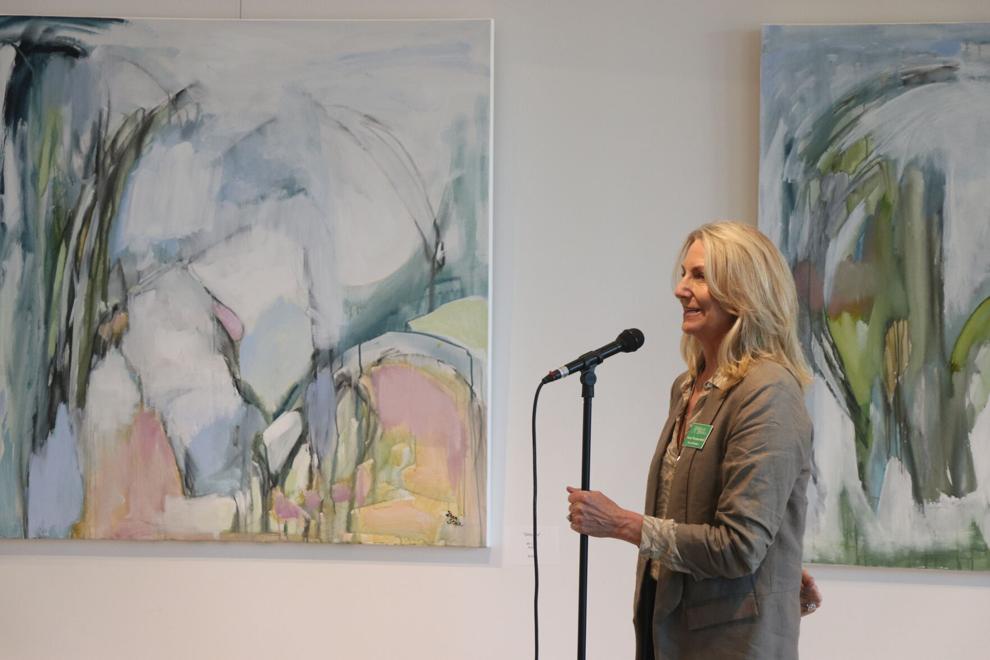 In remarks to the reception crowd, Sandy Springs Mayor Rusty Paul spoke about the growth of the city's arts community.
"What is our mark? How are we different?" Paul asked. "So, we decided … we wanted to build a real arts community and really salute the arts and be known for the Arts Center on the north side of the metropolitan area."
Paul said the city started to establish itself as a performing arts center but didn't want to stop there.
"The visual arts are just as important," Paul said.
Susan Westmoreland, board member of Art Sandy Springs, spoke about Scher's work. Westmoreland had been a friend of Scher's for around 20 years, painting alongside her.
She recalled an eccentric Scher, shorter in stature, walking into a class carrying a canvas bigger than her body. Scher brought out a matted, decades-old brush, Westmoreland said, and would add unpredictable colors.
"She feels her way through the painting, and it shows," Westmoreland said. "It's just beautiful."