During World War II, more than 6 million women worked in factories, 3 million volunteered with the Red Cross, and more than 200,000 served in the military. Women's auxiliary branches were established, including the Women Air Service Pilots, Women's Army Corps, and Women Accepted for Volunteer Emergency Service. Women worked in Washington D.C., as codebreakers.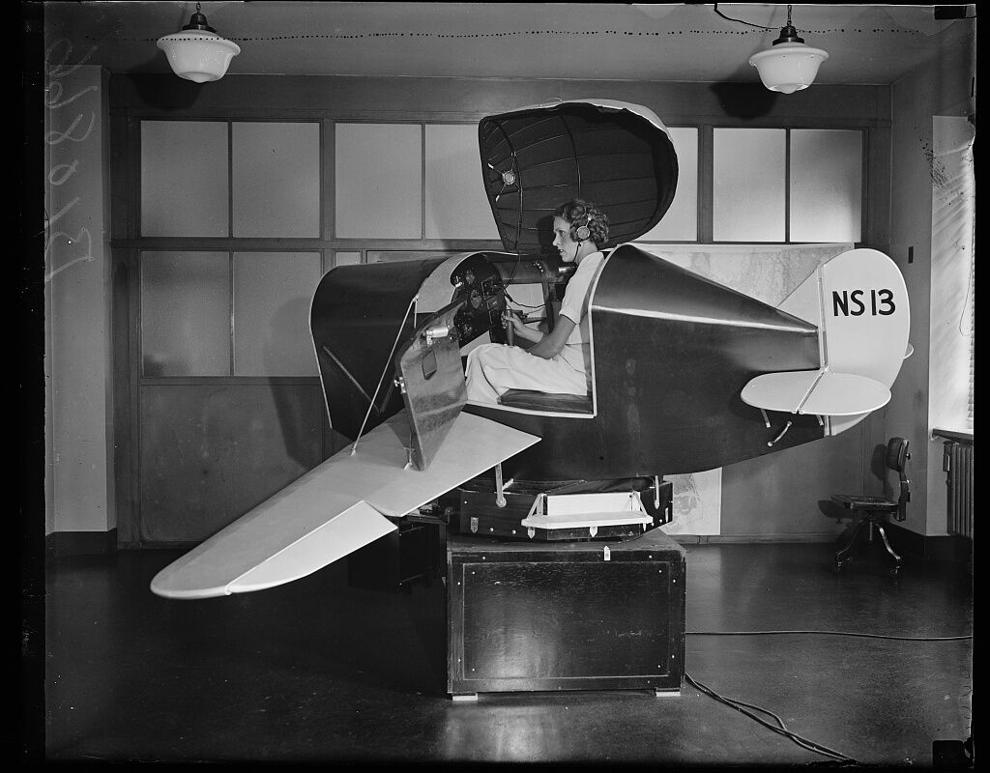 I recently discovered the work women did at Naval Air Station Atlanta. An Atlanta Constitution article published in September 1942 announced the first Link flight trainer school with women instructors at Naval Air Station Atlanta. The women would be teaching navy pilots blind flying using the Link trainer machine.
The World War II base was located on the same land which was home to Camp Gordon during World War I and today is DeKalb Peachtree Airport in Chamblee.
The Link trainer machine was invented by Ed Link in 1928, a barnstorming flyer from New York State. His invention was a miniature plane with a cockpit and all the controls of a full-sized plane. The conditions of flight were simulated to allow pilot trainees to learn how to fly with no visibility using instruments only. The training was known as "blind flying." (The Spokesman Review; Spokane, Washington, April 14, 1941, "Pilot Training Gadget Marvel")
Several of the first women to arrive at the base and prepare to become flight instructors were from Atlanta, but they also came from other cities in Georgia, as well as Alabama, New York, Minnesota and Texas. The women ranged in age from 19 to 40. Jean Flynt, a recent graduate of Agnes Scott College, was one of those women.
Paula Lind, who supervised the women, was a qualified flight instructor with 275 hours of flying time before World War II. She took her first course in Link training in 1934 and was considered an expert on the Link trainer by 1942.
Naval Air Station Atlanta had a row of Link trainers set up at the base. The reported cost of each machine varies between $10,000 and $20,000.
By 1943, other naval air bases were building barracks and preparing for women Link trainers. Bases in Lakehurst, New Jersey, Norman, Oklahoma, and Memphis, Tennessee, purchased Link trainers and brought in women to train their pilots.
World War II veteran 2nd Lt. Joseph Armstead Diblin completed Link training at Naval Air Station Atlanta. He wrote about his experience in an article, "Link Trainers helped World War II pilots with instrument flying," published in the Oct. 20, 2019 issue of The Daily Item in Sunbury, Pennsylvania.
Diblin praised the use of Link training.
"The Link operator on the outside could create engine and instrument malfunctioning for the sweating pilot under the hood," he wrote. "In my opinion, it was an excellent training device. Pilots in the military needed to be proficient in flying in the clouds and weather with no reference to how close they were to the ground or water."
Diblin died recently at the age of 103.
After World War II, Naval Air Station Atlanta continued to be used as home to the Weekend Warriors who organized and trained Naval and Marine Air Reservists. In the 1950s it became obvious that longer runways were needed, and the base moved to Marietta in 1959.
You can email Valerie at pasttensega@gmail.com or visit her website at pasttensega.com.