Naomi Liebman was born in 1946 at Neu Freimann, a Displaced Persons Camp in Munich, Germany, following World War II. Her parents, Rubin Bosniak and Marsha Yudelewska Bosniak were both survivors of Auschwitz.
In late 2019, the Sandy Springs resident traveled with Hemshech, an Atlanta group of Holocaust survivors and their families, to the U.S. Holocaust Memorial Museum. She later decided to explore the documents the museum had on her parents.
"I saw all the information that others had acquired on their family, and I finally decided to go ahead," she said.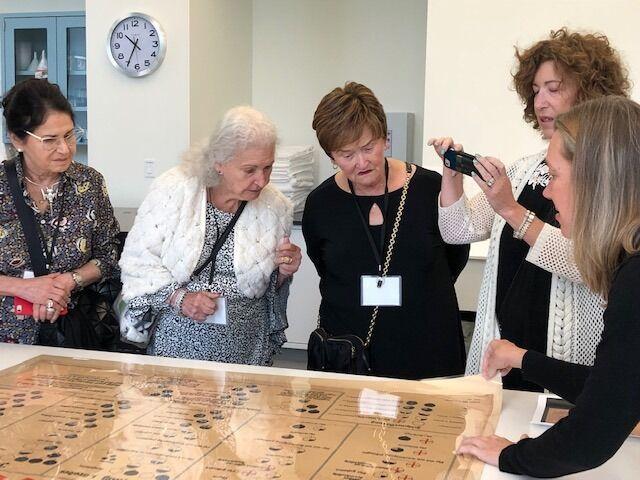 During the pandemic, Naomi communicated with the museum's Shapell Center by phone. They found records showing the date of her dad's entry into Auschwitz — Jan. 31, 1943. They also found his ID card from the Displaced Persons Camp and the passenger list for the ship that brought Naomi and her family to the U.S. Naomi was amazed at how quickly she received the information.
Rubin Bosniak married his first wife before the war, working as a watchmaker in the town of Shershev, Poland. He and his wife were taken to Auschwitz, along with his parents and siblings. His wife and all his family were killed at Auschwitz.
After the war, he returned to Shershev to look for valuables he had hidden. He was able to recover his first wife's wedding ring.
Marsha Yudelewska was also from Shershev. She was taken to Auschwitz, along with her mother, brother and his wife and children. Marsha was the only one who survived. She did not return to Shershev after liberation. She wanted to join her two older sisters who had migrated to Palestine but was prohibited from going there due to a British mandate.
Rubin Bosniak found Marsha Yudelewska on his search for people from his hometown. They both ended up at the Displaced Persons Camp, Neu Freimann.The couple married and were able to leave Germany in 1949 along with Naomi aboard the SS Marine Shark. Marsha's aunt helped them settle in Brooklyn. Later in life, the couple moved to Florida and then to Atlanta to be closer to Naomi and her family.
Naomi grew up in New York and had a career as a nurse. She married Dr. Paul Liebman. Following his service at the William Beaumont Army Medical Center in El Paso, Texas, the couple relocated to Georgia, first in Riverdale and later in Atlanta in an area that became part of Sandy Springs.
Rubin Bosniak died in June of 2005. He requested these words be placed on his marker at Arlington Memorial Park, "The only one of his family who survived the Holocaust." Marsha died six months later.
Atlanta Hemshech and the Bremen Museum in Atlanta worked along with the USHMM to explain in a recent video presentation how they acquire artifacts and help survivors and their families with research. Two YouTube videos, "Preserving Holocaust History: Collecting Oral Histories and Researching Fates" and "Preserving Holocaust History: Collecting Artifacts and Eyewitness Testimony," include Atlantans Naomi Liebman and Alli Allen.
The USHMM is reaching out to Georgians who may have Holocaust artifacts to donate, want to research their family's history, or record oral history. Virtual appointments are available. Contact Kyra Schuster, Curator USHMM, at kschuster@ushmm.org or 202-488-2649 to find out more.
Naomi Liebman is pleased with the results of her trip to the Holocaust Museum.
"Now my children have documents they can share with my grandchildren," she said. "The Museum is so essential to ensuring we never forget the lessons of the Holocaust. We are so grateful for its existence."
You can email Valerie at pasttensega@gmail.com or visit her website at pasttensega.com.