The Air-Line Belle was a commuter train that ran from Atlanta to Toccoa from 1879 until 1931. It began because the people of Norcross wanted a commuter train between their town and Atlanta. The engine was named for Belle Foreacre, wife of G. J. Foreacre, head of Piedmont Airline Railroad. Piedmont Airline Railroad was the predecessor of Southern Railway. (Atlanta and Environs II, Franklin Garrett)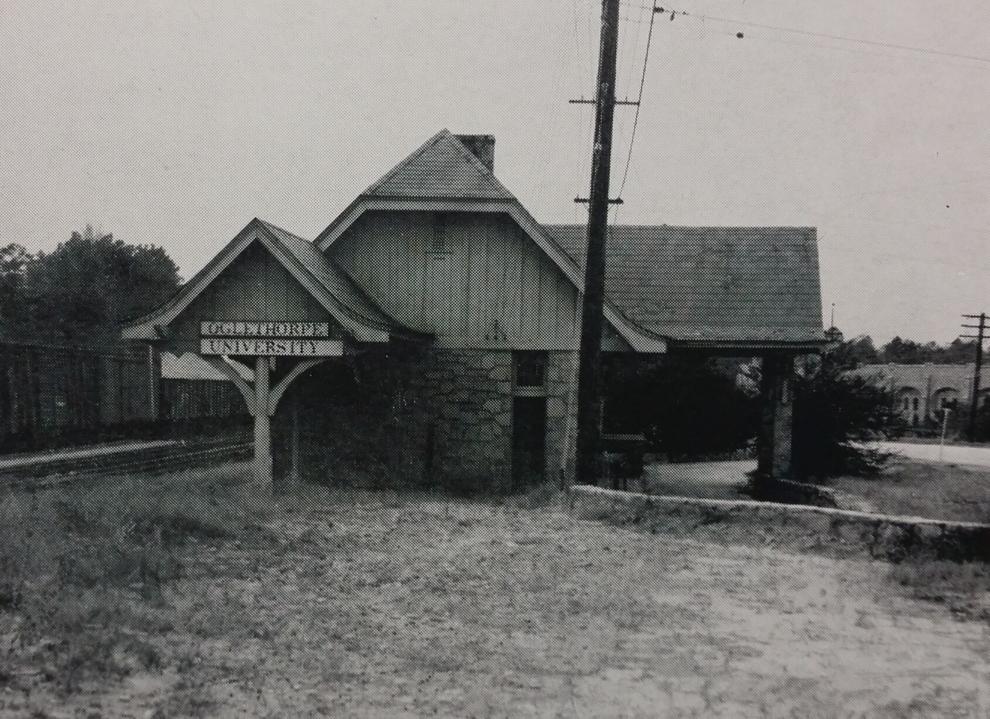 Service was soon extended past Norcross and eventually included 39 stops covering 93 miles. The Air-Line Belle would make additional unscheduled stops if someone waved it down at a crossroads, but it also skipped stops where the engineer could see that no riders were waiting.
North of Atlanta the stops included Cross Keys (also known as Goodwin's), Chamblee, and Doraville. Going farther northeast, the engine made stops at Duluth, Suwanee, Sugar Hill, Buford, Alto, Lula, Oakwood and Mount Airy-to name a few. The trip from Atlanta to Toccoa took three hours. (gainesvilletimes.com, Riders Loved to Commute on Airline Belle Rail Line, Johnny Vardeman)
Some people took the Air-Line Belle to get to work, and others rode it to shop in Atlanta. In "Living Atlanta: An Oral History of the City, 1914-1948," Clifford M. Kuhn remembers riding the train.
"We'd get the Airline Belle out of Toccoa, which was about three coaches, and a little steam engine," he wrote. "We'd come down Mitchell Street and turn there to go to Rich's, Bass's and Kress ten-cent store."
Students rode the train to attend Oglethorpe University after the school reopened in the fall of 1916. Oglethorpe University Station became the Air-Line Belle stop in Brookhaven, rather than Cross Keys. Oglethorpe University Station was also home to the new Oglethorpe post office and the offices of Silver Lake Park Company. (Atlanta History: A Journal of Georgia and the South, 1995, Paul Hudson)
James Magbee, who grew up on Peachtree Dunwoody Road, recalled the old granite Oglethorpe University station. He remembered that young men from Buford commuted to Oglethorpe University by riding the Air-Line Belle.
Albert Martin of the pioneer Goodwin family also recalled the granite depot across the street from the university. Martin remembered that the depot building was home to Pierce Antiques in the 1960s and 1970s. When the Brookhaven Marta station and track were built, the old depot was demolished.
The Airline Belle made its last trip in July of 1931. The Southern Railway took over the run and made all the same stops. However, soon more and more stops were cut, until the run was discontinued. The increase in highways, automobiles, and buses made the train less necessary. (Atlanta Journal, Air-Line Belle Makes Final Run in North Georgia, July 26, 1931)
Captain Isaac Roberts, long time engineer of the Roswell Railroad. became one of the later engineers of the Air-Line Belle. Roberts died aboard the Air-Line Belle in 1930 as the train pulled into Terminal Station in Atlanta.