Among those who made their way from Virginia and the Carolinas to Georgia in the early 1800s were soldiers of the Revolutionary War. Some came to DeKalb County and are buried in various parts of the county. 
According to "The History of DeKalb County: 1822-1900" by Vivian Price, 21 Revolutionary War veterans lived their last days and are buried in DeKalb County, including portions of DeKalb that later became Fulton County. Here is a brief history of a few of those soldiers.  
William Reeve was born in 1756 in Virginia. He served in Virginia and married Arnetta (Nuttey) White in 1781. Reeve came to the Cross Keys area of Georgia, following his son James White Reeve. William Reeve died in 1842 and is buried along with Arnetta at Nancy Creek Primitive Baptist Church Cemetery in Brookhaven.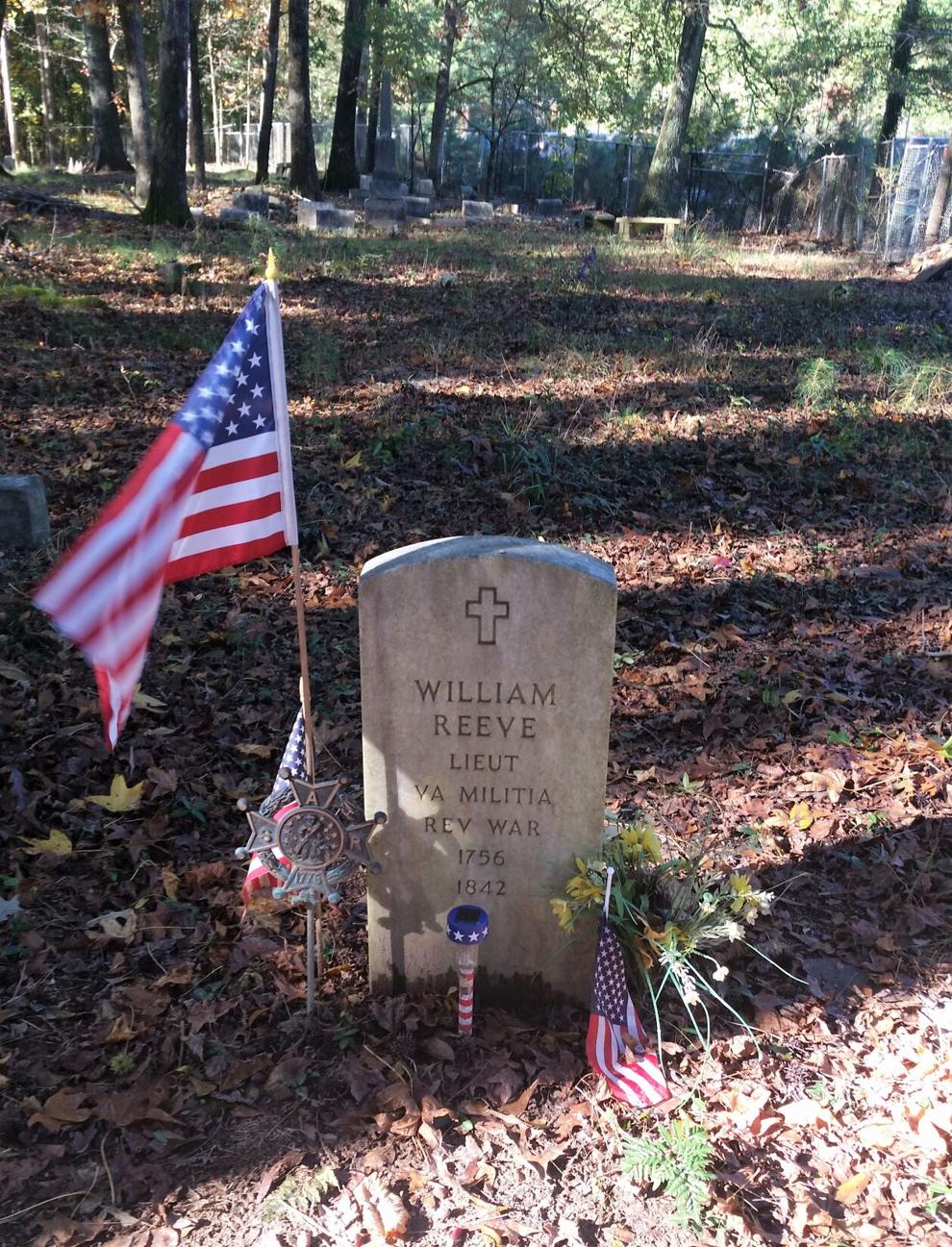 Capt. John Moffett, John Hayes and Col. James McNeil are buried in the Decatur Cemetery.  Moffett was born in Virginia and served in the South Carolina militia. He died in 1829, with an inscription on his original stone that reads "An old Revolutionary, supposed to be 87."
Hayes was in the Colonial Army of North Carolina. He died in 1839 and is buried next to his wife Mary. His headstone is inscribed with "John Hayes, Rev. Soldier."
McNeil was born aboard a ship crossing the Atlantic in 1757. His family settled in North Carolina and supported the British, but James left for Augusta, Georgia, and became a Patriot.  He and his wife Sarah moved to DeKalb County in 1830. His inscription reads "James McNeil, Colonel, Ga. Troops, Revolutionary War, 1757-1853."
John Biffle was born in Germany in 1744. He served as a private in North Carolina before he and wife Sally Ingram Biffle moved to DeKalb County. Their log cabin, discovered when the Hidden Hills subdivision was developed in Stone Mountain, was moved to Adair Park in Decatur in 1977 by the DeKalb Historical Society. At the age of 106, John Biffle died in 1850. He and his wife are buried at Macedonia Baptist Church Cemetery in Lithonia.   
Another Revolutionary soldier buried at Macedonia Baptist Church is Joseph Emanuel Lyon, born in 1754 and died about 1830. He came to America as a British soldier, was captured at Germantown, Pennsylvania, and swore his oath of allegiance to the Colonial Army.
The Lyon family home on the South River has been restored and preservation on the farm continues today. Lyon Farm is part of the Arabia Mountain National Heritage Area, which includes Flat Rock. Flat Rock was a community of formerly enslaved people. 
Four Revolutionary soldiers are buried at Fellowship Baptist Cemetery in Tucker. Edward Levell, born in South Carolina in 1756, arrived in DeKalb County in 1825. Levell died in 1832.   Peter Cash, Daniel Fones, and Graner Whitley are also laid to rest at Fellowship Baptist Cemetery. (Neighbor Newspapers, July 4, 1984, "DAR Chapter Seeking Answers to Puzzle Without Many Clues")
James Hooper is buried in the Sandy Springs Methodist Church Cemetery in Fulton County, once part of DeKalb. Hooper enlisted in 1778 in Lunenburg County, Virginia, and served as a private.  
Some soldiers were buried in family cemeteries, such as Lewis Stowers who was born in Virginia in 1764 and was a private during the war. He married Joyce Shifflett of Virginia and they moved first to Elbert County and then to DeKalb County. Stowers died in 1844 and is buried at the Stowers Family Cemetery on Klondike Road. The cemetery is located on property that is within the Georgia Power Training Center.  
As Revolutionary War soldiers' gravesites are located, markers are often placed by chapters of the Daughters of the American Revolution and Sons of the American Revolution.