It was local historian Jim Perkins who first discovered Balloon Road on an old map. He believed the road led to a hot air balloon field, located in one of the pastures owned by the Spruill family. The field would have been in the area where Perimeter Mall is today.
Ballooning was an expensive hobby, so it doesn't fit in with the lifestyle of the farmers who lived in the area. However, it does seem an appropriate hobby for those who built summer homes in Dunwoody, Sandy Springs and Brookhaven. The owners of summer homes included banking executives, department store owners and candy manufacturers. People from Atlanta may have traveled to view the balloons.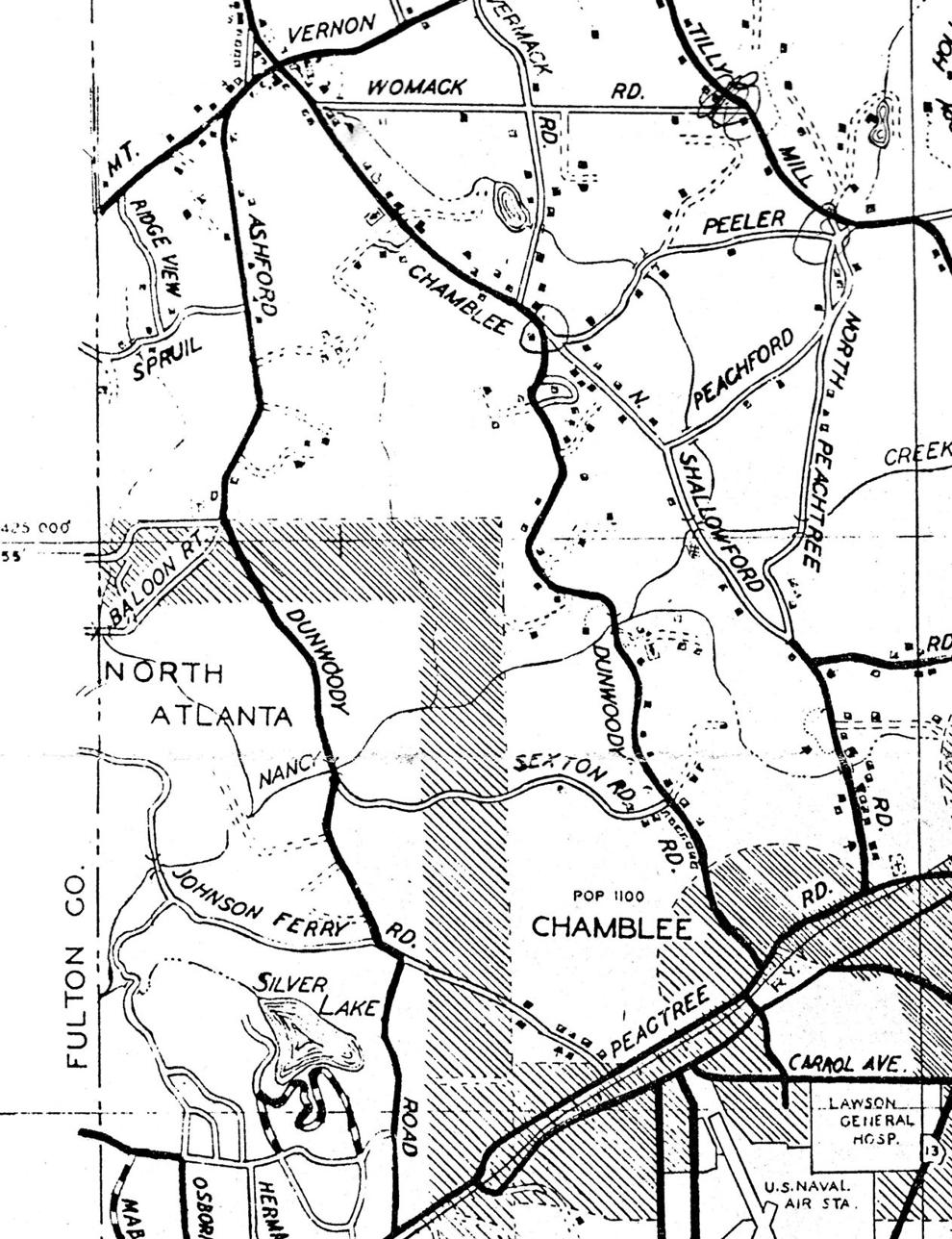 Advertisements for land in the Atlanta Constitution both in 1920 and 1946 list land on Balloon Road and Dunwoody Road, both described as being off Peachtree Dunwoody Road. In 1920, all the local roads were dirt. Roads began to be paved in the 1930s as part of the Works Progress Administration. Mount Vernon Road was not paved until 1935.
A piece of the Balloon Road remains today. It is called Old Balloon Road, located to the east of the complex that includes Emory St. Joseph's Hospital and the surrounding office buildings. It is no longer directly connected with Peachtree Dunwoody Road but does lead to Johnson Ferry Road.
The first hot air balloon flight took place in 1783 in France, launched by Jean-François Pilâtre de Rozier. Rather than people, the passengers of this first flight were a duck, a sheep and a rooster. Thanks to Sir Richard Branson's website virginballoonflights.co.uk for hot air balloon history.
James Gordon Bennett, an American journalist, founded an annual balloon race in 1906. The first race began in Paris, France. The balloons were fueled by hydrogen gas. The Gordon Bennett Balloon Trophy Races continue today. The only years the race did not take place was during World War II and 2020 and 2021 due to the pandemic. The 2022 race began in the city of St. Gallen in Switzerland.
During World War I, hot air balloons were used for military observations. The location of Old Balloon Road is near where WWI Camp Gordon and WWII Naval Air Station Atlanta were located, where DeKalb Peachtree Airport is today and extending down as far as the location of Blackburn Park. I have not found a connection yet to these military bases.
Modern hot air ballooning, when ballooning changes from gas power to hot air, began in the 1960s. Edward Yost invented a propane burner which made that possible. A successful flight occurred with the new propane burner in Nebraska.
If you have more information about Balloon Road, Old Balloon Road or ballooning in Brookhaven or Dunwoody, please send me an email.