If you have lived in Dunwoody for a long time, you probably heard the story of how the community got its name. Major Archibald Alexander Dunwody, of the Dunwody family in Roswell, applied for a post office. The post office made an error by adding an o to the name. That is almost accurate.
Post office applications are held by the National Archives and are now available online. Review of the post office application for Dunwoody, dated Oct. 19, 1881, reveals it was completed by George N. Flowers rather than Charles Dunwody. George Flowers was postmaster of Doraville in 1881. He was the postmaster there for many years, from 1871 until 1924.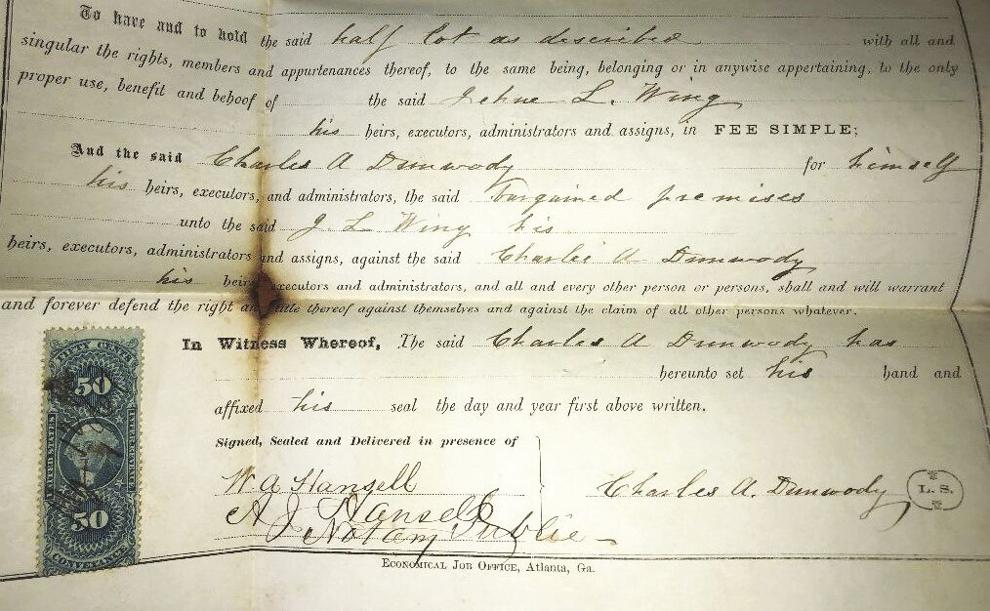 George Flowers had to answer several questions on the application, such as what post offices are nearby. His response was Roswell to the north, Atlanta to the south and Doraville to the east. He also described the nearest creek as Nancie's Creek and the most "prominent river" as the Chattahoochee.
To the question is there a railroad nearby, Flowers responded, "it is on Roswell Railroad, it is ¼ mile from Dunwoodie Station. It is a new railroad…likely to be a village. Population 250."
The railroad had just recently begun operation, probably the motivation for establishing a post office.
Charles Dunwody was an influential person in the community in 1881, making him a good choice as namesake. He was a large landowner, was instrumental in completion of the Roswell Railroad, and rebuilt the bridge over the Chattahoochee River leading to Roswell following its destruction during the Civil War.
Another question for research has been whether there were two accepted spellings of the name at the time. The name Dunwody is often spelled with two "o"s on documents that were not completed by family members, such as census records. However, documents signed by family members use the one "o" spelling. Dunwoody Preservation Trust was recently the recipient of an original deed signed by Charles Dunwody, where he signed "Charles A. Dunwody."
Charles Dunwody and his wife, Ellen Rice Dunwody, are buried at the Roswell Presbyterian Cemetery. Dunwody's parents, Jane Bulloch Dunwody and John Dunwody are buried at the Founder's Cemetery in Roswell. All their grave markers spell the name Dunwody.
To sum it up, Dunwoody is still named for Charles Dunwody, and there was a spelling error. However, the error was made by the person completing the application, not by the post office. Just a slight change to the story.