Kathryne Margaret Carpenter rode the Roswell Railroad to shop in Atlanta, traveled in a Model T, worked at Sears on Ponce de Leon Avenue and graduated from Chamblee High School in 1928. Thanks to an interview conducted by Lenore G. Whitley for the Dunwoody Crier in 1995, her memories are preserved. Carpenter was 85 years old and lived until 2004. (Dunwoody Crier archives held by Dunwoody Preservation Trust)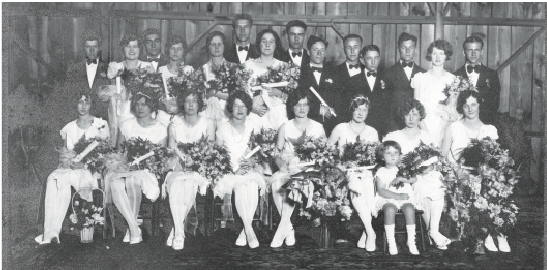 "I've only lived on this spot of ground," Carpenter shared with Whitley. The family home was on the southeast corner of Tilly Mill Road and Mount Vernon Road. Carpenter's parents were Effie Spruill Carpenter and Ambrey Carpenter Sr. She also lived with her grandmother Amanda Carpenter and older sister Lucy. Her younger brother, Ambrey Jr., was born six years later. All three children were born at home and delivered by Dr. Puckett of Dunwoody. Ambrey Sr. was born in the same 1800s home.
The Carpenters were farmers with land on either side of Mount Vernon Road and both sides of Tilly Mill Road.
According to Carpenter, "We raised all our vegetables. We just about raised everything we ate." They kept chickens, cows, and hogs. After school, she would change clothes, get some food and begin her chores. (Dunwoody Crier, April 20, 1978, "Happy Birthday Effie).
Kathryne went to Dunwoody School through seventh grade and Chamblee High School, the only high school in north DeKalb County, through 11th grade.
Before her family had a car, she rode the Roswell Railroad from Dunwoody to Chamblee and then boarded the train to Atlanta to go shopping. Ambrey sometimes drove the children to school with a mule and buggy until the family purchased a Model T in 1925. The car often got stuck in the mud on an unpaved Mount Vernon Road, sometimes requiring the children to help push.
Effie Spruill Carpenter shared with Kathryne her memory of the first car on Mount Vernon Road. The year was 1904, the same year Lucy Carpenter was born.
After high school, Kathryne Carpenter worked in the mail room at Sears Roebuck on Ponce de Leon Avenue. She considered her coworkers family and stayed in touch when she retired after 35 years.
In 1949, when Ambrey Sr. died, Kathryne and her mother built a new home where the original farmhouse sat. Kathryne convinced her mother they should rebuild to have modern conveniences such as central heat.
Effie Spruill Carpenter died in 1990 at the age of 101. Kathryne, her parents, and several other family members are buried in the New Hope Cemetery on Chamblee Dunwoody Road.
You can email Valerie at pasttensega@gmail.com or visit her website at pasttensega.com.