On March 20, 2020 I got an email from Johns Creek Mayor Mike Bodker. COVID had just started to ramp up. It was sent, I assume, to a list of subscribers to a newsletter from the City of Johns Creek. The email had a large block at the top with the headline "COVID-19 Message from Mayor Mike Bodker." It was early in the rise of coronavirus, right around the time cities in North Fulton and around the globe had started shutting down.
The email laid out some of the steps the City of Johns Creek was taking in response. Some were related to the city's administration. The city "closed City Hall, cancelled sports programs and city events through May 10, and closed athletic fields and at all city parks."
Other decisions directly affected local businesses. The city extended the deadline to renew occupational tax licenses. At the same time, it suspended indoor dining, a move that immediately hurt the owners, managers and employees of the more than 80 restaurants in Johns Creek. It could not have been an easy email to send. Voting to infringe on personal liberty is one thing. Broadcasting it is another.
And then the emails kept coming. Almost every week for the past year now I've gotten one of those messages "from the Desk of Mayor Mike Bodker."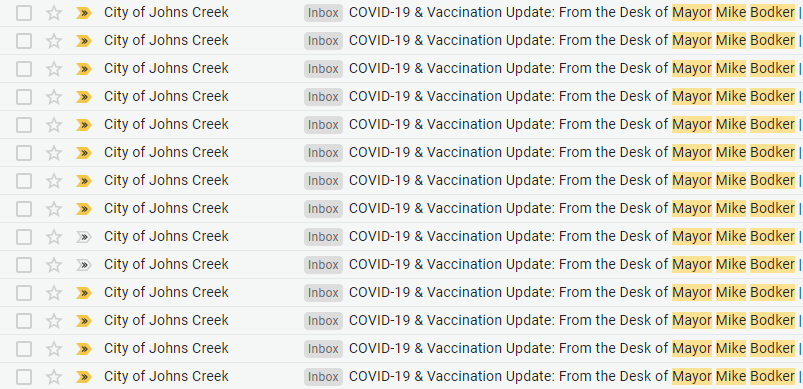 Some were positive. On Feb. 8, an email mentioned "the decrease in the number of new cases and new hospitalizations is encouraging and this is the direction we need to continue pursuing." Others were compassionate, recognizing the losses faced by many and asking residents to "work to keep our families and loved ones safe." And some remain cautionary. The Aug. 18 edition reflected that while we all expected the pandemic to be in our rearview mirrors by now, "unfortunately, it's not gone away."
Every email I read was informative. Whether the COVID data was positive or not, flattering to the city or otherwise, the updates kept coming.
Public officials know they have to make decisions that will be unpopular. It's part of the job. What is also part of the job, but not always done, is communicating honestly about those decisions.
We have seen firsthand how cities can treat information like a game of cat and mouse. City clerks and records officers will charge exorbitant fees to produce public documents. Communication directors will try to "scoop" our reporters or forbid department heads from taking their calls.
But it's not just the free press that cities fight when it comes to readily accessible information.
At a nearby public forum, I heard a council person complain about not receiving the large packet of materials beforehand. They asked the city attorney, "can we see this information earlier in the week, so we can go through it and come to the meeting prepared?" The attorney replied, "I could, but if they are prepared earlier that means they are available to the public earlier. My job is to protect you, and I'm doing that by giving you as little information as possible."
One could argue that Mayor Bodker and the Johns Creek City Council had no choice but to limit indoor seating and forbid large gatherings. But they didn't have to talk about it. They could have remained silent or shifted the blame to someone higher up the civic food chain. They could have pointed the finger at a county, state or federal official and said "our hands are tied." But they didn't. And they definitely didn't have to send emails every week reminding residents about the prickly topic, associating themselves with whatever tempestuous emotions the pandemic seems to bring out.
But they did.
Elected officials should act in the public's best interest. Their city attorneys and communication directors should do the same. Mayor Bodker didn't have to send those emails, but he did. Because it was the right thing to do.