If you haven't yet walked the early stage of the Alpha Loop, you should. It's magic, pure magic.
A few weeks ago, I spent a couple hours on a Sunday afternoon walking the Loop. I wanted to spend unhurried time simply experiencing it. So much of our time these days is spent being in a hurry, and that ruins so much. It's also toxic.
I started from my townhome, Victoria Station, behind Pure on Marietta Street, and walked a couple of blocks to the downtown Alpharetta Library, crossed the street to the paved walkway that is the current access point to the Loop. At that point, the Loop snakes through Voysey-Hedgewood Properties' incredibly successful downtown development.
Haynes Bridge Road runs between the library and Voysey, and it is a heavily traveled road. Less than a minute into my Loop walk, after crossing Haynes Bridge, it felt like I had stepped into another dimension. I entered a fairly continuous tunnel-like canopy of trees that instantly buffered the sounds of downtown and invited one forward to discover what was around each bend.
The Alpha Loop is being built by the City of Alpharetta and through private partnerships. The trail is modeled after Atlanta's hugely successful Beltway and will ultimately form a connection of multi-use trails tying together four of the City's main activity centers — Downtown, Avalon, Northwinds & North Point. When completed, the Loop will include an approximately 4-mile inner loop and a 7-mile outer loop that will connect almost every major destination within the city. It will epitomize the idea of "live, work, play" all in one connected place.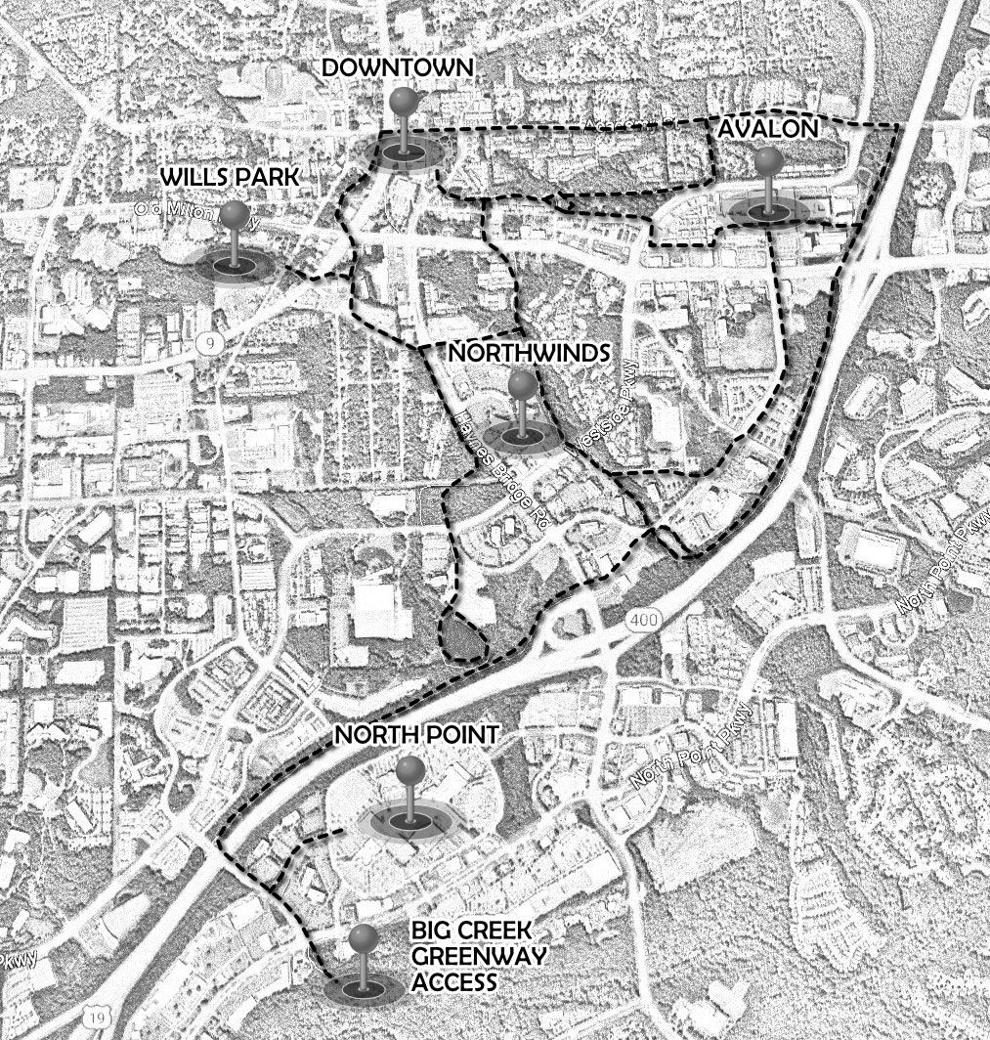 One of the best things is the cost of creating the Loop is being funded by the private sector — the owners of commercially zoned land around which a significant percentage of the Loop will evolve. The developers want the Loop because ultimately it makes their office buildings, their residential housing projects, their retail brick-and-mortar more attractive, and therefore, more valuable. So, the city asks for those property owners to contribute land for the Loop in the form of rights-of-way and outright property contributions. In return, the owners typically get impact-fee credits from the city.
Property values — both residential and commercial — have exploded around the Atlanta Beltway since it was built. I think it is fairly safe to assume the same thing should happen to property values in Alpharetta with the completion of the Loop.
The Loop costs roughly $3.7 million dollars per mile to build. That does not include many special components that will be required. For example, at some point, a pedestrian tunnel or possibly a bridge over Haynes Bridge Road close to Ga. 400 will be built. So, while we can all be pleased with private sector funding for a very large part of the Loop, we also know that it will also require significant public funds as well.
In essence, every public dollar that goes into the Loop is matched significantly by the private sector — more magic.
Recently, one of the major private sector "partners" offered to contribute the land and also build out the Loop component as well!
When the Loop is finished it will connect from numerous access points throughout the city. Wills Park, Downtown Alpharetta, The Maxwell, Northwinds, the future Marta Bus Rapid Transit Station will all be "on the Loop." It will link to and go through Avalon, and then on to Northpoint Mall where it will connect to the Greenway, North Atlanta's linear park that soon will stretch over 20 contiguous miles from Roswell through Alpharetta and into Forsyth County.
Getting back to my Sunday afternoon Loop walk though, after passing over the pedestrian bridge that meanders through Voysey and runs parallel to Thompson Street, one immediately begins to encounter many of the "details" of the Loop that distinguish it from any other linear park like the Greenway. New retro cast iron benches are scattered in nooks and around bends frequently providing respite for anyone wishing to "pull up a chair." I passed three wonderful murals painted on stacked stone walls. Lighting, both solar and traditional, already makes the trail user-friendly after dusk, and I think I spotted places for bikes to be secured.
The landscaping — ranging from a wide variety of trees to shrubs, grasses and more — line almost every foot of the path, creating a sense of tranquility and a "forest-like' vibe. Give it a few years and it will be past magical. The landscaping efforts are nothing short of spectacular if you pay attention. It would be a stretch to say I was reminded of being in a botanical garden, but it was not that far from it.
Roughly 10 minutes into my Loop walk, I rounded a corner and found myself facing, at least to me, a work of art — something bordering on a masterpiece of urban architecture and design. What I found was what can be done when really inspired planners and designers focus on converting what, at its core, is a water retention pond for all the development on Thompson Street. That is where I spent at least an hour sitting on a cast-iron swing in the sun people watching, thinking and simply enjoying. Swings and benches surround what is now a cultured wetland. Across from where I was sitting — across the "lake" — were more hardscaped facilities, including what looked like a small stone and brick amphitheater. Period lighting was installed, and the flora planted in the "wetlands area" was so inspired — cypress trees, marsh grasses, hardwoods, water plants and flowering shrubs — all obviously installed per some really talented landscape designer was simply breathtaking.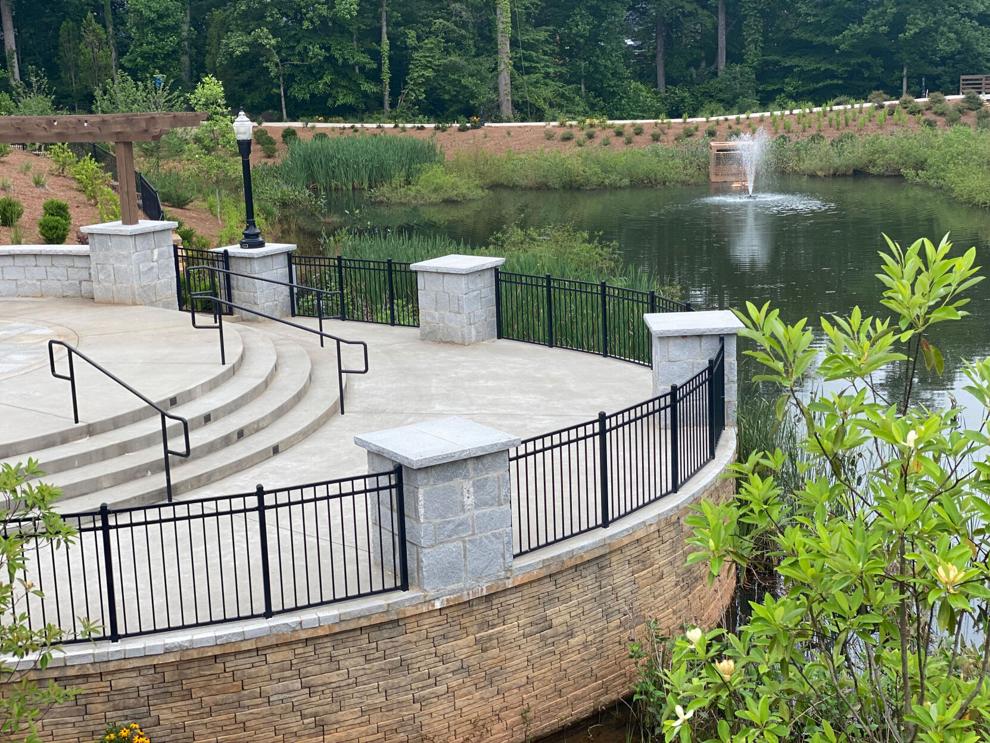 I was reminded of a line from a T.S. Elliot poem that has stuck with me over the years.
"People come and go, talking of Michelangelo."
I thought of that line because I was so struck by how happy and "awestruck" all the fellow Loop walkers appeared to be that Sunday afternoon. They seemed surprised, amazed, engaged, and, most of all, not in a hurry. "Blissed out" is an old '60s term that comes to mind. I am not making this stuff up. You should have seen all their faces.
This 'Loop excites me, a lot. I think when it is done, it will be something that most of us will perhaps talk about to people we meet, talk about like proud parents talking about their kids.
"Yes, I live in Alpharetta and yes, it is a really really special place. You should come check it out. Our Loop is breathtaking."
I have lots of ideas about the Loop. You will too. You see, we only have maybe 5% of it built so far, and already it is magic. We are at the beginning of a potential masterpiece, and we all have wide open opportunities to participate in what we create with this Loop. I personally hope we — the city — considers amenities like building another Wacky World playground somewhere on the Loop, or passive workout pods like Venice Beach in California. I personally would like to see outdoor classrooms, mini-amphitheater pods, health and wellness components of the Loop, and more.
It is rare that one encounters the opportunity to get in on the ground floor of something that could transform life for others. This Loop is one of those rare opportunities. Rotary clubs, other civic organizations, performance organizations, schools, medical groups, what mark do you want to leave on the Loop? It's an open book right now. We're listening.