After writing about the women who were Link Training Instructors at Naval Air Station Atlanta two weeks ago, I heard from the daughter of one of those women. Linda Miller contacted me to share the story of her mother, Carolyn Thompson.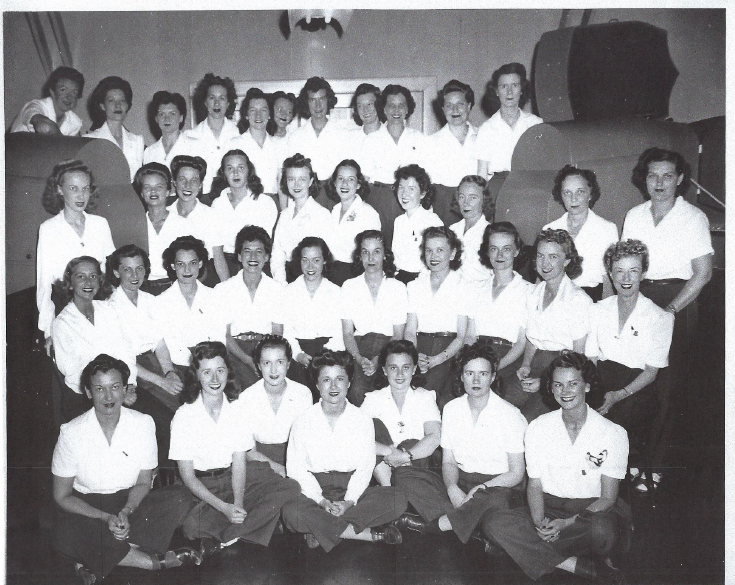 Carolyn Thompson grew up on a farm in Conyers, Rockdale County, during the Great Depression. She dreamed of flying airplanes. Since that was not likely at the time, she also wanted to become a flight attendant. However, flight attendants were required to be nurses during the 1930s.
Becoming a Link Instructor helped Thompson achieve her dream of working in aviation. Miller recalls that her mother said being a Link instructor was one of the best jobs she ever had.
Among the memorabilia Miller has from her mother's time as a Link Instructor, is an announcement in the Rockdale Citizen newspaper. The newspaper piece reads, "Miss Carolyn Thompson, daughter of Mr. and Mrs. E. N. Thompson, is a member of the first girl's class in the nation graduating in Link Training, and she is now serving as a ground instructor at the Naval Air Base Chamblee, Ga., training boys in the first step of aviation."
Linda has her mother's United States Navy Certificate of Completion for Link Instrument Training School. The 1944 Tattoo magazine in her collection is full of photos and stories that show what life was like at Naval Air Station Atlanta. Five different training programs were located at the base, including the Link Instrument Training Instructors School.
The first Link Training women, like Carolyn Thompson, were part of the Civil Service. In early 1943, 500 WAVES (Women Accepted for Volunteer Emergency Service) were brought to Atlanta, first training downtown and staying at the Biltmore Hotel while barracks were built to house them. (Atlanta Constitution, January 31, 1943, "WAVES Begin Trainer School Tomorrow with Class of 500")
As the WAVES received training, many were sent to other Naval Air Stations across the U.S. The Civil Service Link Instructors trained the WAVES and continued to work and train at Naval Air Station Atlanta.
The women Link trainers, nicknamed "Ladies of the Link," woke up at 6 a.m., dressed in their blue slack suits with Navy insignia and arrived at the base at 7:15 a.m. to punch in.
Link Trainer Peggy Dutton spoke of the women's concerns about not being taken seriously by men at the base. "Of course, there are always a few who can't believe we are serious. But with perseverance, we win them over." (Atlanta Constitution, February 2, 1944, "Atlanta's Ladies of the Link Take Their Job Seriously")
On January 3, 1945, Carolyn Thompson married her high school sweetheart, Dean Miller. They lived in East Point near Delta Airlines, where he worked before and after he served during World War II. The hangar that is now home to the Delta Flight Museum was his workplace.
Linda Miller moved to Dunwoody in December 1999, discovering later that she was just five miles from the former Naval Air Station Atlanta, which is now home to DeKalb Peachtree Airport.
Carolyn Thompson's granddaughter later earned her private pilot's license at the age of 17 and earned a degree in Aviation Management at Auburn University. Thompson was proud of her granddaughter, who achieved goals that were unreachable when Thompson was a young woman.
You can email Valerie at pasttensega@gmail.com or visit her website at pasttensega.com.