Since the cat and dog in my cozy mysteries talk to their owner, It will come as no surprise to my readers that I love cats and dogs. What may surprise you is how many folks out there enjoy books where the animals talk. Several readers who have written reviews of my mystery series have mentioned they weren't sure they'd like a book with talking animals but were pleasantly surprised at how natural it seemed. Readers often say Dickens & Christie say the things they imagine their animals would. Naturally, I love hearing that.
One reader went in search of other books where the animals speak and found "Love Saves the Day" by Gwen Cooper. When she told me how much she enjoyed it, I had to read it, too. What a sweet book.  It's not a mystery, except in the way that all books are a mystery of sorts — a mystery about how a family will solve a problem or how a romance will work out.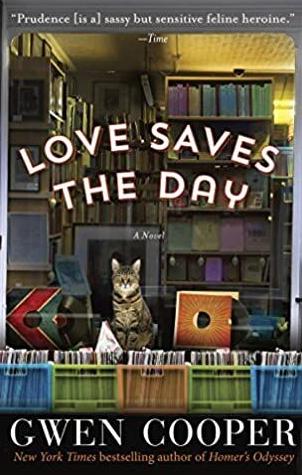 Prudence, the cat in "Love Saves the Day," talks to her pet parents but they hear only meows and a funny growl here and there — no words. We, the readers, have the privilege of hearing what Prudence thinks. Alternate chapters in the book are written by this sweet cat rescued from the mean streets of New York City.
The blurb on the back cover invites you to learn Prudence's story. "When five-week-old Prudence meets a woman named Sarah in a deserted construction site on Manhattan's Lower East Side, she knows she's found the human she was meant to adopt. For three years their lives are filled with laughter, tuna, catnaps, music and the unchanging routines Prudence craves. Then, one day Sarah doesn't come home. From Prudence's perch on the windowsill, she sees Laura, the daughter who hardly ever comes to visit Sarah, arrive with her new husband. They're carrying boxes. Before they even get to the front door, Prudence realizes that her life has changed forever."
Hearing her describe the vacuum cleaner as a cat-seeking monster or explain how she's comforted by clothing that smells like her pet parent are moments with Prudence that make you laugh and cry. If you don't already own a cat, you may find yourself yearning for one after reading this book.
It's a story that stays with you, and because of that I found the author on Amazon and discovered she's written several books about cats, a few of them nonfiction. Her first book "Homer's Odyssey" is about a blind three-week-old kitten she adopted. Somehow, I think I'll have to get that one too.