I lost my beloved dog Milly this week. 
I first saw her in a playpen outside the PetSmart at North Point Mall. The Lanier Humane Society was holding a pet adoption event and she was asleep next to one of her litter mates. 
I was 19-years old. 
I remember asking the woman running the event about the process for adoption and seeing the hesitancy in her eyes. I could tell they really weren't interested in working with teenagers to place their fur babies. I must have convinced her that I would be a responsible pet owner because she finally relented if I agreed to wait and come back in four weeks when Milly was "ready" to be placed.
She was no doubt testing me.
I didn't change my mind or forget about Milly, and a few weeks later returned to pick her up. My then girlfriend (now wife) Kristina and my grandma went with me.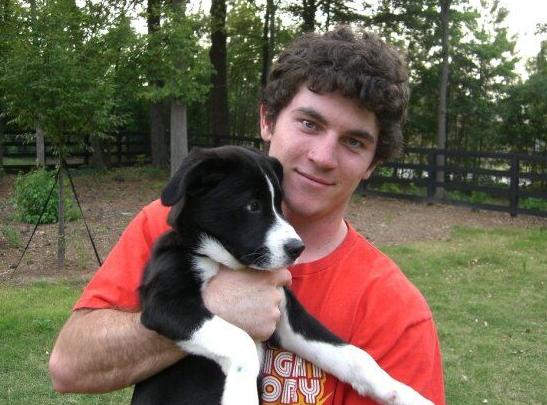 At the time, I was a student at Florida State University. I was living by myself in a small house near the football stadium. Kristina, who was a student at the University of Georgia, came to visit every few months and to make sure I was taking good care of Milly.
It didn't take me long to come to my senses, grow up a little bit, and realize that Milly and I belonged closer to home and to Kristina. We transferred to UGA in the summer of 2009, and it was the best decision I've ever made.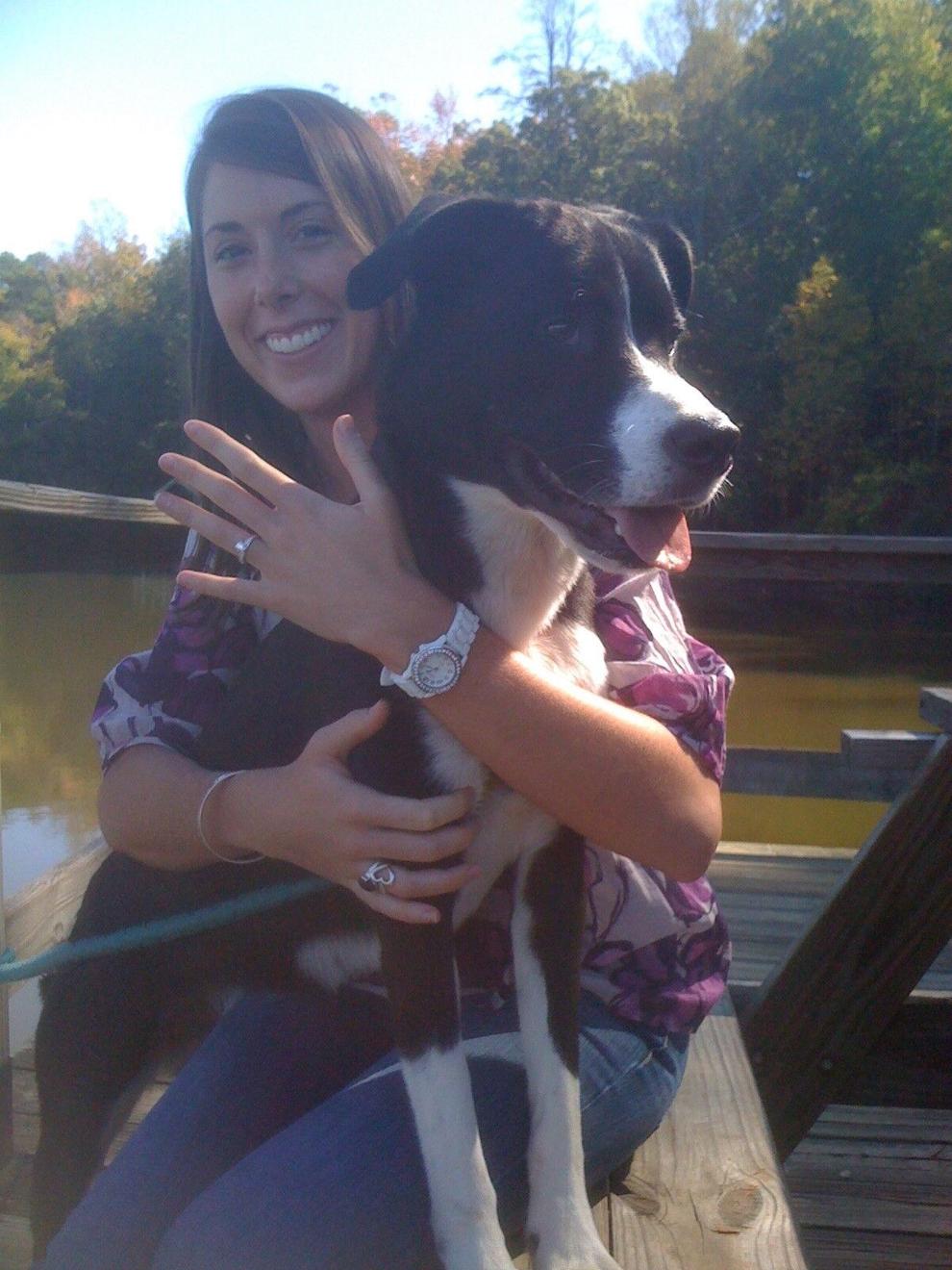 Kristina and I each had our own apartments on campus, but she would come over often. She loved to take Milly on long walks and to spoil her with treats and new toys. I joined Kristina and Milly on one of those long walks in October of 2010. We drove to Lake Herrick and let Milly run and swim.
We took a break on a small fishing dock jetting out over the water, and I got down on one knee and asked Kristina to marry me. She said yes, and Milly was ecstatic.
After we graduated, we got married and took jobs that put us back in Alpharetta. We rented an apartment not too far from the PetSmart I had found Milly a few years prior. We did apartment living for a year while we settled into our jobs and tried to save some money to buy a house.
A year later we finally did, and no one was happier than Milly. She had put up with me and small apartment living for four years, and now she had a big back yard of her own to run, chase squirrels and to dig.
Boy did she dig.
And then...our children. 
In 2015 we brought our daughter Phoebe home to meet Milly. As new parents we could not have been more blessed at Milly's willingness to accept a new creature into our family unit. I have heard from a number of new parents that bring children home, and the family dog dynamic just doesn't work out.
Not the case with Milly.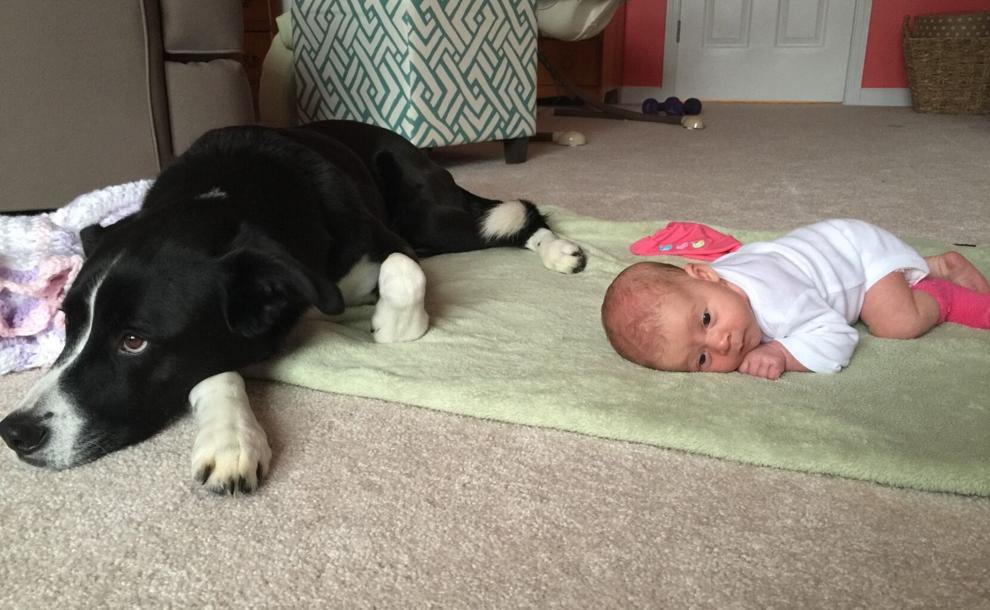 In fact, she very quickly accepted her new role as "doggy mommy". She was gentle, observant, and even patient. So, so patient. 
Two years later she met our son Leo, and in 2019, our third child, Annie. 
Each child had their own relationship with Milly. Phoebe was protective and nurturing. Leo was playful and encouraging. Annie (poor Milly) was demanding and would constantly lay on and pull at her "Mill girl".
Milly never snapped at any of them. Not once.
At night I'd sometimes find Milly lying in the hallway, squarely in the middle of all three of the kids' bedroom doors as if guarding them.
Often, she'd sleep at the foot of one of their beds. She didn't play favorites, though. In fact, sometimes I could swear that she had each of them on rotation, that she would alternate nights with them to make sure everyone was accounted for and received attention.
She loved her "puppies."
She was treated for a tumor in her stomach a few years back, and we'd always hoped the worst was behind us. This week, when she wasn't eating and was panting heavily, we took her in to get checked out.
The doctor told us her cancer was back and had spread to her lungs. She told us that there was nothing we could do for her, that the best option was to make sure she didn't have any more pain and to say our goodbyes.
So, we did, and it was the hardest thing I've ever done in my life.
I'm 32 now and writing this has really made me appreciate how much of the important moments in my life Milly was a part of. She lived in three cities and five different apartments/houses with me. She was a central part of my journey to marriage with Kristina. She was a guardian and a parent figure to each of my three children. She loved them so much.  
She was by my side every step of the way and I am sure going to miss her. Losing a pet is never easy, but this feels like so much more than that.