You know how they say that appearances can be deceiving?
Well, they're right, but forgetting that little fact almost kept me from discovering a hidden gem of a hike.
This particular gem awaits you at Settles Bridge Park, a 268-acre Gwinnett County park that adjoins the Settles Bridge Unit of the Chattahoochee River National Recreation Area.
I've got to admit that at first glance it's not the kind of place you'd put on the top of your list of potentially good hiking spots. What you see first is pavement (lots of pavement) and outdoor basketball courts, picnic pavilions, and restrooms, plus playgrounds and a skate park.
There's also a truly impressive dog park — great things in their own right but not necessarily harbingers of great hiking. Ellie, my resident Mini Schnauzer, is a big fan of dog parks, and she will tell you that this one is epic.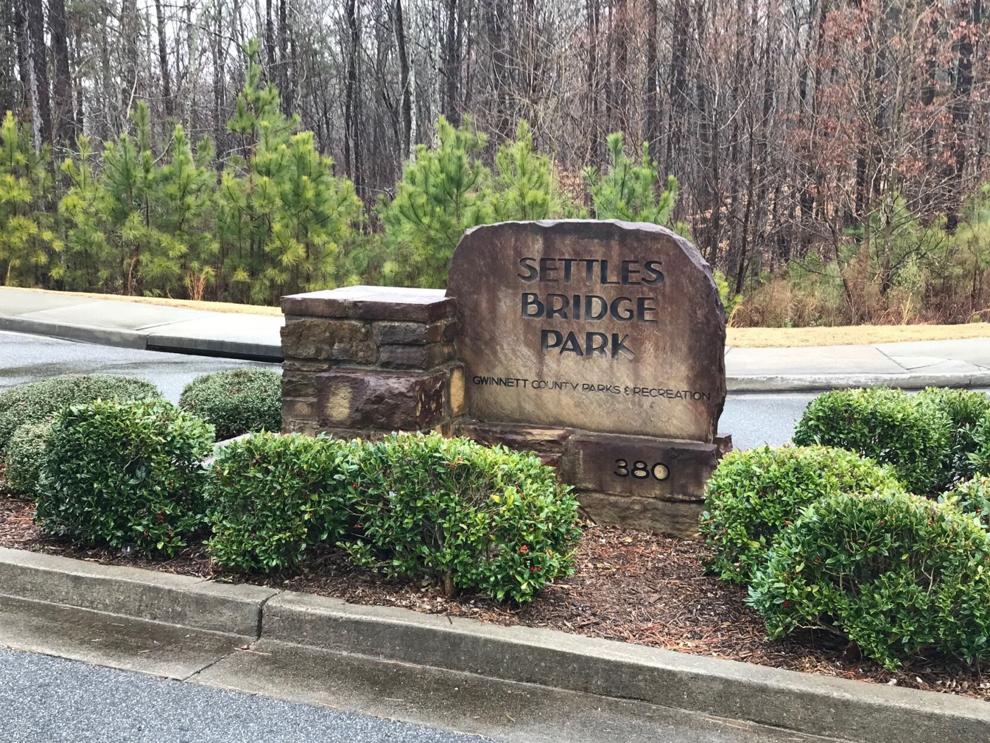 She's especially fond of its agility-type obstacles. Her favorite seems to be the little bridges that someone put there just so she can climb and descend to her little doggy heart's content. But she's not particularly fond of the pipes. Some dogs love to run through them. But when we walk over to one, she peers inside and then looks at me as if to say, "You're kidding, right? You have no idea what sort of dangers might be lurking in there. It might be more dangerous than the vacuum cleaner or the UPS truck!"
It's amazing how much a pup can say with just one look from a pair of brown puppy-dog eyes.
Anyway, that's what you see first: a skate park, playgrounds, basketball courts and pavilions and restrooms – and a dog park. So it's no surprise that folks looking for woods-type hiking might think, "There's no hiking here!"
But (like they say) don't be misled. Just beyond that urbanscape hides a network of footpaths that takes you into the woods, over creeks and streams, and across some surprisingly challenging terrain, eventually connecting with the trails of the Chattahoochee River National Recreation Area's Settles Bridge Unit.
Together, that's a lot of good hiking.
Here's a game plan for you. Start at the parking area for Settles Bridge Park, explore the trails there, and then hike into the Recreation Area. Enjoy walking along the river (but be careful, as some of the riverside trails are narrow and tricky and very close to the edge). Then, if you've got time, maybe make your way to the ruins of Settles Bridge before backtracking toward where you began.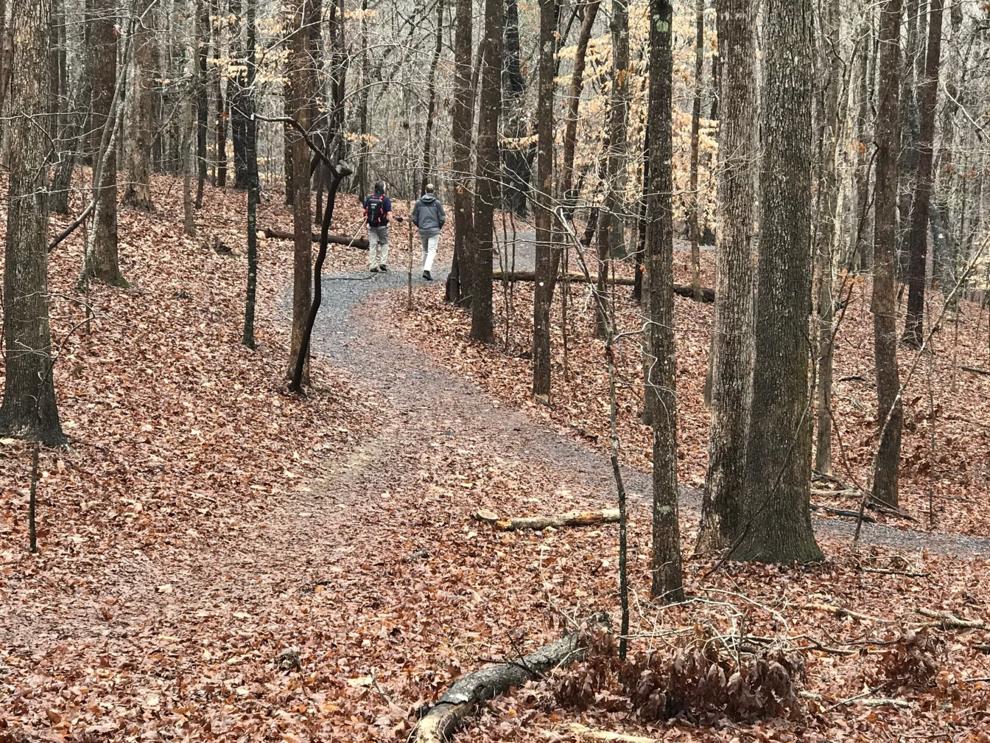 I did just that the other weekend. It was a cold and drizzly day, but I had a decent rain jacket and dry socks in reserve. So I looked at the pup and said, "Want to go hiking?"
Ellie, who might ordinarily jump at the chance, took one look at the weather and decided she'd rather curl up on her cushion by the fire. I could tell by the way she rolled those puppy eyes that she wanted to stay home where it was warm and dry.
So it was just me.
I started my hike at the gated paved trail near the entrance to the parking area, following it for a few yards before swinging right and downhill on an unpaved pathway which followed a small valley back into the woods. It was a delightful trail, bordered in places by low walls of stacked stone and flanked on one side by the gently burbling waters of a tiny little creek.
From there, I just wandered with no particular destination in mind, following trails from one intersection to the next and then deciding where to go after that. I like that kind of hiking where there's no itinerary and I can just wander. I know I won't get lost because occasional map posts show me where I am, and I've got a printed map in my pocket just in case. But I still have that illusion of grass-roots exploration.
And so, I walked…and walked…and walked. After a while I transitioned into Recreation Area, exploring some of the riverside trails that border the river. A wintertime hike by the Chattahoochee is an altogether different animal than is that same hike in the summer, and if you've never experienced the winter version, I highly recommend it.
I kept walking, now heading in the direction of the ruins of old Settles Bridge. In the summertime, the area around the bridge is often crowded. But on that cold and rainy winter day I had it entirely to myself.
I spent a half hour at the bridge, looking for good vantage points from which to take what a buddy of mine calls "old bridge photos." By the time I was done, the sun was getting a little low and it was time to begin the hike back.
I took my time on the return leg. Walking in the woods in winter is an exquisite experience, and I was in no hurry to bring the walk to an end.
But eventually I reached the truck. I started it up and turned on the heater (yes, it felt good).
And only then did I check the GPS to see how far I'd hiked.
The number, when I saw it, surprised me. The glowing digits told me that I'd walked 8.8 miles. Along the way I'd encountered woods, wildlife, and water — and peace and quiet and totally unexpected solitude.
I suppose that's not too bad for an urban hike that started at a skate park.
Gwinnett County's Settles Bridge Park is located at 380 Johnson Road in Suwanee.