So there I was, hiking along Hog Wallow Creek in Roswell looking for a place to fish, when I overheard a snippet of conversation from a few yards behind me on the trail.
It went like this:
"Are those the steps to where the hobbits live?"
The question was from a young girl of 5 or 6.
"Well, are they, Mommy?" the child said again. "They look like hobbit steps," she added.
As you walk along the short, graveled trail that parallels a portion of Hog Wallow Creek in Waller Park, it's easy to see how the child might imagine that hobbits live there. Let me set the scene, and you'll see why.
Here's a little history. According to a plaque at the site, one James Isaac Wright donated a 16.1-acre piece of land to Fulton County in 1946 to serve as the site of a public swimming pool and park. It was named Waller Park to honor the memory of Wright's uncle J.H. "Pony" Waller, founder of Oxbow Falls Manufacturing Company in 1896. The county developed the site as a multi-use park, and it was eventually deeded to Roswell in 1953.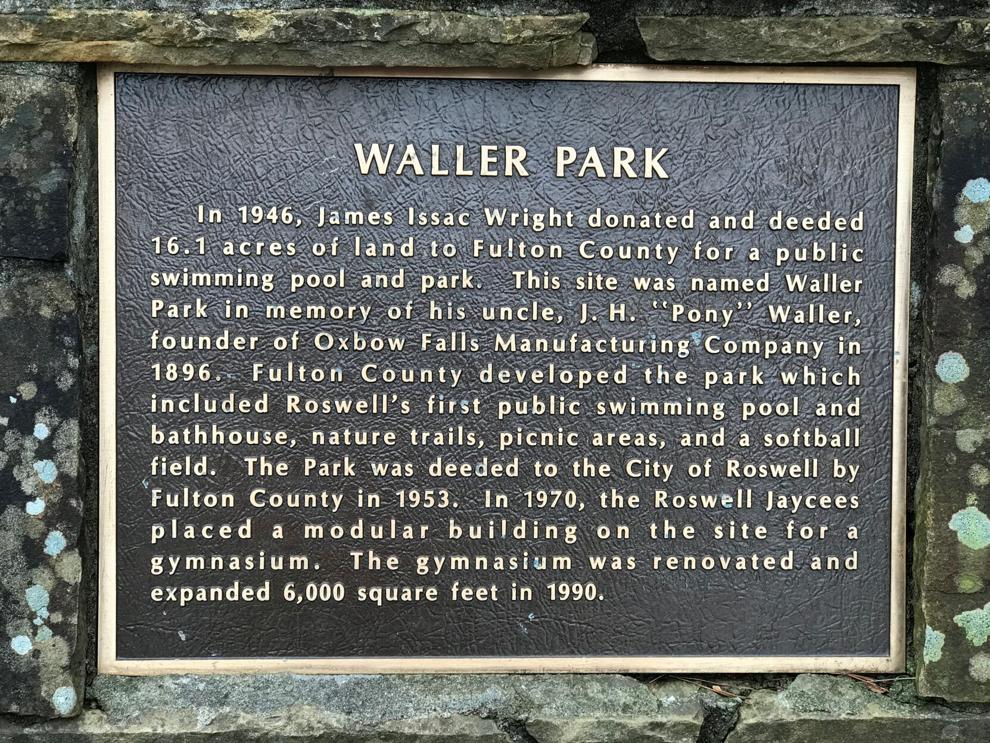 These days, the park offers a variety of amenities, including a bit of hiking. It's one of those close-to-home gems that often goes under the radar. I'm glad I eventually found it, and I think you'll like it too.
There are a couple of ways to access this park. On that first visit, I parked at the recreation center, 250 Oak Street. Then, looking for a way to get to the creek, I soon spotted the first set of stone steps leading down toward what turned out to be a nicely graveled creekside trail.
I could also have parked in the gravel parking area off Oxbo Road, just downstream of the pedestrian bridge which crosses Vickery (Big) Creek near the intersection of Oxbo Road and Frank Lewis Drive. If you park there, walk to the pedestrian bridge and cross Oxbo Road. Then you'll see the Waller Park trail leading upstream along the creek…and toward the steps.
You can also make a hike in Waller Park part of a more ambitious adventure. For instance, it's an easy add-on for hikers exploring the trails of the Vickery Creek Unit of the Chattahoochee River National Recreation Area. Look for the pedestrian bridge which carries you across the waters of Vickery Creek to Oxbo Road. (This is not the covered bridge; that structure is a ways downstream.) Then cross the road and follow the gravel trail up the creek and into Waller Park. Eventually, you'll come to a small wood footbridge over the creek, and you'll see the steps climbing the hillside across the creek.
No matter how you get there, I'm betting it won't take long to fall under the spell of this place – especially its steps. There is absolutely no doubt in my mind that these are some of the coolest steps I've ever seen. They're stone, and they're old, and they have weathered so they blend almost seamlessly into the landscape. But they're a bit steep and uneven in places so give attention to your footing as you go.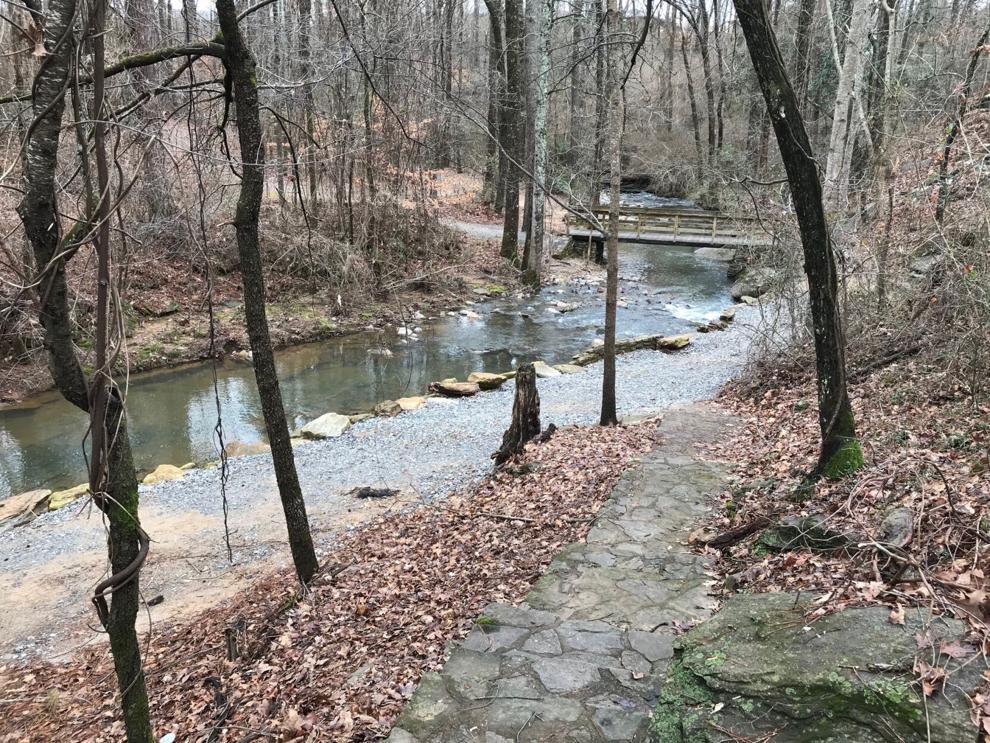 I didn't know it at first, but there are actually several sets of steps leading down to the creek. You won't see them from the top unless you look in just the right places, but from creek level they're much easier to spot. Some are steeper and more challenging than others. And all are exactly the kind of steps that are sure to fire your imagination, whether you're 6 years old or 60.
One of these days I'll do a little research and learn more about those steps. Who built them, and when, and why? Were they constructed as part of the early development of the park? Or were they there before then?
It's always fun to delve into such things, and the answers add richness and texture to any visit.
But for now I'll just hold on to the mystique a little longer and agree with that young one.
Yes, child, they look like hobbit steps to me too.