If you're one of Puddin's fans — and who isn't — you may recall that she doesn't care for vet visits. Here's her take on her latest encounter.
I couldn't believe my good fortune when I heard Mum on the phone in December telling the vet that my dental appointment would have to wait for the New Year. It was something to the effect that both she and Dad had dental work done in November plus the fact that my canine brother had his teeth cleaned in December. I was hoping she'd forget and I'd dodge that bullet.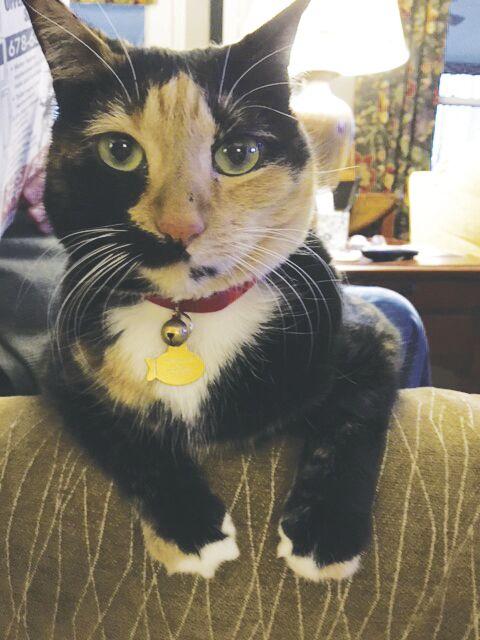 Alas, Mum's memory still works, sometimes. I was grabbed, shoved in a carrying box, and driven to the dentist early one morning. My meowing the entire way didn't faze her. What part of no, no, no did she not understand?
You realize, don't you, that we kitties are knocked out to have our teeth cleaned? That's right. We're not like you humans who get to recline comfortably in a chair while still awake. And let me tell you, bad things happen when you're asleep at the vet. I woke up with four fewer teeth. They pulled four of my teeth, I tell you!
Mum was worried I would have trouble eating, and I considered letting her think I did. All too soon, though, I craved a treat, so I gave up on that idea and jumped on her desk and told her to dig out my treats. After several handfuls of those, I felt much better. I was starving after no food since midnight. I am a creature of habit and missed my puddle of milk that morning. Mum claims the vet told her not to feed me too much the first night, but I put my paw down about that.
I ate almost an entire can of cat food after wailing plaintively at my dish as Mum put dab after dab of wet food in it. The worst was over. At least that's what I thought. But nooo. Mum grabbed me, wrapped me in a towel, and handed me to Dad. What's up with this? I thought.
Oh, the indignity. What happened next was Mum squirting liquid antibiotics in my mouth from a syringe. I showed her when I deposited the first mouthful on Dad's shirt, but Mum didn't give up. Her aim was better the second time. Quite possibly, seven days of medicine squirts were worse than the vet visit. Between the two of them, Mum and Dad managed to sneak up on me and wrap me like a mummy every night for a whole week.
I tried hard to shun Mum as punishment, but it's hard to stay away from the woman with the kitty treats. Dad? I figured he was just following orders, so I forgave him and crawled in his lap to watch TV every night as usual. All I can say is that's one week I won't soon forget.
Mum and Dad should be happy I handled it as well as I did. Can you imagine what Grumpy Cat would have done?
Award-winning author Kathy Manos Penn is a Sandy Springs resident. Find her cozy mysteries locally at The Enchanted Forest and on Amazon. Contact her at inkpenn119@gmail.com, and follow her on Facebook, www.facebook.com/KathyManosPennAuthor/.