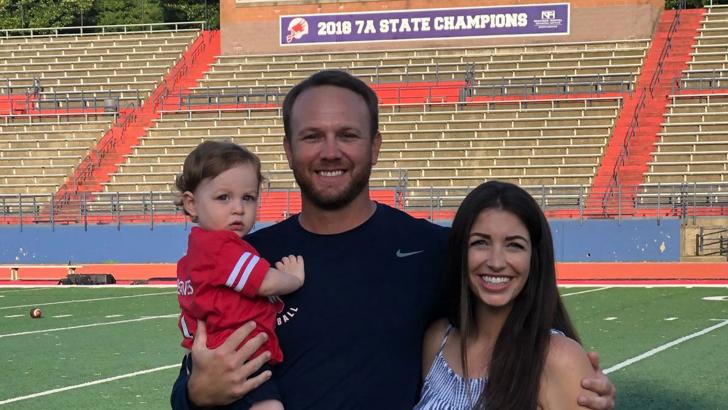 By SYDNEY DANGREMOND
Milton High School has named Ben Reaves the new head football coach. Reaves has served as the Eagles' offensive coordinator for five years. The move follows the departure of coach Adam Clack. 
Milton's two largest trash service providers, Republic Services and Waste Management, are both facing staffing shortages due to employees contracting COVID-19.  (Read)
The Alpharetta Arts Center's latest exhibit, "From the Artist's Studio" features works by renowned artists Mark Braught, Laura Freeman and C.F. Payne. The exhibit is free and open to the public through Feb. 4. (Read)
The Forsyth County Board of Commissioners voted to award a $51.4 million contract GP's Enterprises Jan. 11 for construction on the Old Atlanta Road expansion project. (Read)
A new mayor and City Council were sworn in Jan. 10 at the Johns Creek City Council's first public meeting of 2022. Among the council's first actions was the election of Chris Coughlin as mayor pro tem. (Read)
At a Jan. 10 City Council meeting, Dunwoody was recognized as a "City of Freedom," new council members and police officers were sworn in and council members enacted an emergency declaration ordinance. (Read)
Mayor Kurt Wilson and three new Roswell City Council members took the oath of office Jan. 10. Following a reception in the rotunda, they got straight to business.  (Read)
SPONSORED
Sawnee Electric Membership Corporation (Sawnee) announced today that its Board of Directors recently approved for the Corporation to partic… (Read)
In case you missed it:
The Jan. 5 Forsyth County Parks and Recreation Board meeting was marked by a lengthy debate about the types of businesses that could advertise in parks. Read more
The Forsyth County Board of Voter Registrants and Elections reviewed plans this week that would add eight precincts and nine polling sites to the area. Read more
The Forsyth County Board of Commissioners unanimously approved a permit for a personal care home for pregnant women to be located on Parks Road during its Jan. 6 meeting. Read more
Schools:
Fulton County Schools resumed in-person learning Jan. 10 after a spike in COVID-19 cases forced the district to start the new school year online. Read more
While students have returned to classrooms, Forsyth County Schools faces staffing shortages that could force closings. The latest COVID-19 surge has contributed to 40 openings in food and custodial services. Read more
The DeKalb County School District reversed course last week, saying that due to the rising number of positive COVID-19 cases, students will begin the new school year online Jan. 5-7. Read more
Weather Today
Today

50°

30°

More sun than clouds. Highs in the low 50s and lows in the low 30s.

| | |
| --- | --- |
| Humidity: | 67% |
| Cloud Coverage: | 19% |
| Wind: | W at 5 mph |
| Chance of Snow: | 0% |
| UV Index: | 3 Moderate |
| Sunrise: | 07:41:32 AM |
| Sunset: | 05:53:49 PM |

Today

Mostly sunny skies. High near 50F. Winds light and variable.

Tonight

Partly cloudy. Low near 30F. Winds light and variable.

Tomorrow

A mix of clouds and sun in the morning followed by cloudy skies during the afternoon. High 57F. Winds S at 5 to 10 mph.