NORTH METRO ATLANTA, Ga. — While local law enforcement agencies say "swatting" calls are still rare, they do not consider them "harmless pranks" and will continue to crack down.
Swatting is the act of intentionally reporting false emergencies to provoke a Special Weapons and Tactics team response.
Locally, officers from the Roswell, Alpharetta and Milton police departments make up the North Fulton SWAT team. Officers from Johns Creek, Sandy Springs and Dunwoody police departments make up the North Metro SWAT team. Each has approved manpower of approximately 50 members.
The Forsyth County Sheriff's Office has its own SWAT team.
The special teams are trained to perform high-risk operations that fall outside the training of other police officers in their respective jurisdictions. High-risk operations may include hostage rescues, counter-terrorism operations, serving high-risk arrest and search warrants, subduing barricaded subjects and engaging heavily armed criminals.
These officers are often equipped with weapons ranging from handguns to submachine guns or rifles, as well as tools like entry body armor, helmets, ballistic shields, entry tools, communication equipment and chemical agent protective masks.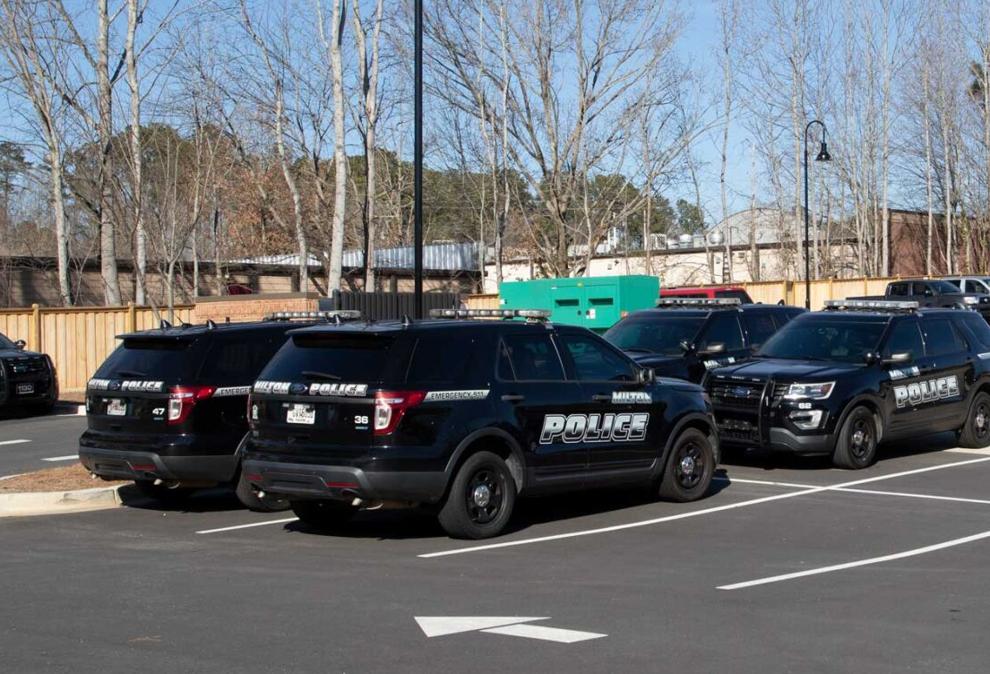 Milton Police Capt. Charles Barstow said he is not familiar with any swatting incidents ever occurring in his city in at least the past five years. However, all members of the North Fulton SWAT Team, including Milton officers, are on call 24/7, 365 days a year. The North Metro SWAT team works the same way.
"If a decision is made to activate the SWAT Team," Barstow said, "all members are notified of the call and those that are available to respond will indicate so and respond to the location they are requested at."
Recent cases
Last month, the Roswell Police Department responded to three false reports at a single home along Old Course Drive. One of those reports was from someone claiming to be there who called 911 and said they heard arguing and gunshots upstairs, but when armed officers arrived, they found nothing wrong.
The next day, someone at the same home allegedly called 911 and the Georgia Crisis Line threatening to commit suicide. Again, the report was false. The victims told officers they believed someone was pranking them. As of Sept. 9, no one has been charged for the false reports.
Roswell police spokesman Tim Lupo said he does not consider them "pranks."
"Thankfully, these events are rare, [but] they are taken exceedingly seriously because of the threat they pose both to the resident victims and to responding officers," Lupo said. "We … will continue to investigate and seek prosecution of those involved in these types of incidents."
Lupo said swatting calls are frequently over significant violence or threats and often involve weapons, so when a SWAT team responds accordingly, victims are often scared or confused to see officers swarming their homes.
"Not only that, but all of the resources pulled to the address of a swatting call are unable to respond to other emergencies in the city until they can determine what they are actually dealing with," Lupo said. "This behavior is far from a harmless 'prank.'"
In Alpharetta, police spokesman Jeffrey Ross said officers responded to at least two swatting calls in 2012, 2019 and 2020, and just one in 2018. He said officers are required to respond to SWAT calls just like any other 911 call.
"SWAT does their best to acquire any intel on the incident and location prior to responding to see if there's any previous history of swatting," Ross said. "If we do respond and it turns out to be a swatting call, we would do our best to determine who the individual was who placed the call and we would be able to take appropriate action once they're identified."
Dunwoody police spokesman Mark Stevens said he is not aware of any swatting calls that have occurred in the city and is not certain if there have ever been any. Meanwhile, police spokesman Salvador Ortega said he can recall only a few swatting calls in the City of Sandy Springs over the years.
"I know we had one a month or two ago where we chased down a vehicle only to find out the occupants had done nothing wrong and the call was the result of a swatting incident," Ortega said. "We had others that I can remember where we received information that a shooting had taken place inside a residence. We get there, surround it, only to find out the occupants did nothing wrong."

Tracking challenges
There is no code in Georgia law for "swatting."
It wasn't until the 2019 Anti-Swatting Act that the state legislature broadened its definition to include most of the elements of swatting under the charge of false public alarm, meaning the ability to tally the number of swatting calls will vary from department to department.
For example, Barstow said, most agencies in North Fulton have a crime analyst who can delve into their respective departments' records management system, but because swatting calls are listed as false public alarm, the crime analyst will have to determine if the incident was truly a swatting call or some other violation of creating a false public alarm such as a bomb threat.
This is also the case elsewhere, such as in Forsyth County, where Sheriff's Office spokeswoman Stacie Miller said there are some 94 reports from the past five years that could be attributed to swatting. She said it would take considerable time to determine whether they were, in fact, actual swatting calls.
Johns Creek Police did not respond to requests to discuss whether they have handled swatting calls and, if so, how they are addressing the matter.
Swatting is an aggravated misdemeanor in Georgia punishable by up to a year in jail in most cases. If it threatens critical infrastructure or results in someone's death, the offender(s) could be sentenced to as much as 10 years in prison, according to state law.