SANDY SPRINGS, Ga. — A 22-year-old Acworth man was arrested Nov. 19 in connection with the double homicide of a firefighter and his wife in their Cobb County home and the stabbing of a Sandy Springs police officer.
Although investigators have not released a motive for the slayings, Sandy Springs police confirmed the suspect, Matthew Scott Lanz, is the younger brother of 27-year-old Austin Lanz who fatally shot a police officer at a bus stop near the Pentagon in August, before turning the gun on himself.
According to online jail records, Matthew Lanz is being held at the Fulton County Jail and was denied bond over the weekend. Before he was transported to jail, Matthew Lanz was treated at a local hospital for a gunshot wound sustained during a confrontation with Sandy Springs police.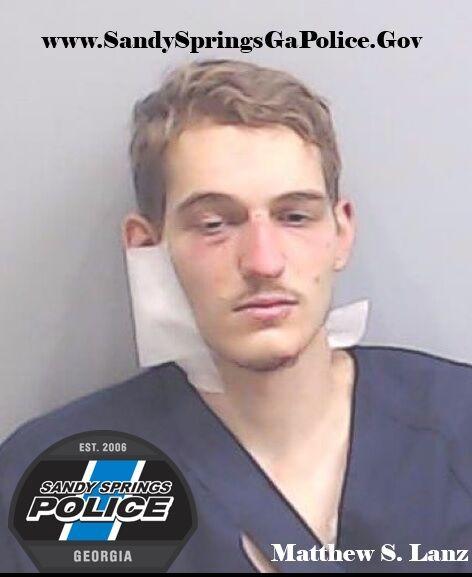 Sgt. Salvador Ortega, a spokesman for the Sandy Springs Police Department, said that shortly after 8:30 a.m. Nov. 19, officers were at the scene of a burglary on Cameron Ridge Drive where an intruder had broken into the garage but had been unable to enter the house.
That's when they received another call from nearby residents who reported an intruder still inside their home on Cameron Glen Drive. The officers responded immediately and tased the suspect to try to subdue him, but the taser had no effect.
Instead, the suspect, later identified as Matthew Lunz, ran toward one of the officers, stabbing him multiple times over his body, barely missing one of his vital organs, Ortega said. A backup officer then shot Matthew Lanz, allowing another officer to drag the injured officer outside to start rendering first aid.
The injured officer was rushed to a local hospital and treated for multiple wounds. He has since been released and is at home recovering with his loved one, although in a lot of pain, Ortega said. He requested that his name not be released.
The second officer was also injured from a bullet fragment that hit his hand. The residents of the home were not injured. The Georgia Bureau of Investigation is helping Sandy Springs detectives investigate the burglary and assault of the officers.
Sandy Springs police charged Matthew Lanz with two counts of burglary in the first degree, home invasion in the first degree, possession of a knife during the commission of a felony, carrying a concealed weapon without a permit, 10 counts of felony obstruction, 10 counts of aggravated assault on a police officer and 10 counts of attempted murder on a police officer.
Sandy Springs Police Chief Ken DeSimone said he is grateful his officers were at the right place at the right time to confront the "extremely dangerous" and armed suspect.
"The quick response by our officers potentially saved the lives of the homeowners, as we now know this suspect had murdered two homeowners previously in a similar burglary in Cobb County," DeSimone said. "This incident is a testament of the dangers our officers face every day and their commitment to keeping our community safe."
While in custody, police identified Matthew Lanz as the same person who burglarized a home and fatally shot Justin and Amber Hicks, both 31, in Acworth the day before. Police said they found the couple's 2-year-old son inside the home, but that he was unharmed and is now with family members.
Cobb County police detectives charged Matthew Lunz with two counts of felony murder, two counts of aggravated assault, home invasion and possession of a firearm during the commission of a felony.
Before his death, Justin Hicks served as a firefighter with the Cherokee County Fire Department for over six years. Fire Chief Tim Prather described him in a Nov. 19 Facebook post as a "happy, funny, loved by many kind of guy."
"He was always a highly motivated, energetic individual who deeply loved his job as a firefighter and consistently worked to do better and be better every day," Prather said. "He was really thrilled on his recent accomplishment of completing his paramedic program training. Justin has touched and impacted many lives, and he will be dearly missed. Our hearts are broken as we mourn the loss of a member of our family and his lovely wife."
On Nov. 22, the Cherokee County Fire Department led a procession joined by other public safety agencies, where they carried the remains of Justin and Amber Hicks to His Hands Church in Woodstock. Funeral services are scheduled for 1 p.m. Nov. 23.
The case remains under investigation.
Sandy Springs police ask that anyone with additional information contact Detective Charles Needham at CNeedham@SandySpringsGa.Gov or by calling 770-551-2563. Additionally, police are asking residents that live in the vicinity to check their Ring Door cameras or exterior surveillance cameras for anyone suspicious captured between 6 a.m. and 8:40 a.m. Nov. 19.