NORTH FULTON COUNTY, Ga. — Roswell officials have decided to stick with Fulton County to run its municipal elections this November, adding to the list of area cities abandoning efforts to operate their own polling.
Johns Creek, the first out of a North Fulton group to make the same move, has begun scoping logistics for setting up self-run municipal elections in 2025.
So far, Milton is the only North Fulton city that has formally adopted plans to operate its own municipal elections this November. In the first year, Milton has estimated $72,254 in costs for two polling locations on election day.
Sandy Springs has no council posts or referendums scheduled for this year.
Sparked by Milton's decision in December to wrest control of its own city elections from the county, other cities across north Metro Atlanta have been exploring the idea over the past two months.
Discussion has centered around either self-administration or entering into an agreement with Milton, Roswell, Alpharetta, Johns Creek and Mountain Park. The multi-city contract would have enabled one elections superintendent to oversee all the member cities' municipal elections.
City staff in Johns Creek estimated that entering into the agreement would have cost the city more than $1 million, and operating its own election independently would have cost only slightly less.
In a spreadsheet, the city nailed down $721,884 of the $1 million for the first year of self-operated municipal elections and left some items unbudgeted. In its estimate, Johns Creek has accounted for 18 polling locations, the same number used by Fulton County in December 2022.
Fulton County set a deadline of March 31 for cities to decide whether they will go it alone.
Milton had a head start, spending more than a year to study the process through a six-member Municipal Election Feasibility Committee. The panel drew fire from some residents. One of its members, Mark Amick, was subpoenaed last June as part of a Fulton County investigation into Republican attempts to overturn the 2020 election.
Cities rethink strategy
Municipal officials were also informed recently that the county had lowered cost estimates it will charge cities to operate their municipal elections.
Milton launched its effort last spring under the presumption that Fulton County would charge more than $6 per registered voter to run polling for their municipal election. That figure jumped to $11.48 in December, then fell to $9 and some change.
On Feb. 1, county officials adopted a percentage-based cost formula setting the charge to cities at $7 per registered voter – lower than originally estimated, but still more than twice the $2.96 it charged cities in 2021 when municipal elections were last held.
Even so, the county's cost reduction spurred some cities to rethink their efforts to go it alone with their own election apparatus.
At its Feb. 28 meeting, the Johns Creek City Council agreed to sign with Fulton County and abandon further efforts to operate its own elections for 2023.
The formal agreement was approved on the City Council's consent agenda March 14.
That same night, at their work session, councilmembers explored opportunities in the future for city-run elections.
Also on March 14, Roswell announced in a committee meeting it would also sign with Fulton County to conduct its 2023 municipal elections. Councilmembers had been split over the idea days earlier at a workshop.
Alpharetta was scheduled to hold a March 20 City Council workshop to discuss cost estimates for running its own polling this November. Cost estimates for an Alpharetta municipal election this year have been drafted, and it is based on a varying number of polling locations. At most, the city is looking to spend around $300,000 for three locations.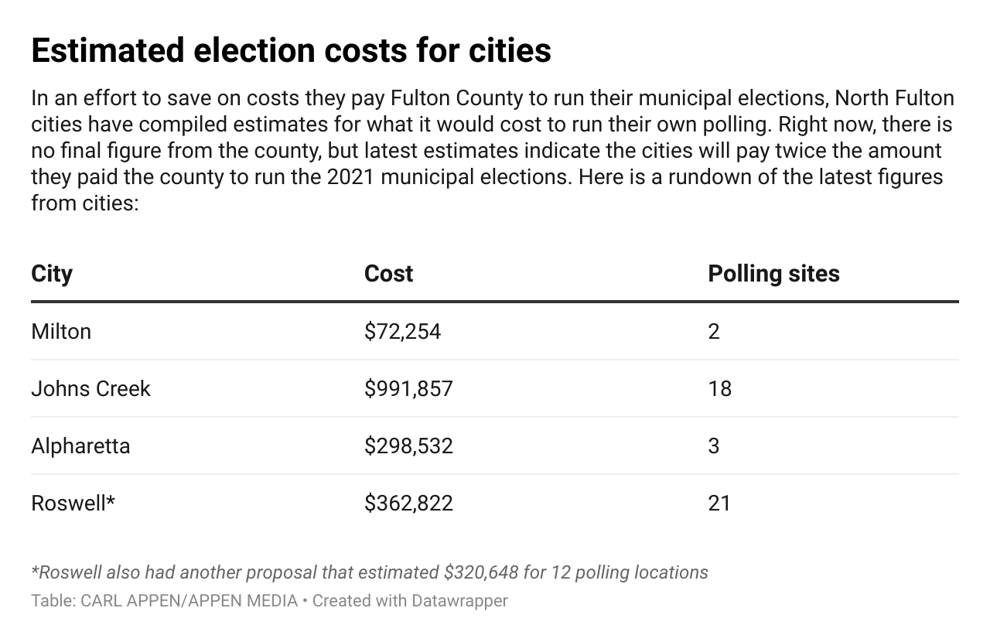 Roswell backs out
During a March 14 Administration and Finance and Recreation and Parks Committee meeting, Roswell City Councilman Mike Palermo said the city does not have enough time to weigh all the cost variables to reach an informed decision by the county's March 31 deadline.
Roswell requires two readings for the agreement with Fulton County, so the city plans to have a special-called meeting for the measure sometime in late March.
"The fact that we're in mid-March and there is so much work that needs to be done — there's so many unknowns," Palermo said. "I just feel that it's more realistic to really explore this in 2025."
Roswell Mayor Kurt Wilson added another motion for the council to "formally commit" to run municipal elections in 2025. The council forwarded the measure to the next scheduled City Council meeting.
Wilson attempted to add a third motion, which would have committed the City Council to appoint an election committee by September, but it drew little support from the council.
Councilwoman Lee Hills, who has been a strong advocate for local control, said she was disappointed to see the city abandon its efforts this year.
"It's unfortunate that this conversation is going in a direction that is not doing this in 2023, but I could not be more elated that it sounds like we've got great support for running our own municipal elections," she said.
Earlier estimates show that Roswell planned to spend $362,822 for 21 polling locations. There was also a proposal based on 12 locations estimated for $320,648.
Johns Creek takes a lesson
While Johns Creek is out of the self-run election drive this year, City Councilman Chris Coughlin is ready for 2025.
Coughlin presented a five-page memo at the Johns Creek City Council March 14 work session detailing variables a city elections task force should consider upon its formation. The idea of a task force was introduced Feb. 28 by Mayor John Bradberry at a City Council meeting in which a few residents voiced a desire to take on the project.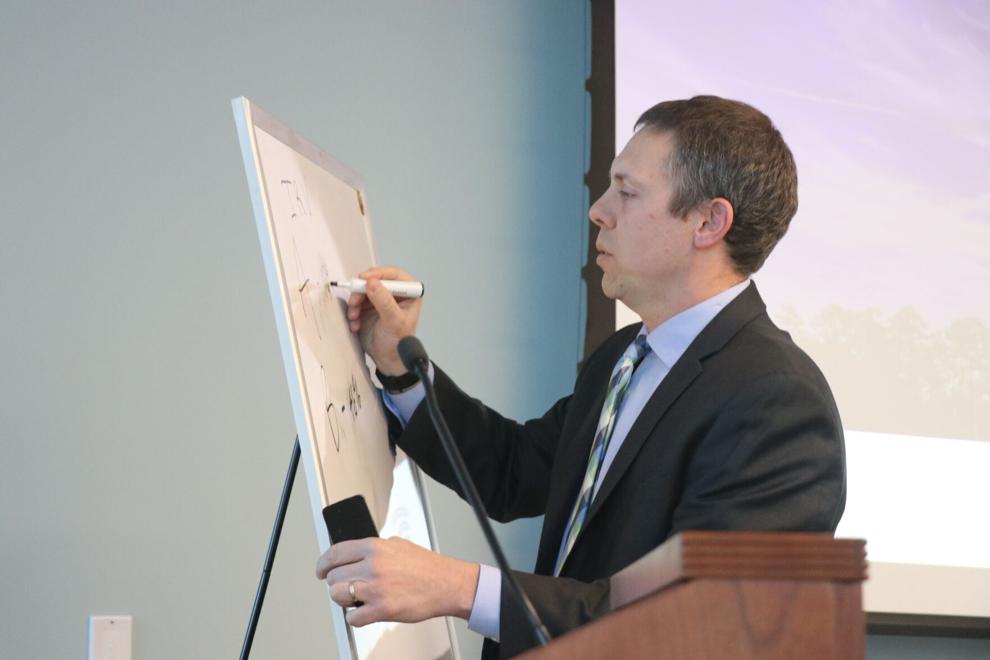 Coughlin outlined three variables, including runoff voting, timing of elections and number of precincts.
For example, Coughlin mentioned the prospect of instant runoff voting, which remains stalled in the Legislature.
Instant runoff voting provides for ballots to include "top choices" for voters, eliminating the need for a runoff election in cases where one candidate fails to garner more than 50 percent of the tally. Johns Creek has already passed a measure to allow the practice if and when it clears the Legislature.
Instant runoff voting, Coughlin said, could save the city from 25 to 40 percent in election costs, and it would encourage more turnout and statistical power for voters.
Not everyone on the council was on board with the instant runoff proposal, however, but they agreed it warranted further study.
"I'm not necessarily sold on any of it," Mayor Bradberry said. "I do think that there is optimism to think that maybe we could save money … but again, the devil's in the details."
— Staff reporter Delaney Tarr contributed to this story.