ALPHARETTA, Ga. — Republican Senate candidate Herschel Walker brought his campaign to Alpharetta July 29 to deliver an address on public safety issues and his support for law enforcement.
Walker was joined by former U.S. House Speaker Newt Gingrich, State Sen. Brandon Beach and National Border Patrol Council President Brandon Judd. Even with some big names, the rally drew a small crowd and lasted less than 20 minutes.
Much of the speakers' time was spent hailing Walker as a superior candidate to incumbent Sen. Raphael Warnock.
"Senator Warnock cares more about criminals than he does about Georgia's citizens," Walker said. "That is going to change when I get to Washington."
Judd said there was a "crisis" on the country's southwest border and that Warnock has not taken proper steps to deal with it.
Gingrich said Walker would "change and energize" the Senate and echoed Walker's criticism of Warnock. Gingrich said people in Georgia are afraid to go out because of crime.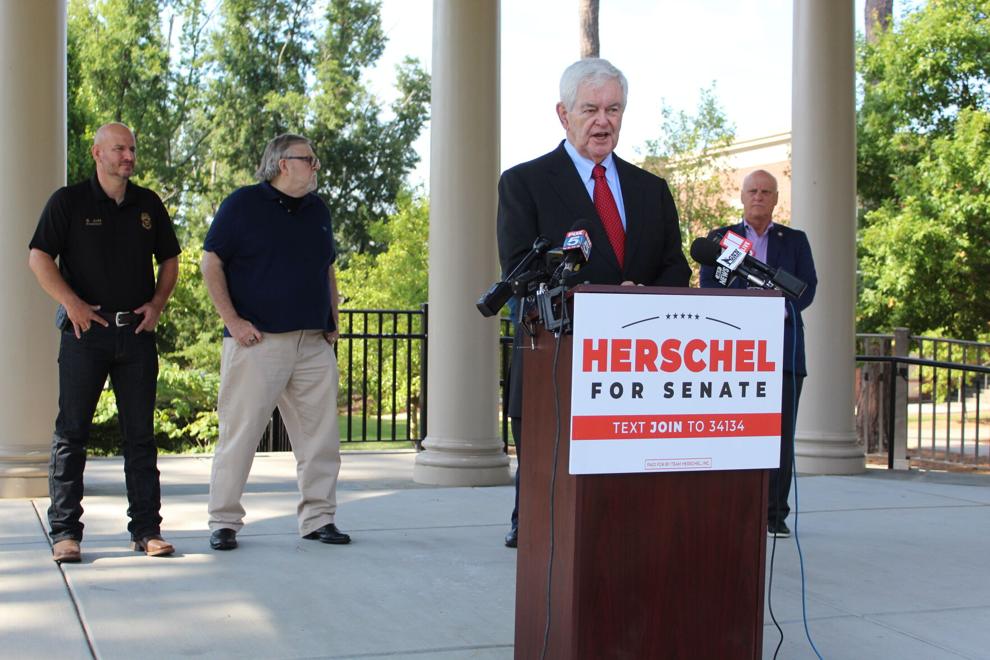 "It tells you how much things have decayed that people really have to be afraid," Gingrich said. "I talked to somebody last night, he was afraid to go to Lenox Square. You have to ask yourself, shouldn't we have policies where people are safe, and the criminals are in trouble, rather than policies where the criminals are safe and the innocent are in trouble?"
Walker said he was ready to debate Warnock "anytime he wants, but it has to be a fair and equitable debate."
The big picture
Walker's campaign is seeking to reinstate Republicans' historically strong hold on Georgia's politics that faltered in 2020 when the state voted for Joe Biden and two Democrat senators.
Despite breezing through the Republican primary with nearly 70 percent of the vote, Walker seemingly faces an uphill battle against Warnock, who won the seat in a special election two years ago. Recent polling has shown Walker slightly behind his Democrat opponent, even as other Georgia Republicans seem to hold an edge against their competitors.
Walker's campaign has been weighed down by attacks and accusations from the media and political opponents, including fellow Republicans. Georgia Commissioner of Agriculture Gary Black, who ran against Walker in the primary, spent many of the latter days of his campaign attacking Walker, once stating that "Herschel Walker's baggage will defeat him."
That baggage has only increased in recent months as major media outlets have honed in on reports of him making numerous false claims on subjects ranging from his education to his career, including claims that he was once a law enforcement officer himself.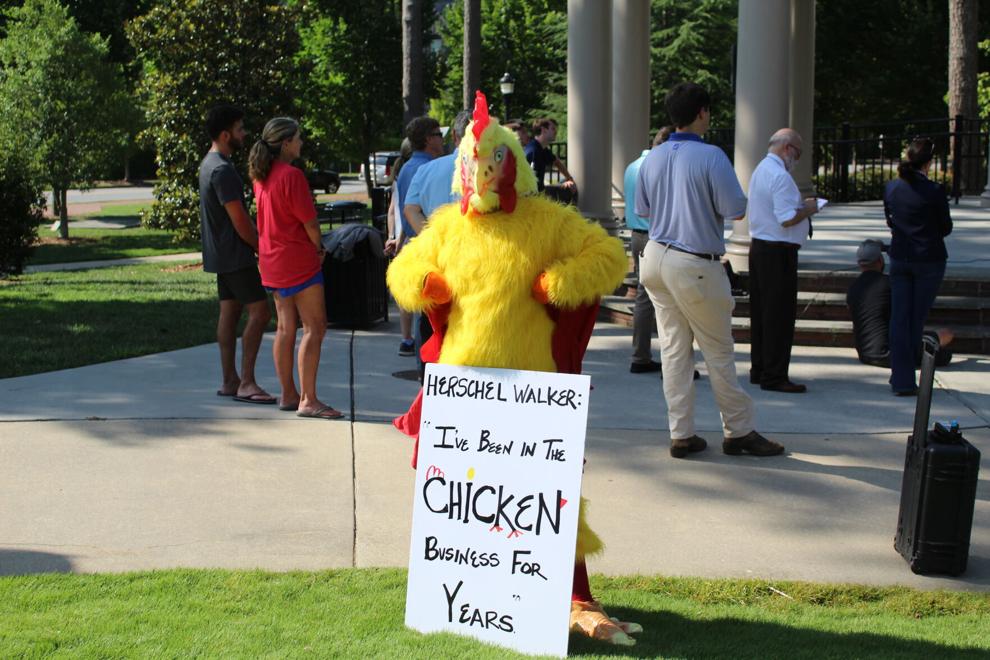 Former Cobb County Sheriff Neil Warren also spoke at the Friday rally and said he had made Walker an honorary deputy, though he did not specify when, nor did he state what the title meant. Sgt. Jeremy Blake told the Alpharetta-Roswell Herald July 29 that the title is "more like a community liaison" than an actual law enforcement position.
Blake also said that there was no record of who was made an honorary deputy under Warren, who left the sheriff's office in 2020. He said the title's meaning may have changed since the new sheriff, Craig Owens, was sworn in.
Asked by the Herald about his claims of being an officer, Walker said the question had already been answered.
"I'm not going to address that," Walker said. "Right now, they're spending money because they don't want to address the problem that's going on in the state, which is the economy."