In the May 24 primary election, voters will choose between Robb Pitts, Sonya Russell and Jewel Johnson for chair of the Fulton County Board of Commissioners. There are no republican candidates.
The position is at-large, meaning residents can vote for it regardless of which district they live in. 
Note: Robb Pitts (Incumbent) and Jewel Johnson did not submit responses to Appen Media's questionnaire.
---
Profile: Tell readers a little about yourself.
Russell: I am a 25-year law enforcement leader, who now owns a small business. Served 10 years at the APD, and 15 as a federal agent before retiring. I am a dedicated wife, mother and grandmother and I'm ready to give Fulton County a fresh start.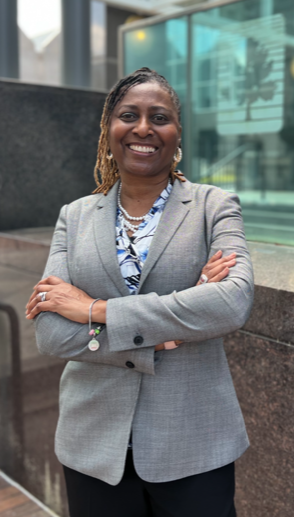 ---
Question 1: What do you see as the county's greatest challenge near-term, and have you any ideas on how to address it?
Russell: The greatest challenge will be to unite the county: north, south and Atlanta in between. While doing this, we must work to reduce crime so people feel safe to go to school, go to work, and improve their quality of life. I believe my background in law enforcement makes me uniquely qualified to work collaboratively with all the different law-enforcement agencies and social organizations to prevent crime and achieve our overall goal: to improve the quality of life in Fulton County for everyone. I will establish new and improved cooperative partnerships in the private and public sector to achieve these goals.
---
Question 2: Which policy or project facing the Board do you feel most passionate about, and how will you work to pass/complete it?
Russell: The Board under the current chairman has shown a failure of leadership. There is no election director; the chairman misapplied federal rescue dollars, and he was recently scolded by a judge for passing an unlawful election rule (that was overturned). On day one i will introduce a measure to clean up corruption and provide open, transparent leadership. From talking to constituents and local city councils, developing K-8 STEM/STEAM home zoned schools that feed into schools like Innovation Academy and Global Impact Magnet high schools as well enriching our existing middle and high schools with some elements of those magnet schools would be very attractive to keeping and increasing enrollment. 
---
Question 3: With rising costs of living making many voters' everyday lives more expensive, what would you do to promote economic stability in Fulton County?
Russell: A Chairman Sonya Russell will reintroduce the Rescue Implementation Plan that the current chairman refused to support. It allows for millions in home mortgage assistance, summer youth jobs and training and provides small businesses with grants to help them come out of the pandemic fiscally strong. I will not only talk about helping our businesses during election season; I will work every day to promote economic stability in Fulton County.