ALPHARETTA, Ga. — Faith, a human trafficking survivor, was 4 years old when someone first put a price tag on her. Her mother would not hand her over to her relatives unless she was given something in return, whether it was a car or payment for utility bills.
"That was the only way that she would allow me to be free from her abuse, from her neglect, from her addiction, and from all of her unhealthy cycles and patterns," Faith said.
Faith's story concluded the Jan. 21 Human Trafficking Summit at the Fulton County Schools Innovation Academy, hosted by the Alpharetta Rotary. Preceding Faith, two panels consisting of experts in human trafficking spoke from varying angles on the subject.
Because she was sexually assaulted at a young age, Faith said she had a skewed version of what love was.
"I learned then that I had no voice, that I had no value, that I had no worth, and that I had no purpose, and that I certainly didn't have a destiny anymore," she said.
Faith's turbulent beginnings followed her until her late 30s, when she finally escaped the cycle of human trafficking. She now works at Street Grace, a faith-driven organization whose mission is to eradicate the sexual exploitation of minors and become one of the founding members for its Survivor Advisory Council.
"Please get involved," Faith said. "Because there are people out there who depend on you …they need someone to help them through breaking the cycles that they get wrapped up in, in the patterns that they get wrapped up in because it's not easy."
Defining human trafficking
Moderated by Dave McCleary, founding member of the anti-human trafficking organization Rotary Action Group Against Slavery, the first panel consisted of Susan Coppedge, former ambassador to the Trafficking in Persons Office; Alia El-Sawi, victim assistance specialist at the U.S. Department of Homeland Security; Hannah Palmquist, human trafficking section chief for the Georgia Attorney General's Office; and Jonathan Leach, special agent for the Georgia Bureau of Investigation's Human Exploitation and Trafficking Unit.
Human trafficking is rarely kidnapping by physical force, Palmquist said, but rather victims are lured in by promises to fill basic needs that aren't being met.
"Sex trafficking is the exploitation of the most vulnerable victims in society," Palmquist said.
There are three types of human trafficking, Leach said, labor trafficking, sexual servitude and benefits trafficking. Benefits trafficking, which targets older people or people with disabilities, doesn't see a lot of discussion, Leach said.
Most trafficking, 60 percent, comes in the form of labor. El-Sawi commented on some of her case work that found domestic servitude within multimillion-dollar homes.
"It can happen anywhere," El-Sawi said. "It could happen in an affluent neighborhood … So this is an issue that really affects all of us — all communities, all populations."
According to data provided by Alpharetta Rotary, it's estimated that 43 percent of johns live in North Fulton.
Coppedge asked the audience to be conscious consumers, directing visitors to slaveryfootprint.org. The website allows users to answer a series of questions informing them of how purchasing habits contribute to the global labor trafficking problem.
"Sex trafficking is horrific — it's a bodily assault," Coppedge said. "But labor trafficking can be a bodily assault, too, and we are all contributing to that with our consumer purchasing."
Prevention efforts
The summit's second panel focused on prevention within the transportation industry, health care field and the school system.
Moderated by Ashlie Bryant, CEO of the anti-human trafficking organization 3Strands Global Foundation, the second panel included FCS Innovation Academy students Sejal Whitaker, Lakshana Ramanan and Sree Hariharan; Joe McDermot, vice president of Operations and Training at Delta Airlines; and Freda Lyon, vice president for Emergency Services at Wellstar Health System.
Bryant's organization developed a human trafficking prevention program that can be implemented in schools at all grade levels. Starting in kindergarten, students are taught to listen to their inner voice.
"A really important part of prevention is being able to meet people where they're at," Bryant said.
Lyon said hospital staff are trained to ask all patients if they feel safe at home in a way that makes patients feel comfortable. She also described some of the signs of human trafficking that health care workers should look for, like tattoos.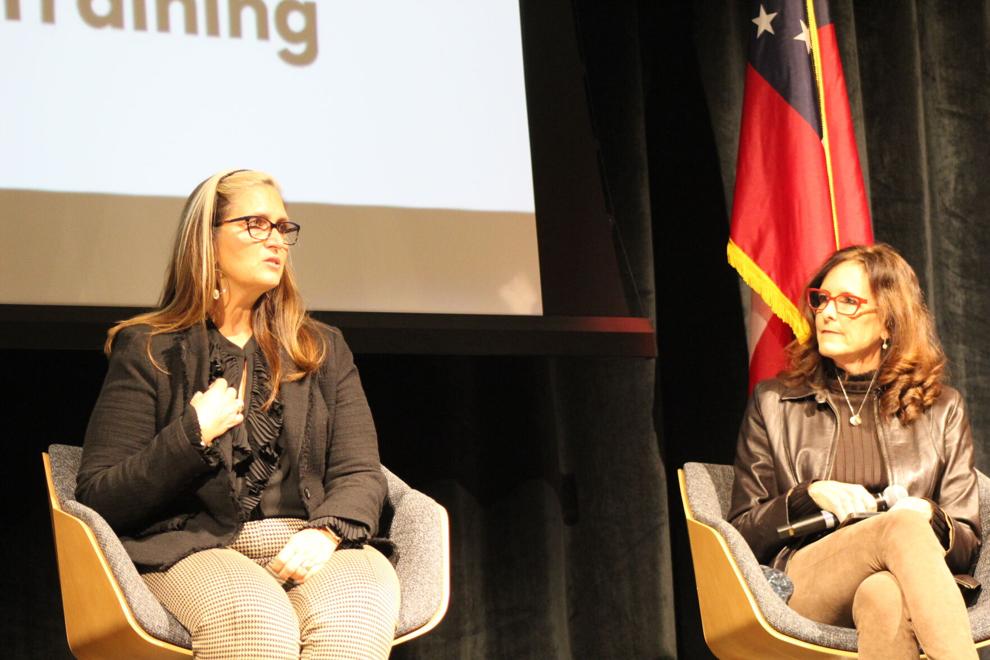 But Lyon said trafficking victims don't always look like they've been trafficked.
"We have to worry about our bias, making sure that we're aware of our bias."
McDermot said all 95,000 Delta Airlines employees are trained to spot signs of human trafficking. He shared a success story about two aircraft mechanics in Florida who were able to observe the signs and act as a result of the training.
"Don't underestimate the awareness that everybody has in this room," McDermot said, alluding to the packed auditorium.
He also said that Delta uses frequent flier miles to help evacuate trafficking victims back to their families, which has been done 326 times.
Hariharan, a junior at FCS Innovation Academy, evoked applause after giving a call to action to the parents in the room.
"What we need to do is reduce the stigma of talking about sexuality — good touch, bad touch — because you'd rather be the one to tell your children."