MILTON, Ga. — None of the Milton High School students setting up American flags for the victims who died on 9/11 had been born when the attacks happened.
This is the 20th anniversary of 9/11, and Milton High School continued its tradition Sept. 2 setting up a memorial in remembrance of the victims. A full memorial service is slated for 7:30 a.m. Friday, Sept. 10.
For about four and a half hours, one by one, students, community members, and fire and police officers drilled into the ground on the front lawn and placed flags with a victim's name individually tied onto each.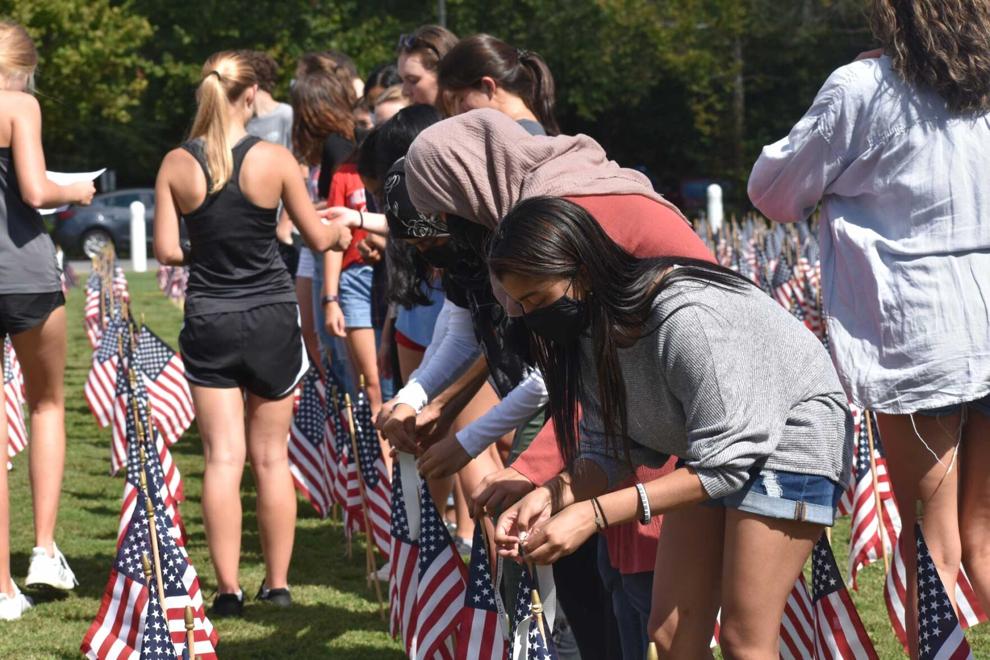 Junior Cory Chambers and freshman Justin Mikels, along with their families, organized the student-led event this year. Justin said he finds it difficult to grasp the sheer amount of people who died on 9/11 but that it is important to remember their stories. This was his third year assisting with the project.
"One of my mom's old neighbors was good friends with this man who was trapped somewhere on the 80th floor of one of the towers, and he couldn't escape so he wrote a note saying 12 people were trapped up in the building and threw it out of the building," Justin said. "He had left his bloodstain on it so someone picked it up and kept it and once DNA testing was better they tested the letter in a DNA lab and found out it was my mom's neighbor's friend."
The event, Chambers said, is a good way to continue to spread awareness about 9/11.
"It's an important point in America's history and I feel like it's so important that we honor the victims as a town and as a school," Chambers said. "There's just so many people connected to each victim, and it's sad and it's fascinating how it's impacted so many people."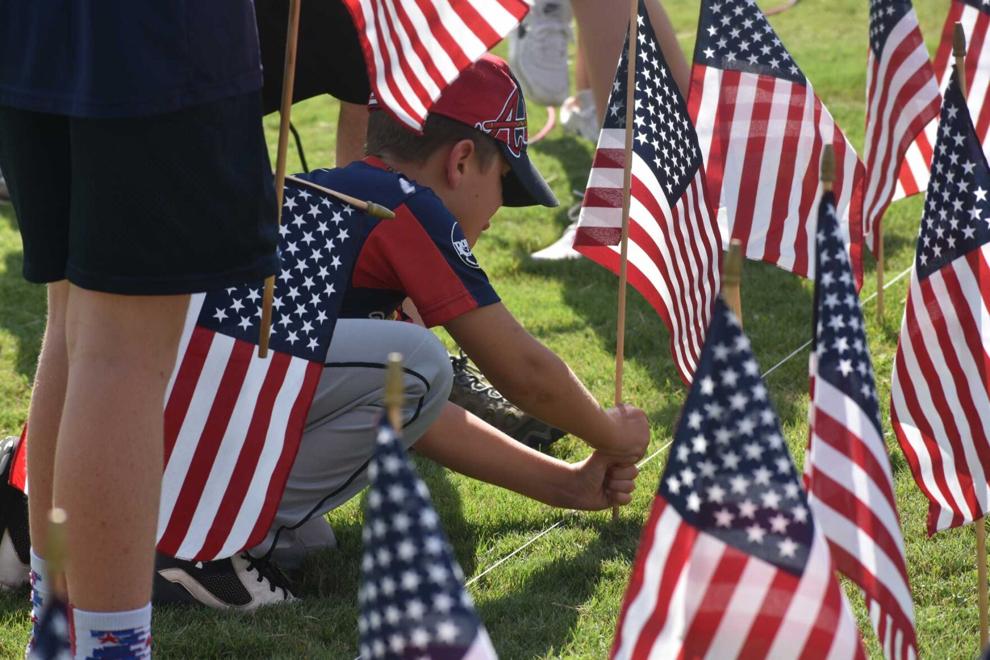 Jen Mikels, Justin's mom and co-chair of the 9/11 Memorial, said one of her best friend's husbands who was a first responder on 9/11 also died that day, so it holds a special place in her heart.
"I think when you know people who have been impacted you just want to do what you can to bring their names back to life and honor them," Jen said. "The victims that we're going to talk about at the ceremony are going to have a connection to somebody who will be here that day … . We are trying to show that we have a connection here in our community, so people and our students are aware that this is important to do every year."
Jen said it meant a lot to see about 70 students volunteer to set up the flags.
"They're out here helping for something that they see as history," Jen said. "It warms my heart to see them willing to give up their time to remember everybody. … We also want to remember the survivors of 9/11 and the secondary victims who have passed away since 9/11 that were exposed to things like carcinogens."
James Campbell, fire apparatus operator, was one of about 10 firefighters from the Milton Fire Department who volunteered Sept. 2. He said the department makes it a point to show up every year.
"We think it's a great thing that the kids and the school put this together," Campbell said. "We hold what it stands for dear to our heart, so we feel obligated to come to be of help."
The 9/11 Memorial Service will take place at the front of Milton High School, 13025 Birmingham Hwy.