MILTON, Ga. — Members of a panel studying the feasibility of whether Milton can conduct its own municipal elections are moving closer to a final cost tally.
The Milton Municipal Election Feasibility Committee gathered Nov. 11 to discuss the remaining costs associated with the city running its own election.
Formalized in April 2022, the committee has been asked to ascertain whether it makes sense for Milton to conduct its own municipal elections, rather than pay increasing costs to Fulton County for the service.
Milton paid the county $84,671 to run its 2021 municipal general election and another $70,368 to conduct a runoff election in late November, according to the contract agreement.
The committee has become a vanguard for other cities that have expressed interest in wresting control of municipal elections from the county. That scenario became more likely after Fulton County, itself, recommended cities conduct their own election in 2023 due to a hike in costs. The recommendation was made at the Oct. 13 Fulton County Registration and Elections Board meeting.
Discussing cost
Following the Milton committee's Nov. 2 meeting, the only items left in question were cleaning costs for polling locations, cost of advertising for poll worker recruitment and costs associated with wages of a potential election superintendent assistant.
Cleaning costs have yet to be confirmed, but committee members expect it to be around $200 a day. For advertising, the committee used Appen Media prices to assume cost, which was estimated at $600 for four weekly advertisements.
According to calculations by Milton Deputy City Manager Stacey Inglis, the cost associated with part-time wages for an elections assistant would be around $21,181.46 over 455 hours in a calendar year. The calculations were based on the average salary of North Fulton city clerks and percentages of time spent on election prep given by Peachtree Corners City Clerk Kym Chereck.
But committee member Lisa Cauley said she would need a breakdown of election-related tasks before approving the wage estimate.
The committee determined most other election costs at its Nov. 2 meeting, namely printing and absentee ballot boxes.
So far, the running total is around $48,500. But this does not include wages for either poll workers or an election superintendent assistant — both expected to be high-ticket items.
Members have one meeting left scheduled for Dec. 1 before they must present a final report to the Milton City Council.
The presentation could take place at the Dec. 5 City Council regular meeting or at the Dec. 12 work session, Inglis said. But she said she plans to follow up with Milton City Attorney Ken Jarrard to confirm whether a resolution, to be voted on, is permitted at a work session.
County admits cost increase
Inglis said committee members previously discussed a Fulton County Registration and Elections Board meeting, in which Elections Preparation Manager Nadine Williams recommended that they encourage municipalities to run their own elections in 2023.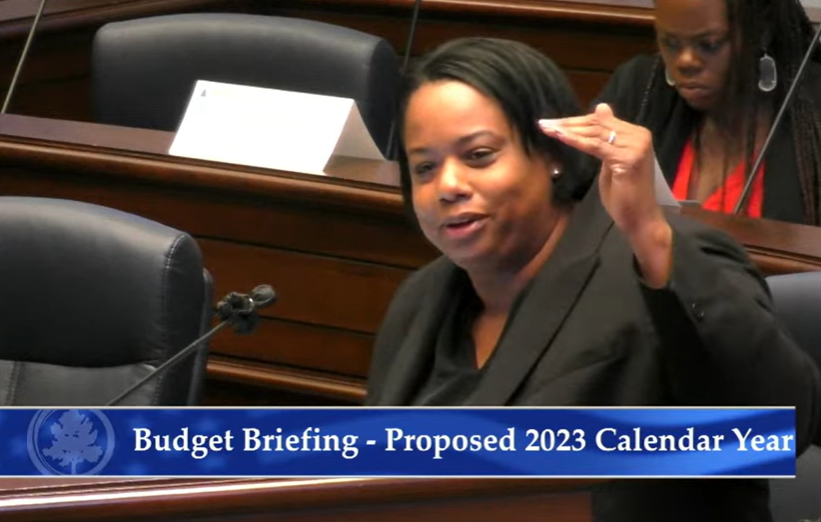 Williams also provided a cost comparison between 2019 and 2023 for voting machines, which showed a $126,000 increase, and compiled high-priced excerpts from the 2023 election budget.
According to Williams' presentation, a 2019 resolution between Fulton County and its municipalities is being reviewed to propose a cost increase per voter. Because government offices were closed for Veterans Day, the cost could not be confirmed.
But Inglis said the cost per vote would be more than doubled. The city was charged $2.96 per voter for the last election, Inglis said. The new cost will be more than $6 per voter.
"Can I just say the increase in the price of elections — that chart — was mind boggling?" Board Chair Cathy Woolard asked at the Oct. 13 board meeting.
Woolard said she gets comments all the time from people who do not like the county's voting machines but clarified that the county is at the will of the state.
"The increase in cost to Fulton County taxpayers on some of these decisions is very, very high, and it doesn't have anything to do with what we're doing," she said. "It is what we are mandated to do."