MILTON, Ga. — The Milton City Council and representatives of the design and construction companies responsible for the Fire Station 42 rebuild project on Thompson Road, gathered at the station's construction site for its "topping off" ceremony Oct. 31. 
Between exposed steel beams, the room held several tables draped in red cloth with flower centerpieces made from recycled nozzles — counterparts to the art piece made from a colorful set of fire hoses sitting on a table along the wall. As people entered, they were encouraged to sign the piece, which will be a permanent fixture at Fire Station 42.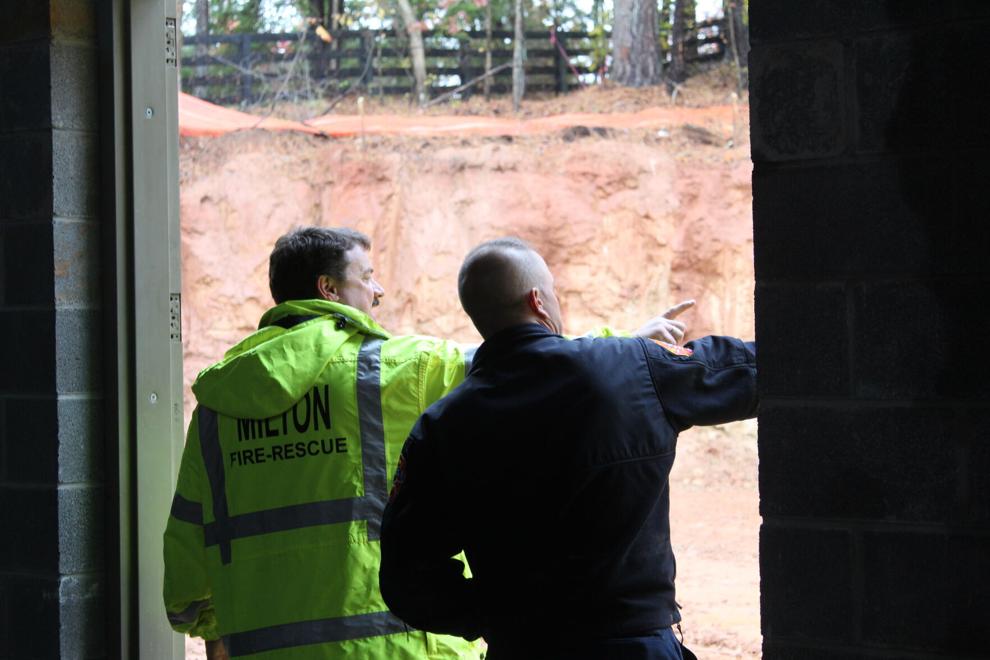 Several people spoke during the event, sharing their excitement for the $4.9 million station rebuild. The project is on budget and on schedule to open in early April, said Bob Buscemi, Milton's community development director. 
Buscemi, who kicked off the ceremony, told the crowd of about 50 people that the "topping off" ceremony presents the completed shape of the building, after all the steel infrastructure work has been done.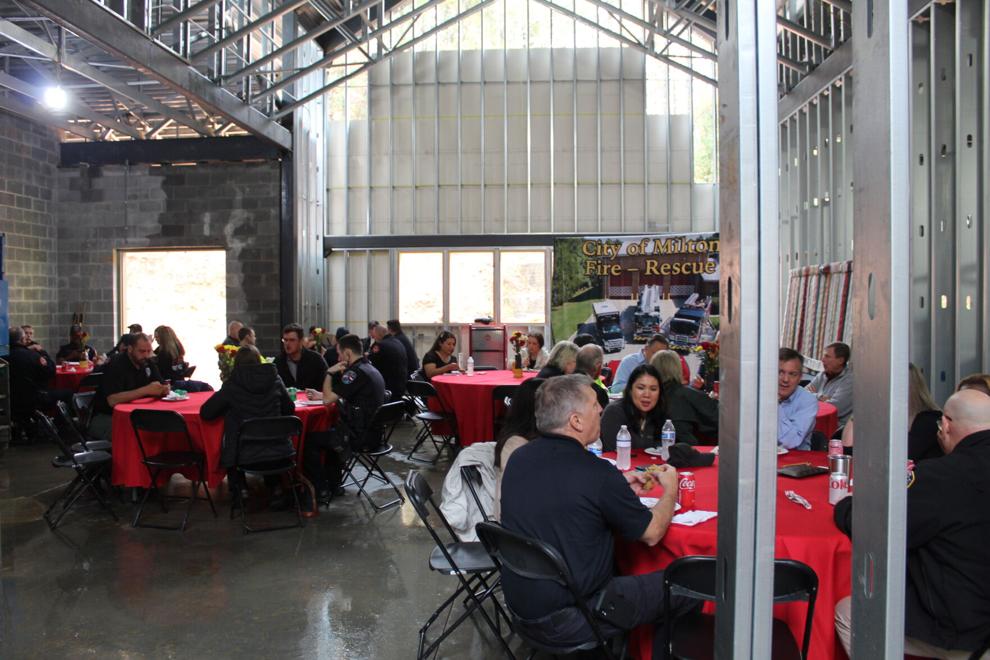 The new building, which will be constructed of sustainable materials, should last 50-plus years, Buscemi said. 
With a barn-like aesthetic, the new station will be nearly double the size of the original to stand at 6,500 square feet. Neighbors of the new fire station donated property to accommodate the septic system, Buscemi said.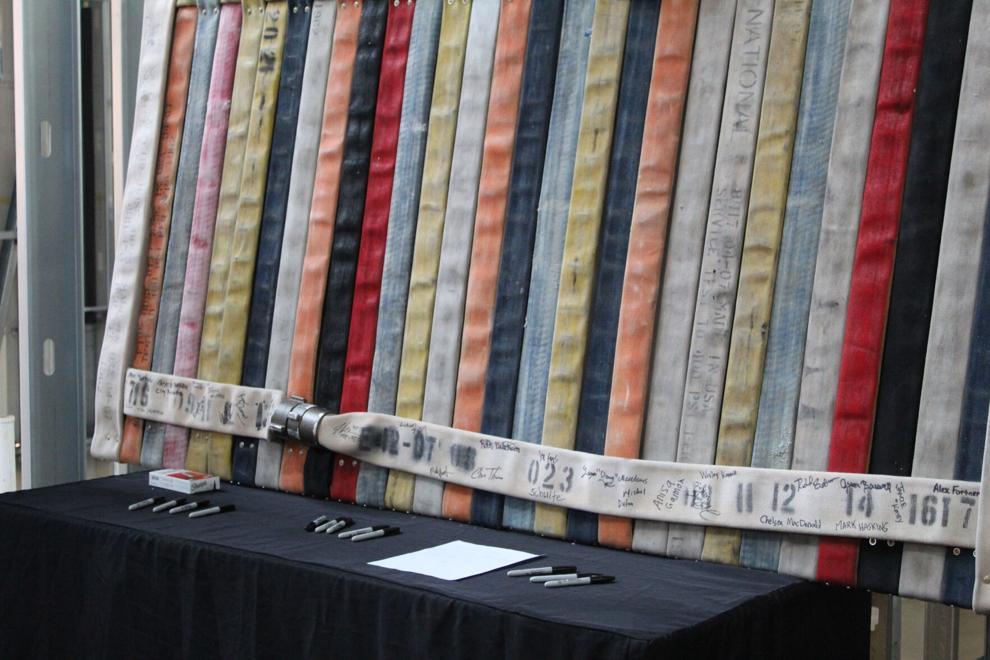 Plans call for a two-bay drive-thru with a parking lot, lighting, landscaping, retaining walls and other site work. While giving a tour, Milton Deputy Fire Chief Matt Marietta pointed to the future kitchen and exercise spaces. Bunk rooms will be to the right when walking in the station, while a decontamination room and turnout gear storage room will exist separately from the residential areas, on the opposite side of the bay, Marietta said.
Built in the 1970s, the configuration for the original Fire Station 42 did not meet current city construction standards. Milton Mayor Peyton Jamison said his first visit to the station was an "eye opening experience," when he first joined the City Council in 2017.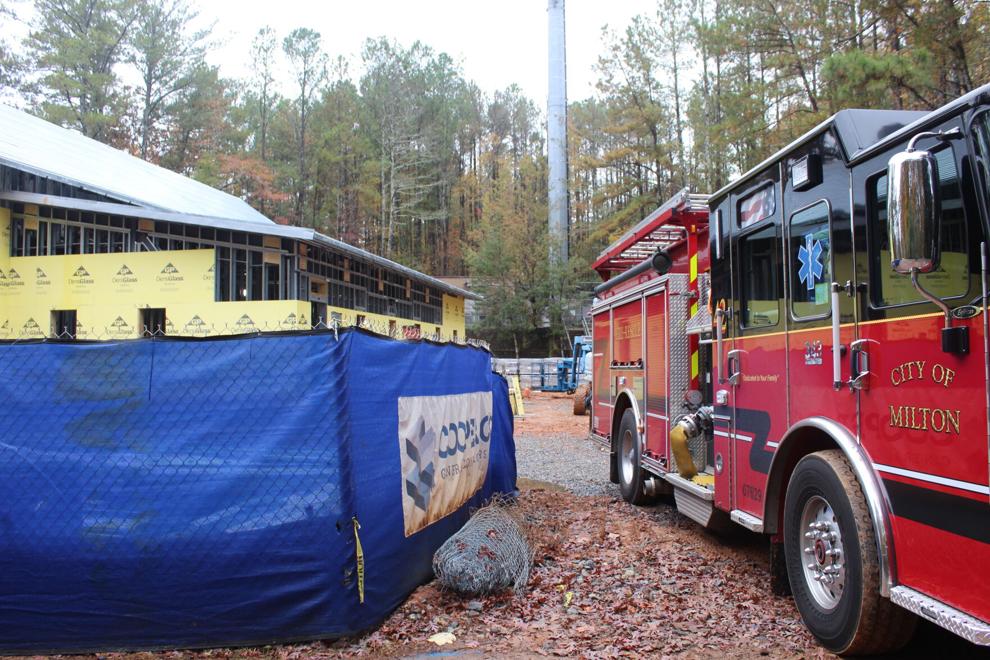 "It was like walking back in time," Jamison said. "I was going into a 1915 hunting lodge, is what it seemed like."
During construction, fire crews and equipment have been operating out of Hopewell Community Center. At the ceremony, Milton Fire Chief Gabe Benmoussa voiced his appreciation for the fire crew's resilience and patience as the new station is built. 
"I know my firefighters are waiting every day," he said.
Benmoussa reminded everyone that a fire station is a second home for firefighters.
"We live a good bit of our time in the firehouse," he said. "It's important that the firehouse has that home feel … that's what I appreciate about the Milton design — is that it fits the community. It's not this humongous, concrete thing that just sits there."