MILTON, Ga. — Milton High School's Hall of Fame Committee held its annual Hall of Fame induction celebration Oct. 1 and 2 at the school's campus. The event began with a tailgate dinner before Friday's varsity football game against Alpharetta High School. This was followed by the Red Jacket Presentation during halftime.
The following night, the committee held a reception and induction ceremony in the auditorium. Several alumni were inducted in recognition of their previous achievements in athletics. Many of the inductees were assigned a current student to serve as their host for the celebratory weekend.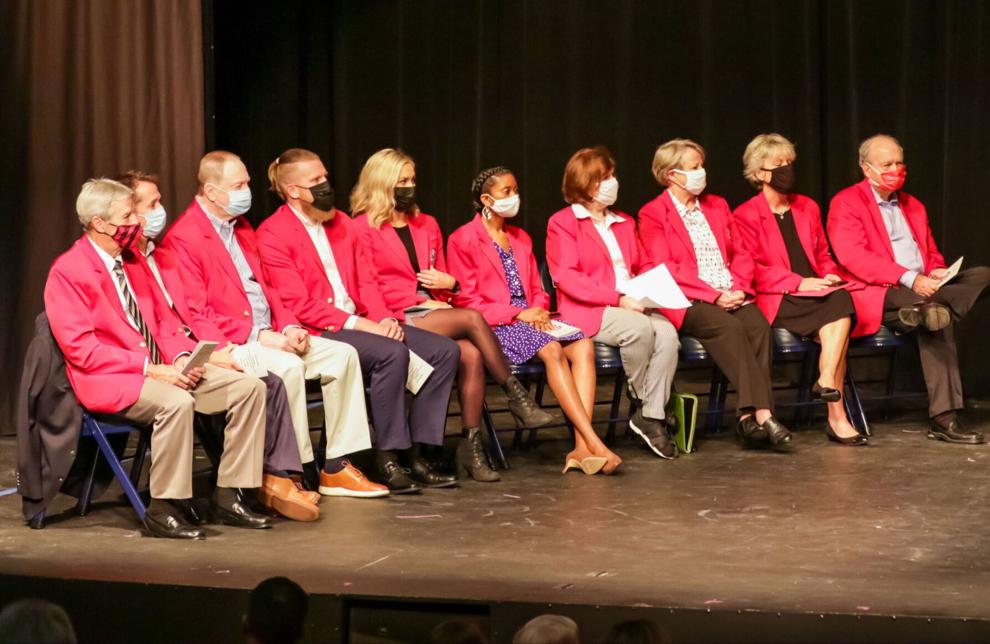 "We want our current students to have positive role models of people who were just like them when they were in school," said Jackie Angel, a former Milton High School 100th Anniversary Chairperson. "We want to inspire all of our current students to 'soar like the Eagles' we have in our Hall of Fame. This year was a 'special edition' 100th Anniversary Hall of Fame event. We inducted a graduate from each decade of our 100 years, starting with the 1920s."
Since 2016, the committee has selected school alumni for their annual induction class. The school's Athletic Director Gary Sylvestri serves as the head of the committee.
Inductees were joined by friends and family members along with alumni spanning over many years. Current students and faculty were also involved in the festivities. This year, the committee inducted their first graduates from the class of 1922 which included Mary Clyde Andrews Gilstrap and Kate Walker Willbanks.
"I love working with the Hall of Fame and the alumni," Angel said. "I plan to stay involved with the Hall of Fame even after my retirement and after the 100th anniversary. Getting to connect and reconnect with the alumni is so rewarding and inspiring. It lets the whole community know that Milton High School is such an asset to the City of Milton and the students and families we serve as evidenced by the amazing graduates we send out into the world."
Here is the list of 2021 alumni inductees:
Mary Clyde Andrews Gilstrap – Class of 1922
Kate Walker Wilbanks – Class of 1922
Harold Melford Paris – Class of 1939
Aubrey Morris – Class of 1940
Connie Mashburn – Class of 1959
Arthur Letchas – Class of 1962
Lynn Bates – Class of 1971
Buffie Burson – Class of 1985
Todd Strada – Class of 1996
JoyEllen Freeman Williams – Class of 2009
McKenzie Kurtz – Class of 2015
For more information about the Hall of Fame, visit Milton High School's website at www.fultonschools.org.