MILTON, Ga. — Dozens gathered on the front lawn of Milton High School Oct. 23 to kick off a full-day of festivities marking the school's centennial anniversary.
Students, alumni, faculty, family and community members heard remarks from school Principal Brian Jones and Milton City Councilman Peyton Jamison to start the day.
Jamison spoke of the school's legacy and its future.
"Every student who goes through Milton High has a chance to nurture their minds, to expand their horizons, to find their loves and talents and to develop into their best possible selves. That's what a great school does, and no place has done it better over the years than Milton High," Jamison said. "Congratulations on an extraordinary 100 years and cheers that Milton High's next 100 years will just be as impressive and impactful as it is on the city today."
After the remarks, the school's choir and wind ensemble — accompanied by some alumni — performed an updated arrangement of the Milton High School alma mater anthem.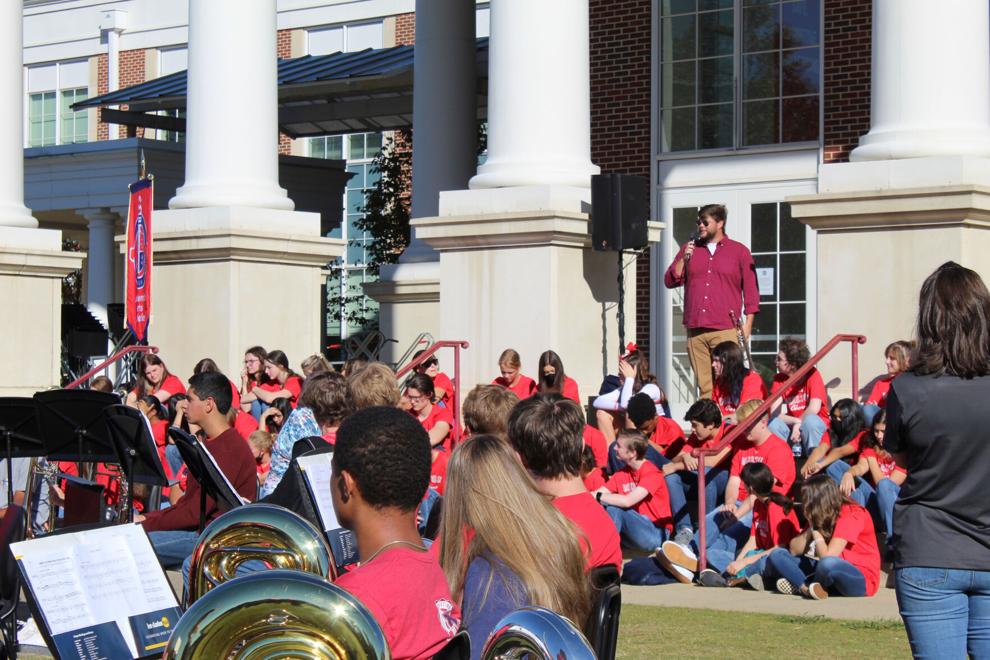 Class of 2010 alum and composer Nathan Hudson was tasked with making the song unique to the school.
"As I was thinking about how to reimagine the alma mater, it's not like I had to write a new one, cause it doesn't need that, but it needed a reimagining," Hudson said. "Because the world demands a reimagining and Milton is rising to do that. We are preparing students in new and fresh ways to be modern, active members of our society and it's really special."
Following performances by the school's drumline and cheerleading squad, the crowd dispersed to walk the campus, register for raffles, speak to former classmates, interact with Eddie the Eagle and play cornhole.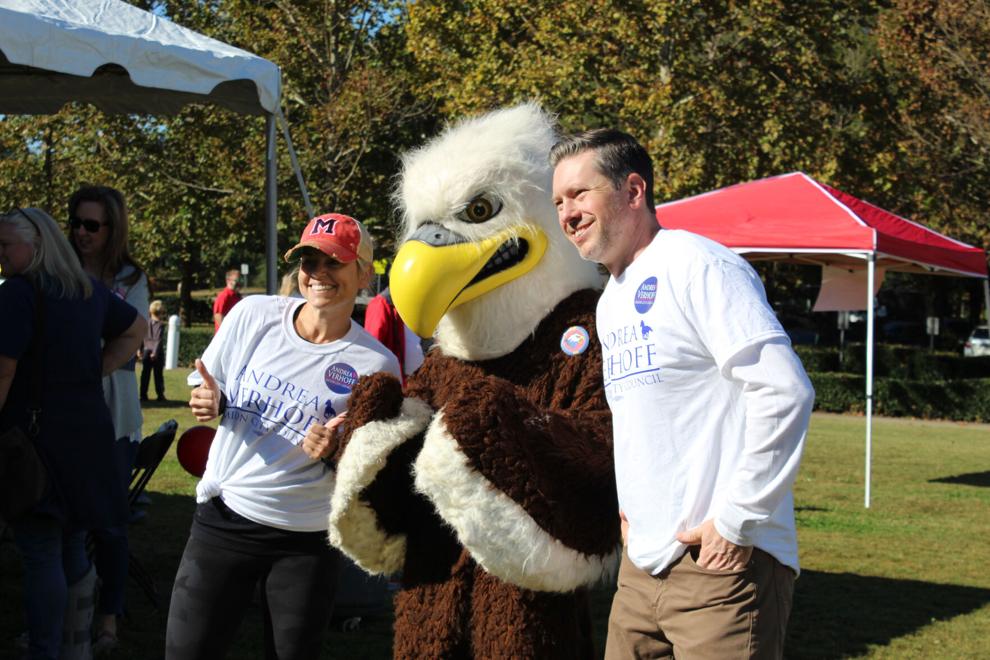 Later in the morning was a ribbon cutting ceremony on the "100th Anniversary Stadium Wall" located just outside the football stadium.
Forming part of the wall are the original Milton High School cornerstones from 1921. The school's first campus was constructed in 1921 and located near downtown Alpharetta. MHS moved to its current home on Birmingham Highway in 2005.
Former principal, assistant principal, teacher and 50-year supporter of the high school Phil Thomas gave remarks about the wall, its story and its significance.
"Today we're also celebrating that merger of the two schools," Thomas said. "Milton is carrying forward since 2005 in this location, but you'll notice that on each corner of this wall, the booster club was willing to put these two cornerstones. You may recognize them. They are the original cornerstones of the building built by the Milton County Board of Education in 1921. So, carrying forth the legacy of Milton High School, and that's what we're celebrating here today."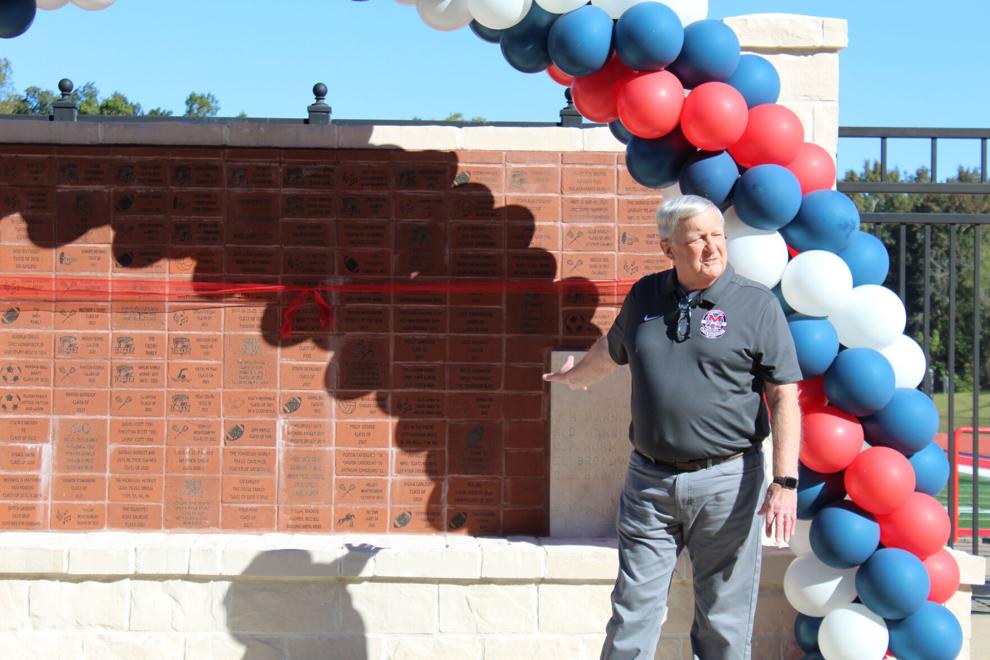 The Milton High School Centennial Anniversary Committee was formed over the cornerstones back in 2017. Thomas and Committee Chairwoman Jackie Angel visited the old school after the site was chosen as the new location for Fulton County Schools' Innovation Academy.
Before the original structure was torn down, Angel and Thomas requested the cornerstones be preserved. That day in 2017 and the reminiscences Angel and Thomas shared, Angel said, led them to launch the Centennial Anniversary Committee.
While walking the old campus that day, Angel and Thomas also came upon a plaque which had dedicated the football field to former Milton High School teacher, counselor and coach Sonny Hawkins in 1992.
Hawkins had also served as the press box announcer at football games for 25 years.
"Mr. Hawkins, he was known as the voice of the Eagles," Angel said.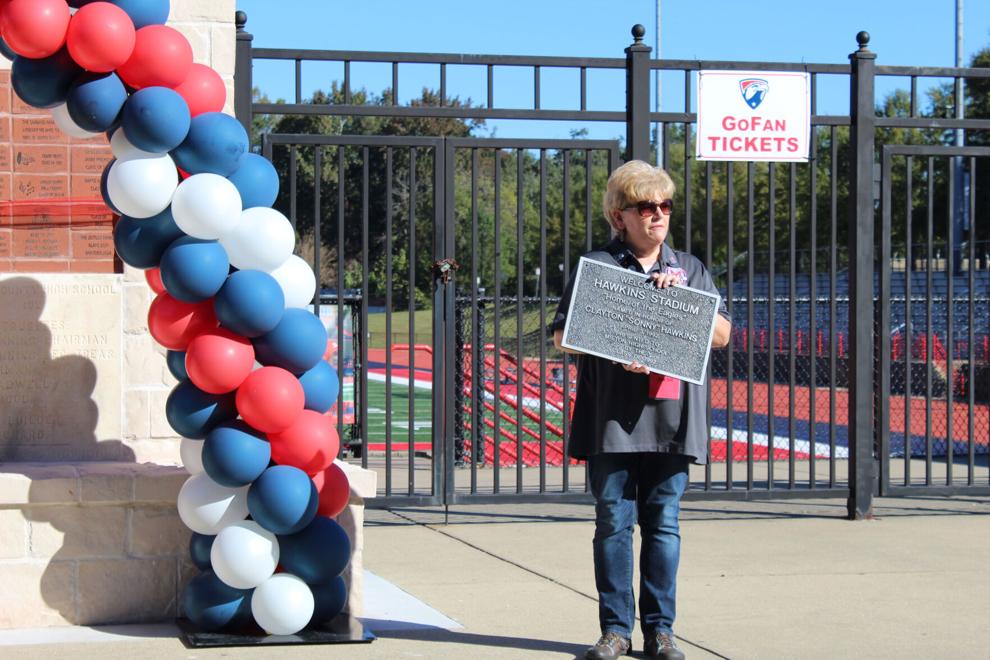 After getting permission from Hawkins' daughters to keep the plaque and use it to memorialize Hawkins and share the school's history, Angel said the school's touchdown club will install the plaque on the opposite side of the wall for passersby to read for years to come.
"So, we have a little bit of the old original Milton that's coming over here," Angel said.
Many of the attendees on Saturday had not yet set foot on the school's new campus, including class of 1963 graduate and Milton resident Jim Thompson.
Back in high school, Thompson was a unique participant in the MHS basketball program. Instead of playing on the boys' team, Thompson served as coach and bus driver for the ladies' team.
Thompson had moved away in 2000 to Daytona Beach, Florida, but he and his wife returned to Milton last year.
Since coming home, Thompson said he's regularly met up with former classmates and was excited to see them all at the centennial celebration. He also said he was proud to be a part of Milton's century-long legacy.
Now, the school doesn't have student coaches for sports, but one of the newest members of the Milton High School community was also happy to be present Saturday morning.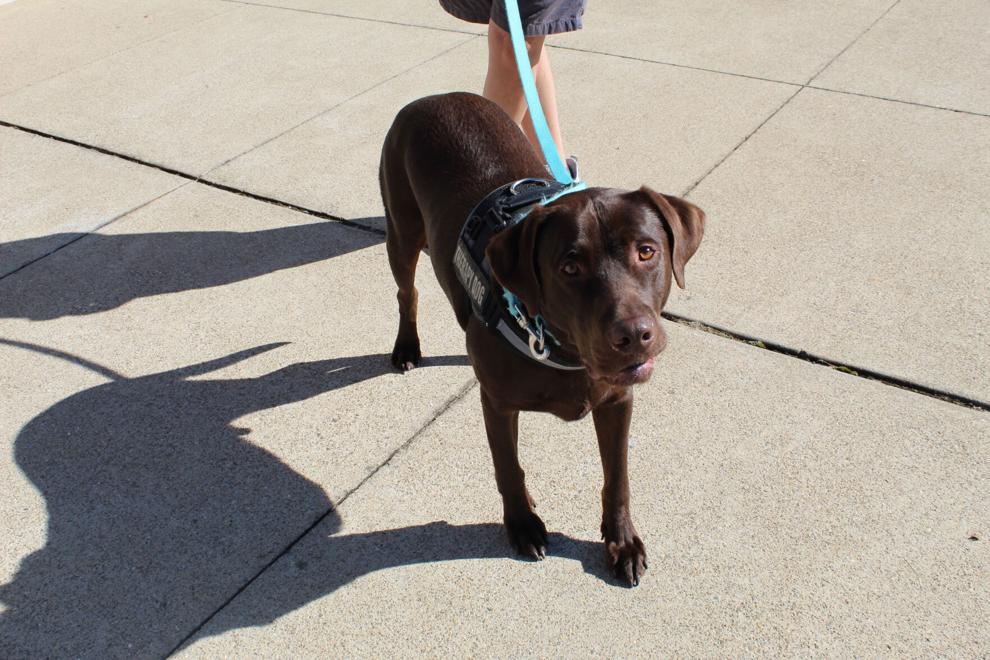 Reef, the school's therapy dog, came to MHS two years ago. He spends most of his time with 22-year Milton High School faculty member, Deb Schaefer.
Students sometimes pet him for good luck, Schaefer said, especially before last year's Advanced Placement exams.
Reef is a companion most often for students in English as a second language courses and for students with disabilities. Demand for Reef's seemingly infinite pool of love is growing, Schaefer said. She has begun working with the counseling department to provide more students the opportunity to come and sit with Reef during the school day whenever they need a furry friend.
Attendees also received tours of the school's campus, enjoyed food trucks and games, won raffles, saw student performances and witnessed the premiere of the Milton High School history documentary, among other festivities.
Four years in the making, Saturday's all-day celebration recounted MHS' storied past and set the community up for a fruitful start to their second century.