MILTON, Ga. — Milton Mayor Peyton Jamison told his son he'd be treated to ice cream if he sat still through his "State of the City" speech Feb. 15 at City Hall.
It ran only 30 minutes, but Jamison covered a lot of ground, highlighting the city's accomplishments over the past year, including major milestones in parks development, to the crowd of more than 100.
Once park poor, the mayor announced the city recently purchased 47 acres of active park space. Seven acres, off of Bethany Bend, will likely be an indoor sports complex and community center, he said, in addition to 40 acres on Hopewell Road that will serve as a new athletic complex full of fields and playgrounds.
Jamison reiterated the city's priority to enhance resident access to nature and parks, describing updates to Birmingham Park and Legacy Park. Providence Park has undergone a transformation over the past 15 months, he said, including a wheelchair accessible trail, Eagle Scout-made signage and permanent restrooms.
"There's no porta-potties at Providence Park," Jamison said.
Milton City Park and Preserve, once the Milton Country Club, saw a new community center unveiled last year. Most of the property is passive use, funded through the $25 million greenspace bond passed by residents in 2016.
The bond helped allow the city to add park land and free up recreation funding for its own residents.
There are no longer any cost-share agreements with Alpharetta for recreational programming, Jamsion said, "giving residents of both cities more, less expensive opportunities."
The cost-sharing agreement allowed Milton and Alpharetta residents to enroll children in recreation programs in each city without paying non-resident fees. The agreement ran for seven years and was heavily subsidized by the City of Milton, which had a fraction of the park space and recreation facilities as its neighbor.
In 2018, Milton residents accounted for 14,300 registrations for Alpharetta-based recreation programs, while 413 Alpharetta residents participated in Milton-based park programs. During that time, the City of Milton paid Alpharetta $453,100 in fees.
Mayor cites milestones
Collaboration within and outside of the city was a consistent theme in Jamison's speech.
"Sure, we have all different roles, different areas of expertise and different types of responsibilities," Jamison said. "But no matter what, we all pull in the same direction, and we are all Team Milton."
A more recent, rather sizable milestone was the city's role as vanguard to other North Fulton cities currently seeking to run their own municipal elections this fall. The move was driven in large part due to rising costs announced by Fulton County. Following a months-long feasibility study, the Milton City Council approved plans for a self-operated fall 2023 municipal election.
While recognizing the regulations Fulton County must follow, Jamison said the city still could not rationalize the soaring cost from a financial perspective.
"We also recognize that one reason why we formed the city was to have more local control," Jamison said. "And so, we took the lead. And even though leading isn't easy, it's also sometimes necessary."
A 'Milton' atmosphere
Milton City Hall was decked out for the event Wednesday evening, thanks to sponsorship from The Jenny Doyle Group. Walking in, refreshments were laid across several dark green tablecloths. One spread held cupcakes, and in the Milton way, pinned with horse silhouettes.
To the front of the dais, rows of country-style chairs with white upholstery were positioned to either side of the podium, where the City Council and city staff sat for Jamison's speech.
The audience held civic leaders from other communities, like Johns Creek Mayor John Bradberry and Alpharetta Mayor Jim Gilvin. Milton resident and Fulton County Commissioner Bob Ellis, former Commissioner Liz Hausmann and representatives from state offices also sat listening.
"I think Sen. Ossoff told me this is his favorite city," Jamison said.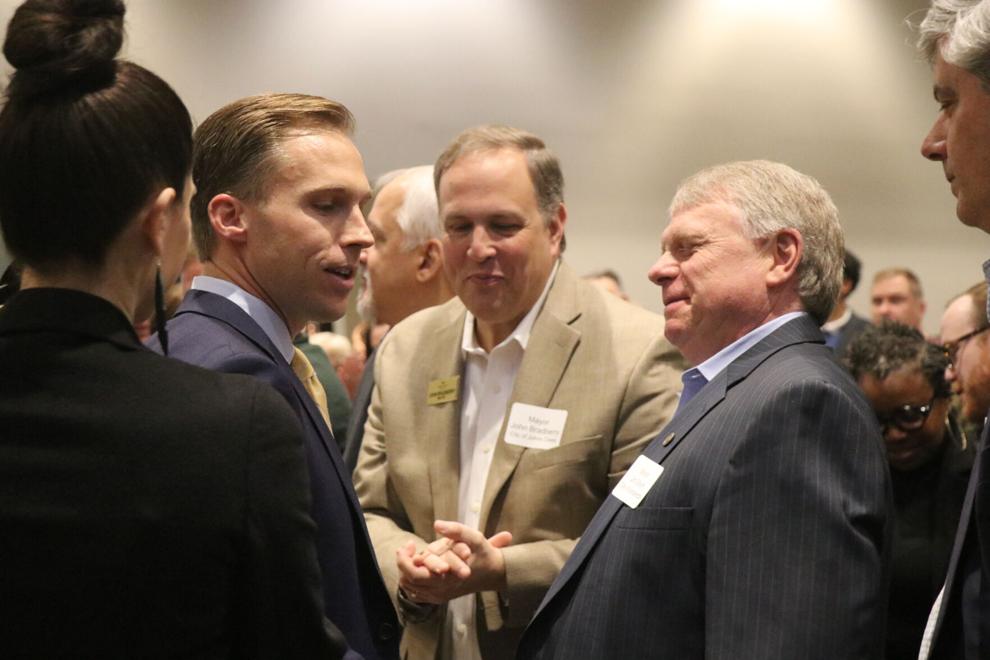 Business breakthroughs
Jamison lauded developers who made the vibrant downtown Crabapple Market District possible with mixed-use developments like Town Center East. The city also saw 27 ribbon-cuttings for new business last year, Jamison said, which is almost as many the city had in the past five years.
Economic development efforts now tend to Ga. 9 in the Deerfield area in a long-term project that should add multi-use paths. Jamison promised to make the Deerfield area a success by involving and informing the community and by supporting changes of signage, architecture and landscaping so the area looks "uniquely Milton."
The mayor also praised Milton Fire CARES, or Community Advocates for Referral and Education Services, launched in 2021. CARES is a free outreach and assistance program that bridges the gap between emergency care and everyday health care needs.
"Why did we do this? Well, the answer is right in the program's name, our firefighters care," Jamison said.
Jamison also hailed the Milton Fire Corps, a resident-led group that volunteers its time supporting the city's fire and rescue team.
Switching gears, the mayor described the diverse range of calls Milton Police must take, including mental health crisis calls. All officers undergo enhanced crisis intervention training, he said, and for two years MPD uses grant funding to support de-escalation training for department members.
The mayor also described the city's Local Road Safety Plan, a resident-driven "deep dive" into road engineering, education and enforcement. To reduce speed, the city's Public Works Department has constructed and will continue to build more roundabouts.
"Everyone in Milton knows they love roundabouts," Jamison said.
Following Jamison's address, one resident said, "Mr. Mayor, thank you so much for improving my life with roundabouts."