Randy Knighton
City Administrator
Kurt Wilson
Mayor
City of Roswell
Notice of Public Hearing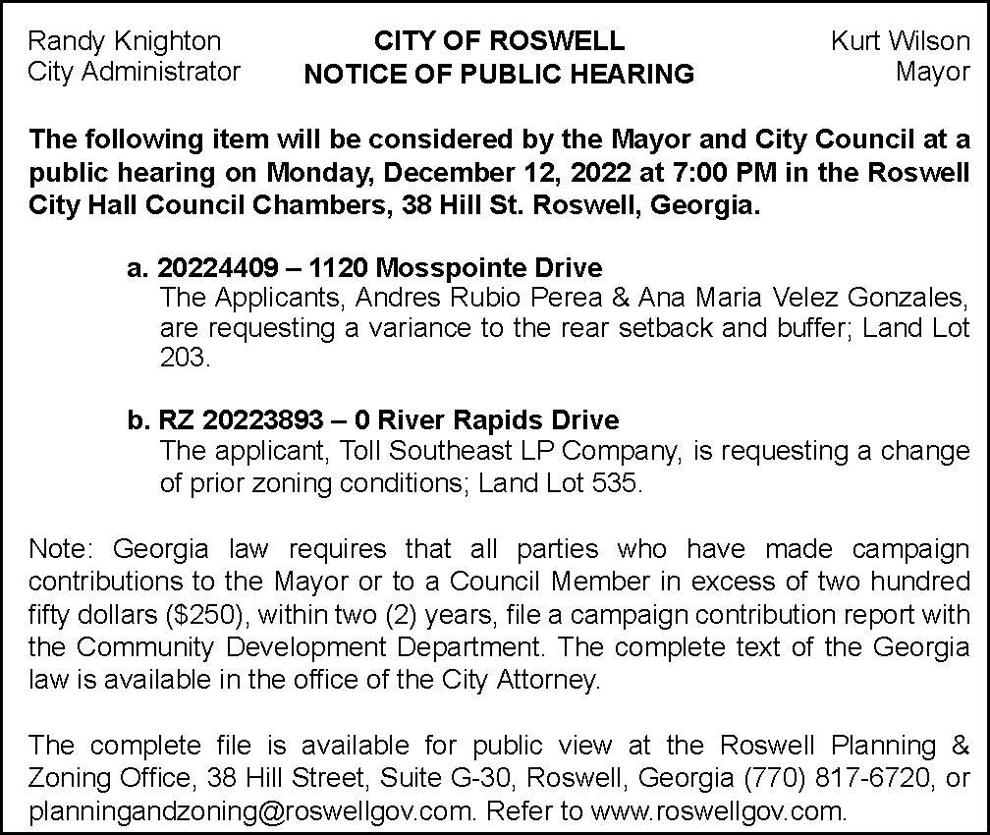 The following item will be considered by the Mayor and City Council
at a public hearing on Monday, December 12, 2022 at 7:00 PM in the
Roswell City Hall Council Chambers, 38 Hill St. Roswell, Georgia.
a. 20224409 – 1120 Mosspointe Drive
The Applicants, Andres Rubio Perea & Ana Maria Velez Gonzales,
are requesting a variance to the rear setback and buffer; Land Lot
203.
b. RZ 20223893 – 0 River Rapids Drive
The applicant, Toll Southeast LP Company, is requesting a change of
prior zoning conditions; Land Lot 535.
Note: Georgia law requires that all parties who have made campaign
contributions to the Mayor or to a Council Member in excess of two hundred
fifty dollars ($250), within two (2) years, file a campaign contribution report
with the Community Development Department. The complete text of the
Georgia law is available in the office of the City Attorney.
The complete file is available for public view at the Roswell Planning &
Zoning Office, 38 Hill Street, Suite G-30, Roswell, Georgia (770) 817-6720, or
planningandzoning@roswellgov.com. Refer to www.roswellgov.com