The City of Roswell Announces Public Comment Period for Community Development Block Grant-Coronavirus (CDBG-CV) Substantial Amendment.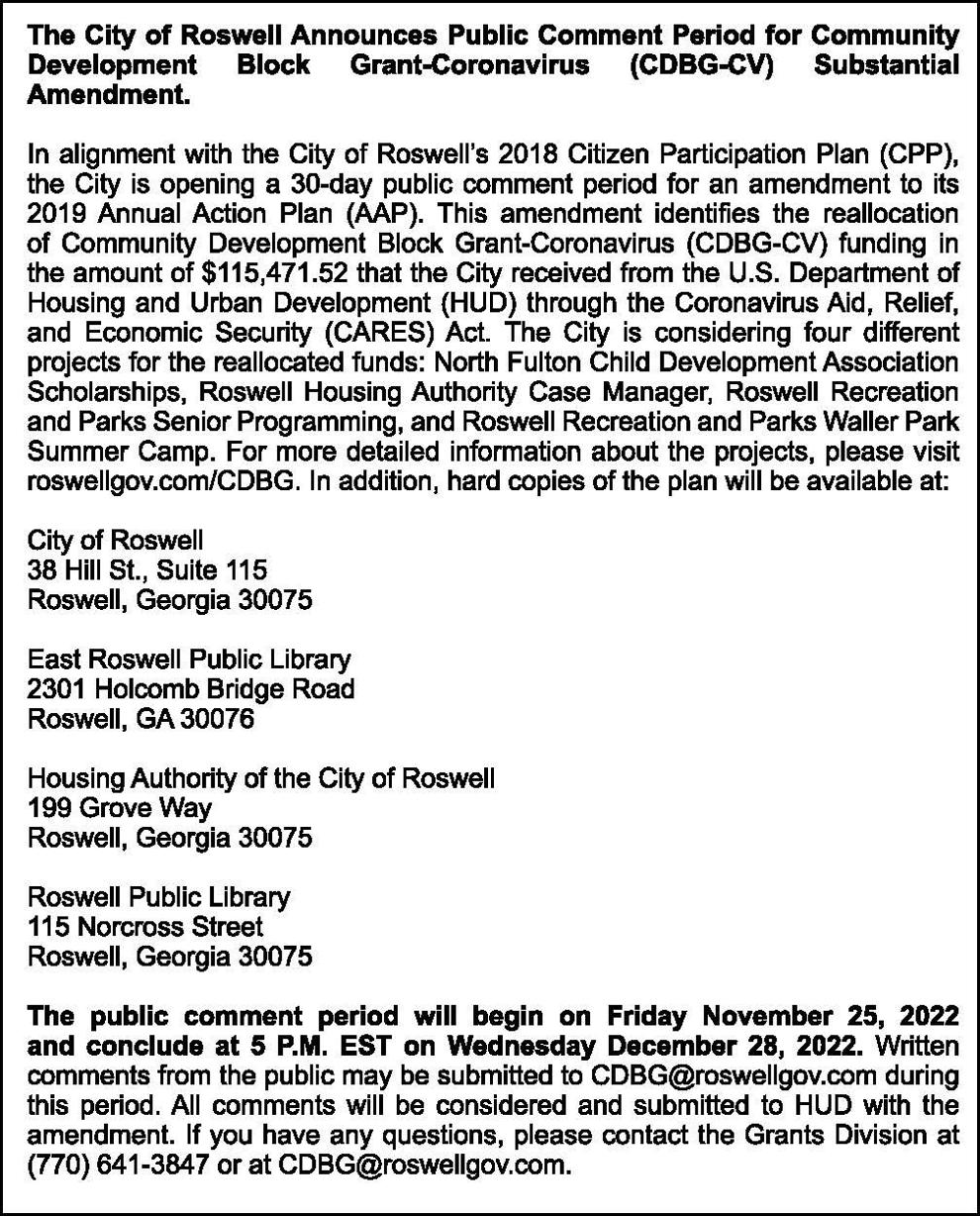 In alignment with the City of Roswell's 2018 Citizen Participation Plan (CPP), the City is opening a 30-day public comment period for an amendment to its 2019 Annual Action Plan (AAP). This amendment identifies the reallocation of Community Development Block Grant-Coronavirus (CDBG-CV) funding in the amount of $115,471.52 that the City received from the U.S. Department of Housing and Urban Development (HUD) through the Coronavirus Aid, Relief, and Economic Security (CARES) Act. The City is considering four different projects for the reallocated funds: North Fulton Child Development Association Scholarships, Roswell Housing Authority Case Manager, Roswell Recreation and Parks Senior Programming, and Roswell Recreation and Parks Waller Park Summer Camp. For more detailed information about the projects, please visit roswellgov.com/CDBG. In addition, hard copies of the plan will be available at:
City of Roswell
38 Hill St., Suite 115
Roswell, Georgia 30075
East Roswell Public Library
2301 Holcomb Bridge Road
Roswell, GA 30076
Housing Authority of the City of Roswell
199 Grove Way
Roswell, Georgia 30075
Roswell Public Library
115 Norcross Street
Roswell, Georgia 30075
The public comment period will begin on Friday November 25, 2022 and conclude at 5 P.M. EST on Wednesday December 28, 2022. Written comments from the public may be submitted to CDBG@roswellgov.com during this period. All comments will be considered and submitted to HUD with the amendment. If you have any questions, please contact the Grants Division at (770) 641-3847 or at CDBG@roswellgov.com.