While I'm no huge fan of tequila, many years ago I was still perfectly content to sip on the Jose's, Don's and Patron's.
However, one night changed that.
But this isn't some "I drank so much tequila one night I vomited and the mere smell of it can now induce gagging" stories.
Instead, a former coworker opened my eyes to just how wonderful, complex and a delicious tequila can be by taking me to a bar specializing in high-quality riches made from blue agave.
That was a decade ago, and it has still forever ruined the well-known, bargain barrel tequilas available at every liquor store.
As the adage goes, comparison ruins contentment. And that brings me to the Toyota Tundra.
I know two people who own a fairly new Tundra, and in both cases, they are absolutely smitten with their trucks. In fact, both used a phrase along the lines of "best truck I've ever owned."
However, I have to wonder if they are contently sipping their Jose, having never really been exposed to other brands.
The 2021 Tundra shares a similar fate to that of the '21 Toyota 4Runner Left Lane tested a few weeks ago. It's spacious, has legitimate off-road capability and beefy looks. But otherwise, it's clumsy on the road, inefficient and seriously outdated.
All models are powered by a 5.7-liter V8 putting out 381-hp and a peak of 401 pound-feet of torque at 3,600 rpm. The engine is bolted to a 6-speed automatic.
While the engine has acceptable power and pep, the transmission is hesitant to shift around town and bunglesome with those gear changes when it finally decides one is in order.  
And while competitors use transmissions with several more gears, the Tundra's is left with just six, leading to abysmal fuel economy. 4WD models will return an EPA estimated 14 combined mpg.
A bright spot is the Tundra's hauling capability. It can tow up to 10,200-pounds when properly equipped, and all models will handle at least 8,000, good for most people's needs.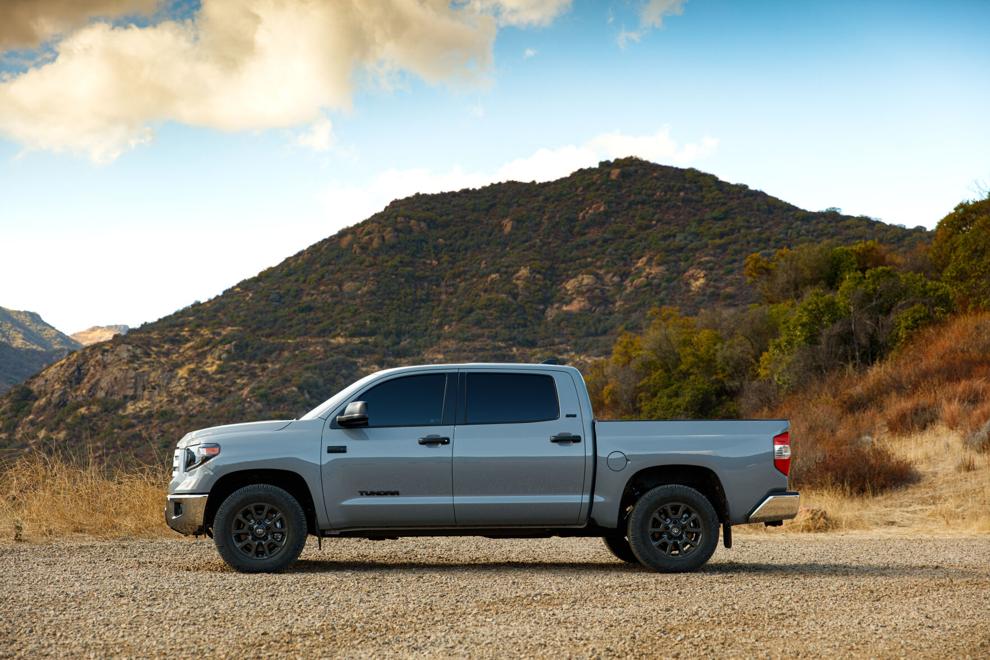 Two- or four-wheel drive can be had on all models, with TRD Pro trim sporting 4WD as standard, but upper trims like the Platinum or 1794 Edition are only available with the CrewMax (crew cab) and the short, 5.1-foot bed. The base SR and SR5 models are the only models that can be equipped with the long bed, which stretches to 8.1-feet. The standard bed, available on all models except the top two trims, is 6.5-feet.
All beds are deep, providing a little bit of added protection for taller items and more storage under an after-market toolbox (built-in side boxes come in the Trail Edition). Lift-over height on the TRD Pro was on par with other light-duty offerings, but the Tundra still sports a conventional, though very lightweight, tailgate. The GMC Sierra/Chevy Silverado 1500 can be equipped with the clever Multi-Pro tailgate, Ram now offers a 60/40 split tailgate and the Ford F-150's new gate has some built-in functionalities for jobsite convenience.
Again, those darn comparisons ruining in the Tundra's party.
Those offerings are also more comfortable on the road. The Tundra's ride quality is still lumpy and rough, even with the Fox shock absorbers only available in the TRD Pro.
The Tundra is also lackluster from the driver's perspective. There's play in the steering and it's shockingly numb. It's like driving a racing simulator with wheels and pedals that don't have force feedback — steering and braking are done almost exclusively done by sight.
That's okay, though, because the cabin is nothing to admire longingly.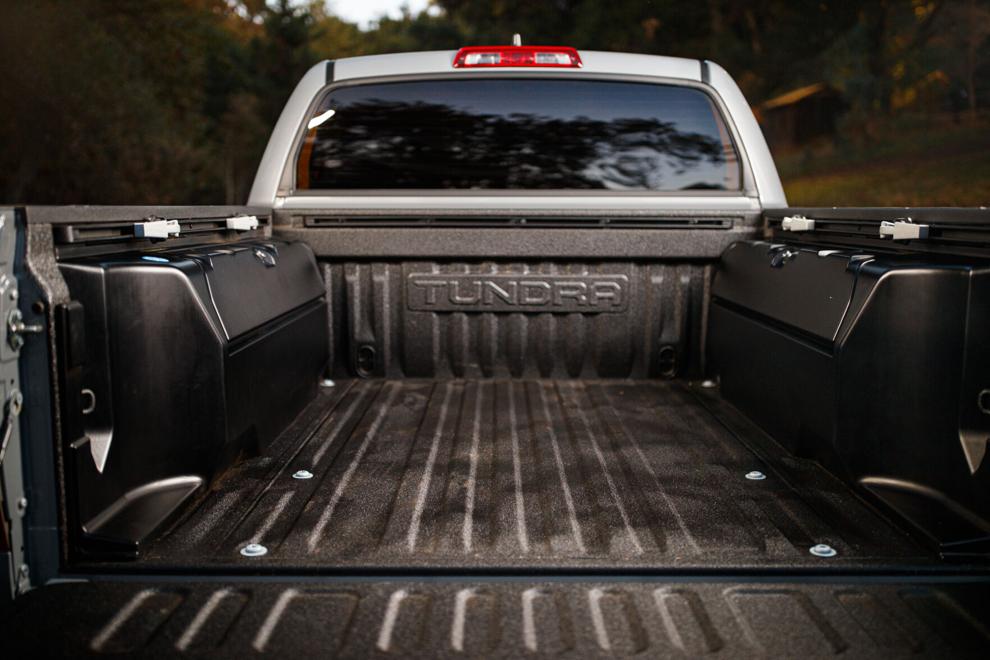 The Tundra's interior styling looks like it was finalized when the iPhone was introduced, which is somewhat accurate considering 2007 was the last time the Tundra was fully redesigned.
Of course, some changes have been made since, and another new redesign is in the works, but the 2021's interior still looks outdated, and the plastics, knobs and buttons all feel like they were made from melted-down G.I. Joe action figures. That is to say, extremely cheap. Toyota has thankfully eschewed an overabundance of touchscreen input, though, providing conventional controls that are laid out intuitively.  
All but base models come with an 8-inch touchscreen running Toyota's easy-to-use infotainment system with a 4.2-inch digital display in the gauge cluster. Apple CarPlay, Android Auto and Amazon Alexa compatibility are standard with several USB ports.
While the double cab (extended cab) has added storage space under the rear seats, those looking to accommodate people and stuff more comfortably should consider the CrewMax. The rear of the CrewMax cab is about as spacious as my first apartment and provides room for passengers to stretch, even those who stand above 6-feet.
The center console storage area is cavernous, but other storage cubbies are narrow.
While several trim levels are available, the most appealing Tundra is the TRD Pro, where Toyota's offering isn't as lackluster when compared to rivals.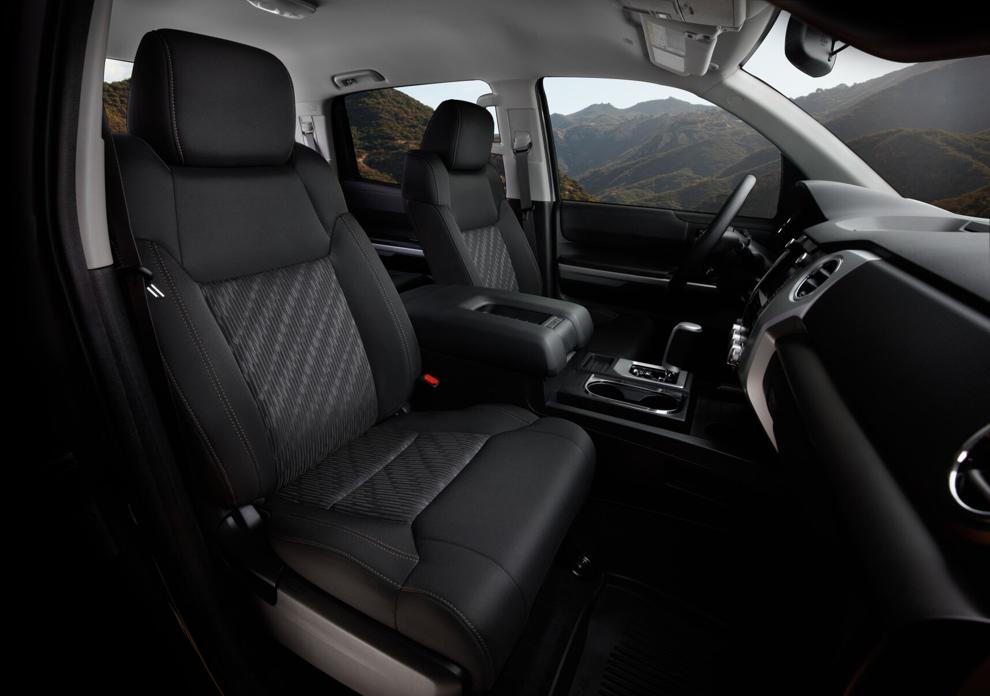 The TRD gets features like LED headlights, front and rear mudguards, a front skid plate, Fox front and rear shocks with a piggyback reservoir, unique styling/badges and the 6.5-foot standard bed. It also comes with automatic dual-zone climate control, leather trimmed front bucket seats with contrast stitching, 60/40 split fold-up rear seats, a power sliding rear window, a storage compartment under the rear seats, three 12V power outlets in the cabin and rear cupholders.
In addition to the suite of standard driver's aids and safety features included with Toyota Safety Sense (standard on all models), the TRD also comes with Trailer-Sway Control and Trailer Brake Controller.
The TRD has legitimate off-road capability, and with its steadfast reported reliability and price tag of about $51,000, it is a more affordable option of hitting the trails than some competitor's off-road tuned models. There's also an extensive suite of after-market parts and accessories specifically catered to the Tundra to further spec the TRD Pro into an off-road specialist.
The two people I know who own a Tundra don't take it off the beaten path, so I'm still not totally sure where their admiration for the Toyota is based. Then again, maybe they just haven't had that friend help to open their eyes.
And I won't be that friend. Well, unless they read this review, I suppose.
For those who don't shop around, the Tundra could undoubtedly be the "best truck purchase" they've ever made. But I suggest taking a look at other offerings.