The revamped-for-2021 Hyundai Santa Fe should be on the short list for those after value, practicality, curb-appeal and extensive features in a midsized, two-row SUV. So, um, I guess everyone in that market, then.
Though there are several offerings in the flooded midsized arena that are also, attractive, feature-laden and pragmatic, the Santa Fe separates itself from the pack by incorporating all those positive aforementioned aspects into a package that isn't dulls-ville to drive.
Hyundai has made significant changes to the Santa Fe for 2021, including new, more efficient and powerful drivetrains, styling updates, added standard features and driver's aids, and a host of optional extras.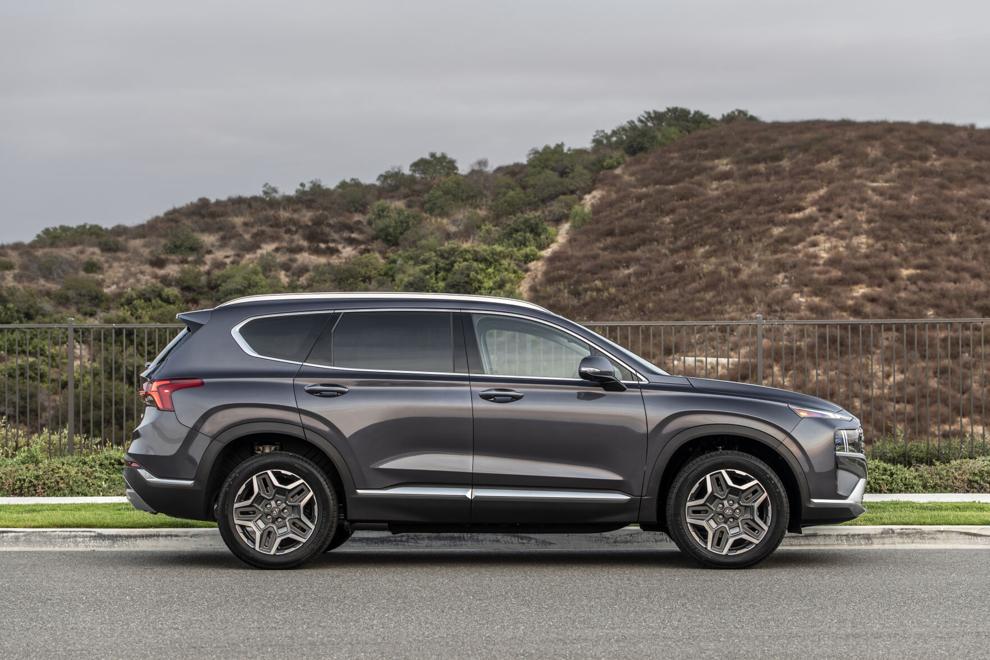 The styling updates include a reworked front fascia that gives the Santa Fe a more aggressive face, lower door panels and a "defined hood." Overall, the Santa Fe sports attractive overall looks that separate it from other boring boxes without being too radical to put off some prospective buyers.
New engines are standard across the line. A 2.5-liter four-cylinder, offering six more horsepower over the previous 2.4-liter engine, is now standard. The optional 235-hp 2-liter turbo has been replaced by a 2.5-liter turbo offering 277 ponies. According to Hyundai, the new engines are four and nine percent, respectively, more efficient than their previous powerplants.
A hybrid Santa Fe is now also available with a turbo 1.6-liter serving up 226-hp.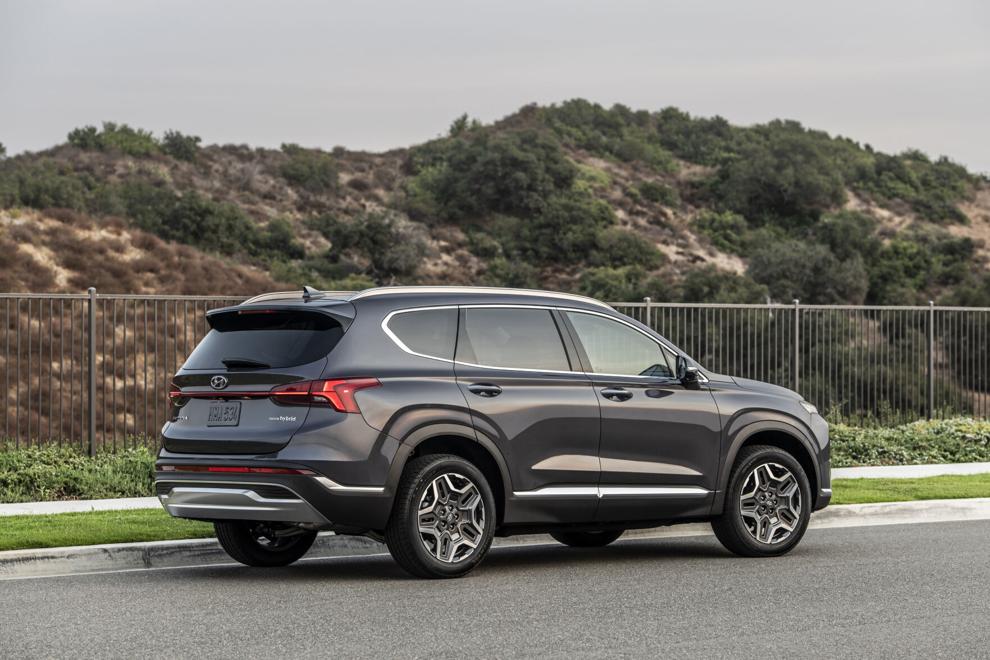 I haven't had a spin in the Santa Fe with the standard engine or hybrid powertrain, but the optional turbocharged offering is a gem.
The 2.5-liter is responsive and grunty, offering 311-foot-pounds of torque at 3,500 rpm. Coupled with the Santa Fe's responsive steering, the turbo puts some appreciated pep in the daily drive.
For the standard commute, the Santa Fe excels with a supremely comfortable and quiet ride. The Hyundai smooths out the bumps with the ease and efficiency of a master baker applying buttercream to a cake. And while passengers are cushioned from road imperfections, they are also seemingly oblivious to the aural onslaught taking place outside the Santa Fe's windows with its whisper-quiet ride.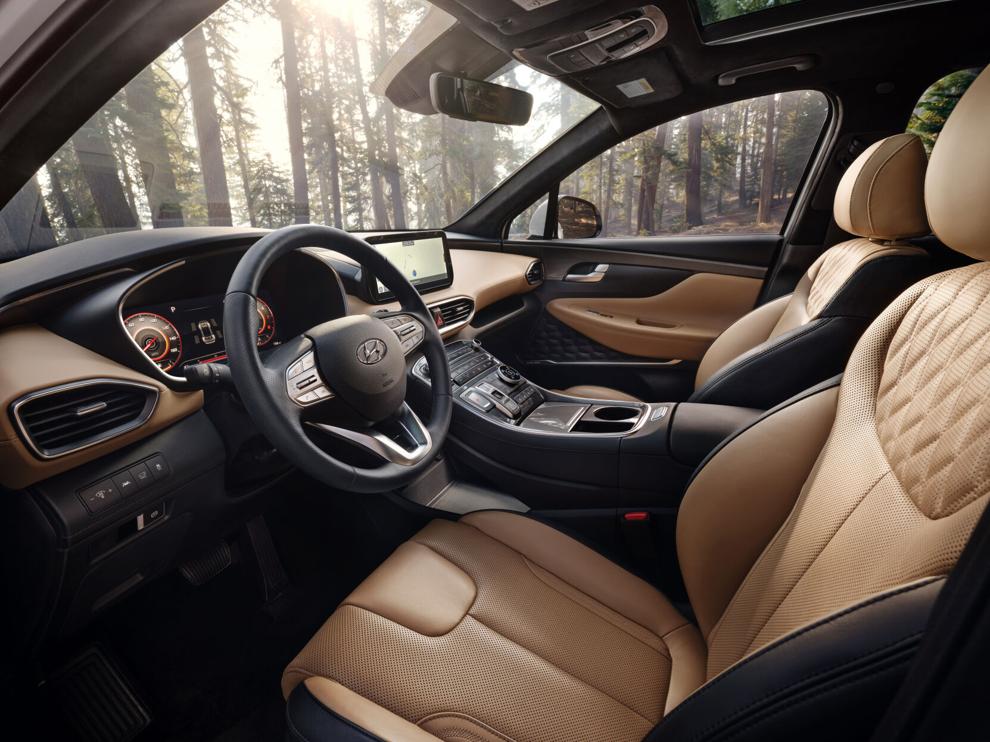 Coupled with the stylish cabin and upmarket materials and build quality, my Limited tester could be confused with a luxury offering for those not in the know.
A party piece of the Santa Fe's cabin is its layout of buttons and knobs, including the push-button gear "shifter." Everything is placed intuitively and just ahead of the driver's hand in a natural seating position, making inputs a sinch and allowing drivers to keep their eyes on the road.
While this setup limits storage space in the center stack, a cubby below it provides ample space for smaller items that are kept out of the way. For models with wireless charging, the bay is offered creatively with a dropdown latch that keeps even larger phones out of the way but easily accessible when the journey ends.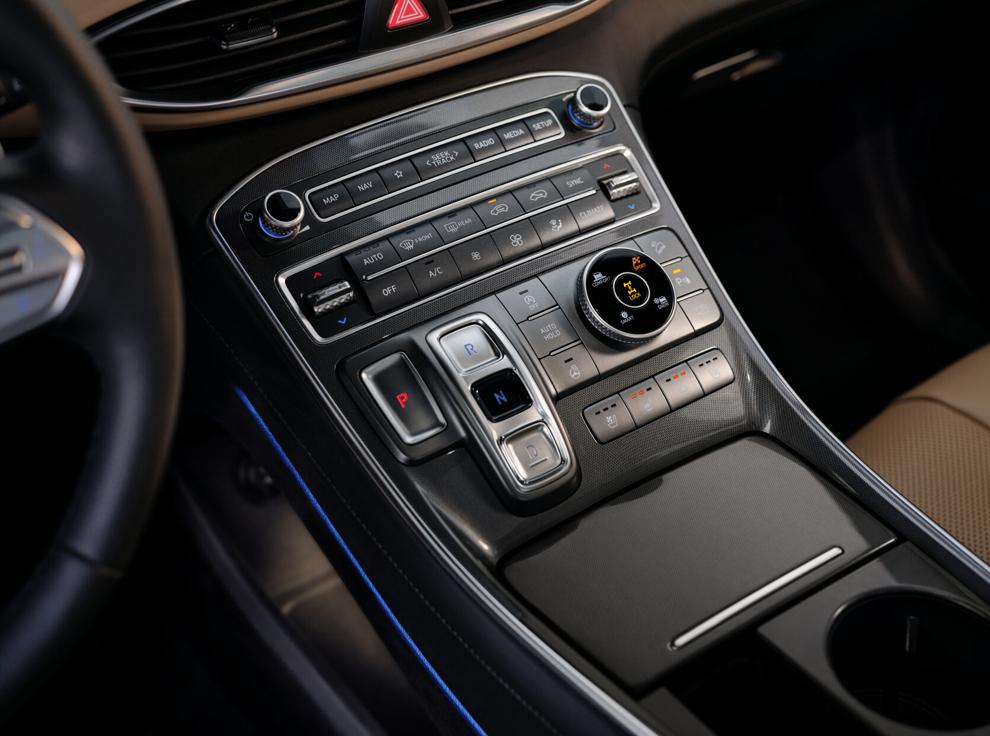 Another feather in the Santa Fe's cap is that one is available for just about everyone, and all models are well equipped for their price point.
Base SE models start at just over $28,000 and come with 18-inch alloy wheels, LED headlights, an 8-inch infotainment screen, wireless Android Auto and Apple CarPlay, second-row AC vents, smart cruise control with stop and go, a rear center armrest and several driver's aids, including forward collision avoidance and lane-keep assist.
SEL models ring it at about $1,800 more and offer more creature comforts like heated front seats, an 8-way adjustable power driver's seat, SiriusXM connectivity, a proximity key with push-button start, Hyundai's Blue Link connectivity and blind spot and rear cross-traffic collision avoidance.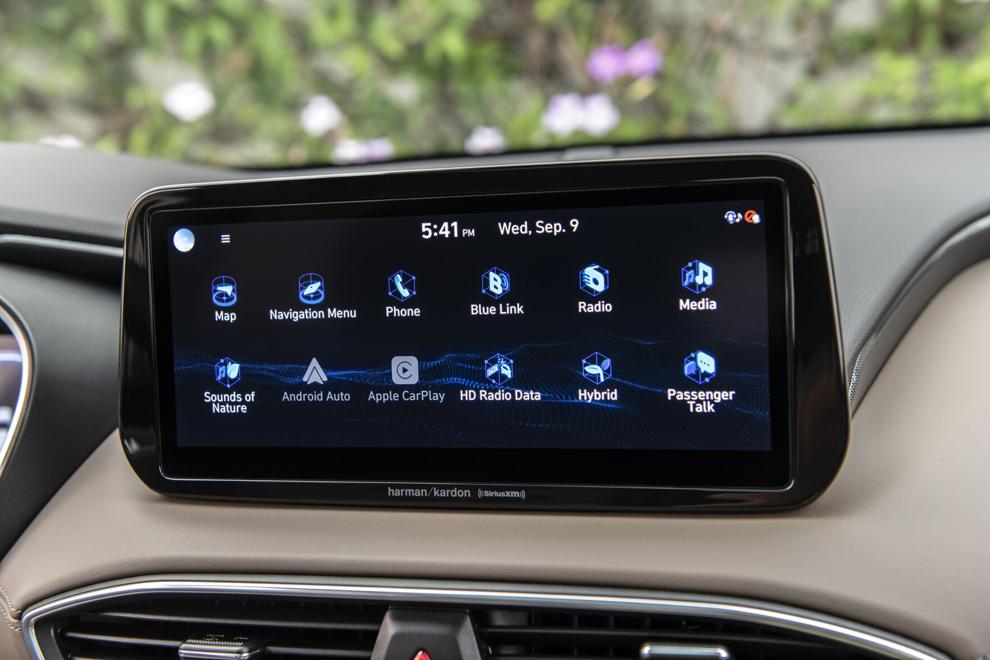 Both SE and SEL models get the standard 2.5-liter engine bolted to an 8-speed automatic.
The jump in cost to a Limited or top-tier Calligraphy model is significant, but it does net buyers a suite of added amenities and the turbocharged engine with a highly responsive 8-speed dual clutch transmission.
Added features in Limited models include rain-sensing wipers, a sunroof, leather seats that are ventilated in the front, heated steering wheel and rear seats, a 10.25-inch touchscreen with navigation, a 12-speaker Harman Kardon audio system, wireless charging, a "digital key" that can be used through a smartphone and added driver's aids.
Top-of-the-line Calligraphy trim, a new offering for 2021, ups the ante with 20-inch alloy wheels, unique trim, Nappa leather seats, a head-up display, quilted door panels and ambient lighting.
All-wheel drive is available across the lineup for an additional $1,700. 
No matter the model, the Santa Fe offers a lot of bang for the buck, including its practically unbeatable warranty.
It's easy to label two-row SUVs as "good," but in a market full of boring, utilitarian offerings, not many are likeable.
I like the Santa Fe. Quite a bit, actually.