Each spring, the migration of familia de metro Atlanta takes place. Like the great migrations we see in nature, this journey is instigated by an annually occurring event — spring break.
Large SUVs, minivans, crew-cab trucks and family sedans are packed to the gills with local species and their belongings to serve as a migratory tool for navigating this great movement to the Florida Gulf Coast.  
My familia de metro Atlanta is never a part of this migration, a convenience of our hatchling having not yet reached the maturity that seemingly requires such a trip. But after a year of being cooped up in our nesting area, and a completely failed trip last September in which the youngest member of our flock contracted an illness, we decided this year to join the great herd as it ventured south to soak up the sun.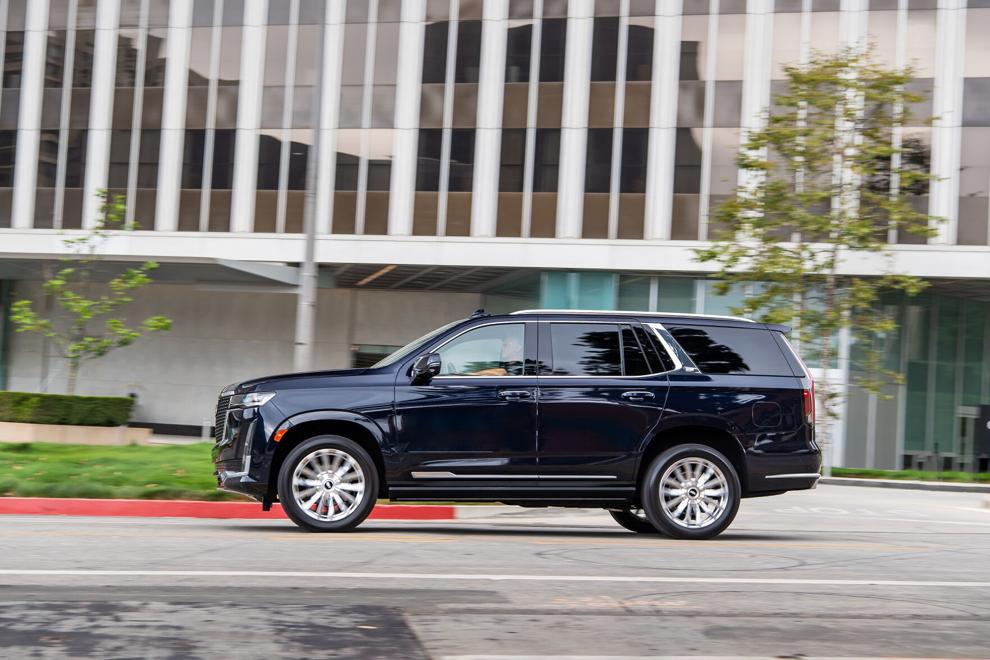 Fortunately, our week-long exodus was facilitated by the revamped 2021 Cadillac Escalade, an alpha male in the realm of road-trippers.
The Escalade was already a king of the Gulf Coast resort parking lot, but it has been significantly enhanced for 2021 with updated looks, added tech and some unrivaled features that make it a top prospect among full-size family haulers.
The Caddy's new snub-nosed front fascia, subtle side character line, standard 22-inch wheels and subtle upgrades to the rear make the Escalade even more imposing in the parking lot. But more pertinent from behind the driver's seat is the new, also imposing, digital display on the dash.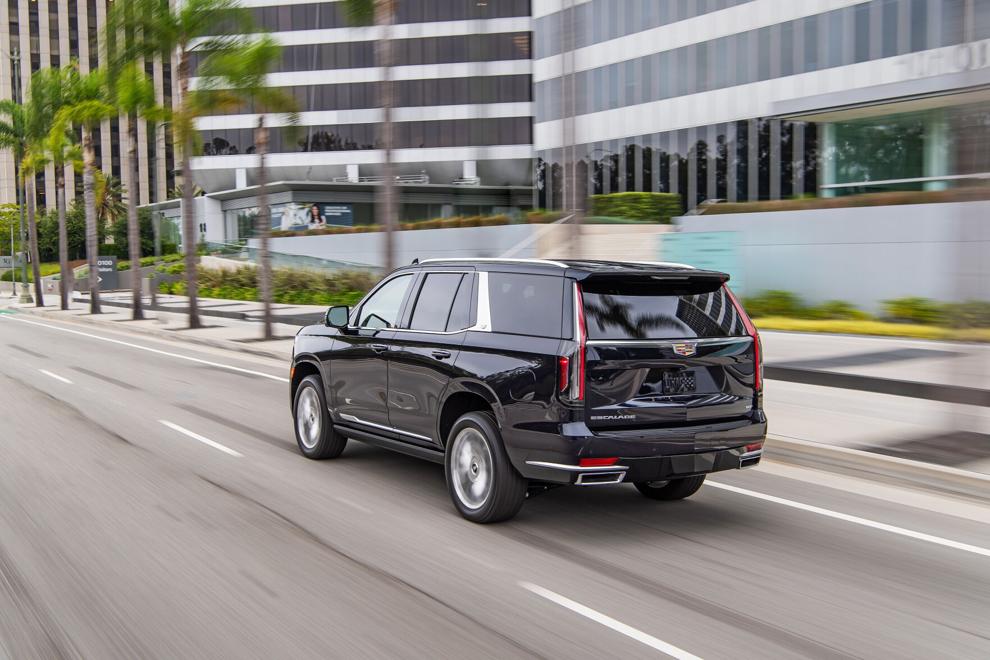 The beautifully colored and crisp OLED screens dominate the front of the cabin and run a total of 38-inches diagonally. The three screens are cleverly and harmoniously stacked to give an unobstructed view of the seemingly endless amount of information presented on the displays.
A 7.2-inch screen resides to the driver's left and displays certain information and houses controls for altering the information on other screens. For instance, starting up the Escalade's new optional augmented reality-enabled navigation.
Similar to the system now used in some Mercedes-Benz models, augmented-reality navigation shows turn indicators and directional information on the center screen over a video feed from a forward-facing camera. The 7.2-inch display also allows drivers to turn on the Escalade's Night Vision feature, which didn't get much use on the crammed highways during spring break rush hour, but I'm sure it's nice to have on rural roads.
The center display, which spans 14.2-inches, serves as a digital gauge cluster with an even larger, 16.9-inch screen, for the infotainment system in the center of the dash.
The screens can also be configured in a number of ways to display pertinent information, which kept me entertained as we sat waiting to pay a road toll for what felt like half of our vacation, er, migration.
Even more screens are available in the middle row.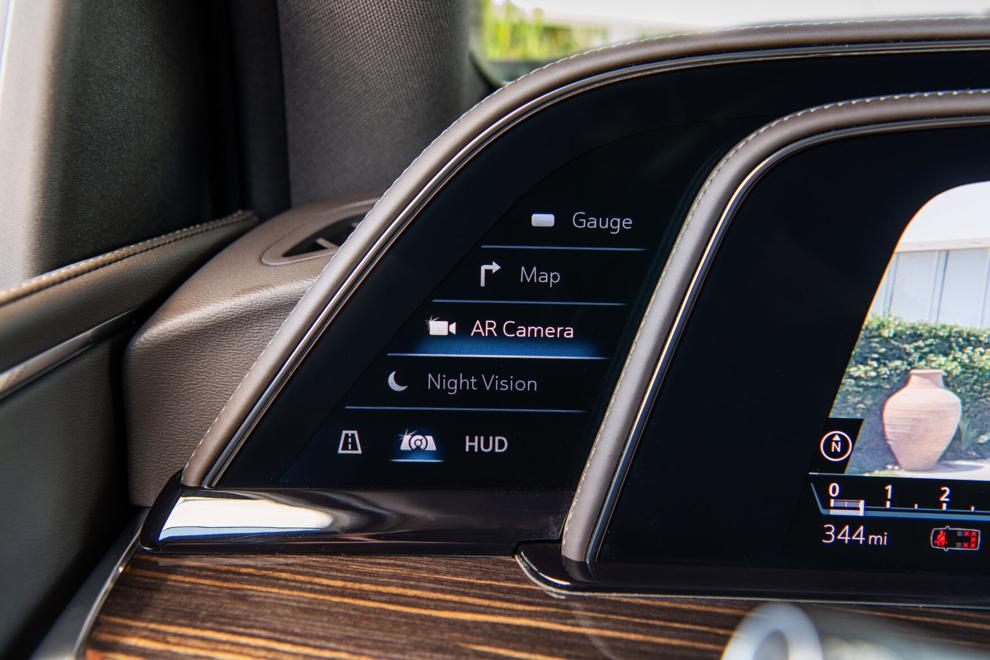 The Rear Seat Entertainment package ($1,995) is available in certain models that includes dual 12.6-inch touchscreen, seatback displays for middle-row passengers with HDMI and USB inputs, a great solution for keeping the flock entertained on long road trips.
Another interesting feature of the package is the ability of middle-row passengers to input destinations into the Escalade's navigation system.
Cadillac at least had some foresight to allow drivers to deny these destinations, otherwise every gas station and fast food joint would be targeted by small kids until mom or dad finally relented. My kiddo is too young to cause such annoyances, but it did come in handy when I employed my wife to plug in our home address from a middle-row seat after I was into much of a dad-induced rush to hit the road on our migration back home.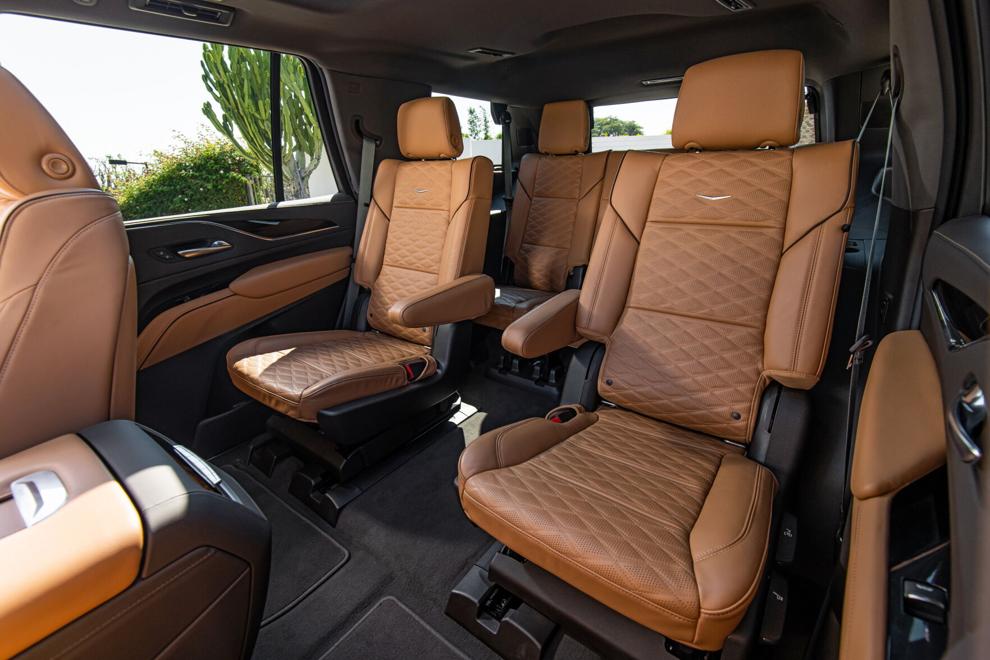 The '21 Escalade includes plenty of other tech with a long list of standard driver's aids and safety features to help drivers tackle trips of a few hundred miles.
Automatic emergency braking with front/rear pedestrian detection, lane-keep assist and forward collision alert are standard, with all models above base trim fitted with adaptive park assist, a head-up display, rear camera mirror, lane departure warning and lane keep, blind spot and rear cross-traffic alerts.
The Escalade also features a long list of standard features, including tri-zone climate control, heated front and second row seats, remote start, a 19-speaker AKG Studio Sound audio system, wireless charging and seven total USB ports.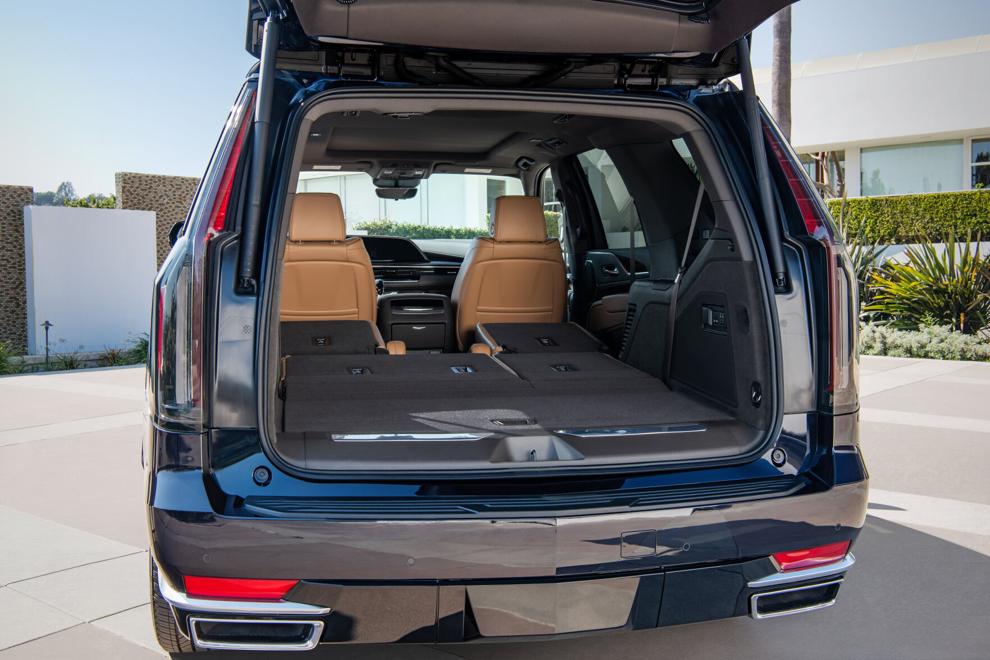 Base models come with leatherette seating and 12-way power front seats, while upper trims get genuine cowhide, 16-way adjustable front seats with massage function, a 36-speaker audio system, panoramic sunroof and other features.
While these features are all fantastic on the open road, good gadgets and amenities don't necessarily result in a prime road-tripper. Though, the Escalade delivers nearly all the wants drivers could have for such ventures.
For starters, the supremely supple ride.
All Escalades now come with an independent rear-suspension, but for the ultimate in comfort cruising, Caddy's Magnetic Ride Control with magnetorheological dampers and adaptive suspension is available in upper trims.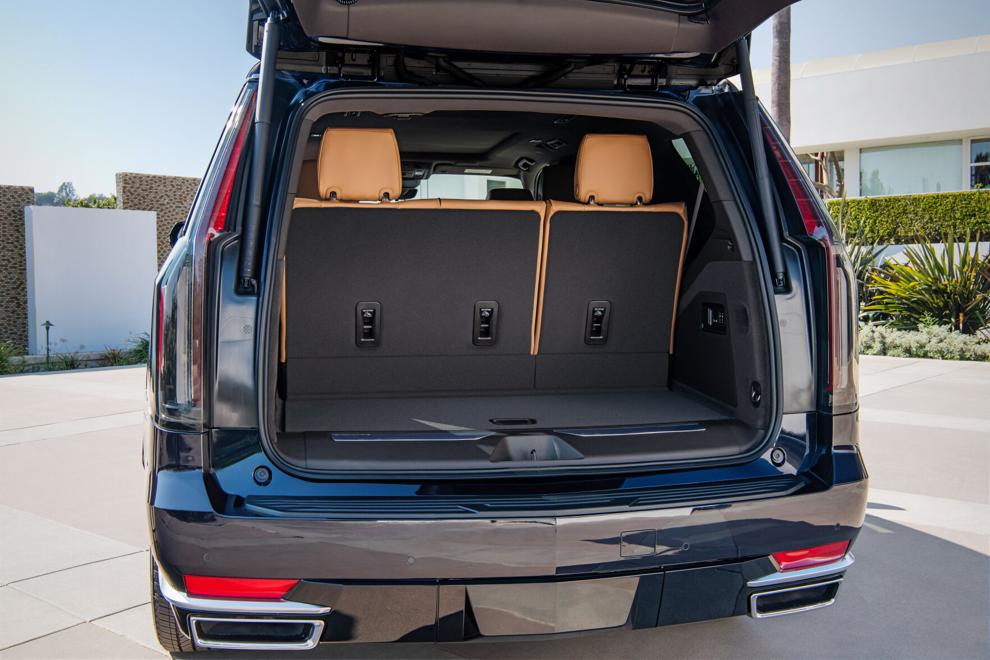 The Escalade doesn't so much ride over road imperfections, it simply erases them, at least from the driver's seat. For the first time in many road trips, I was not a one-man chorus of grunts, groans and other old-man noises after our initial 7.5-hour journey.
The 6.2-liter V8 delivers 420-hp and 460 ft.-lb. of torque, plenty of grunt and power to get the sizable Cadillac around town and down the highway with ease. Power is readily available even at speed for overtaking on interstates. The Escalade is quick to hustle when you put the hammer down and easily puts those who don't have any highway lane discipline in the rearview mirror.
Passenger space is ample all around with plenty of room for front passengers and those in the middle row bucket seats. The captain's chairs also allow for easy access to the third row, which can certainly accommodate adults.
Two Escalades are available, either the standard model or the ESV that has an extended wheelbase that adds 16 inches of overall length.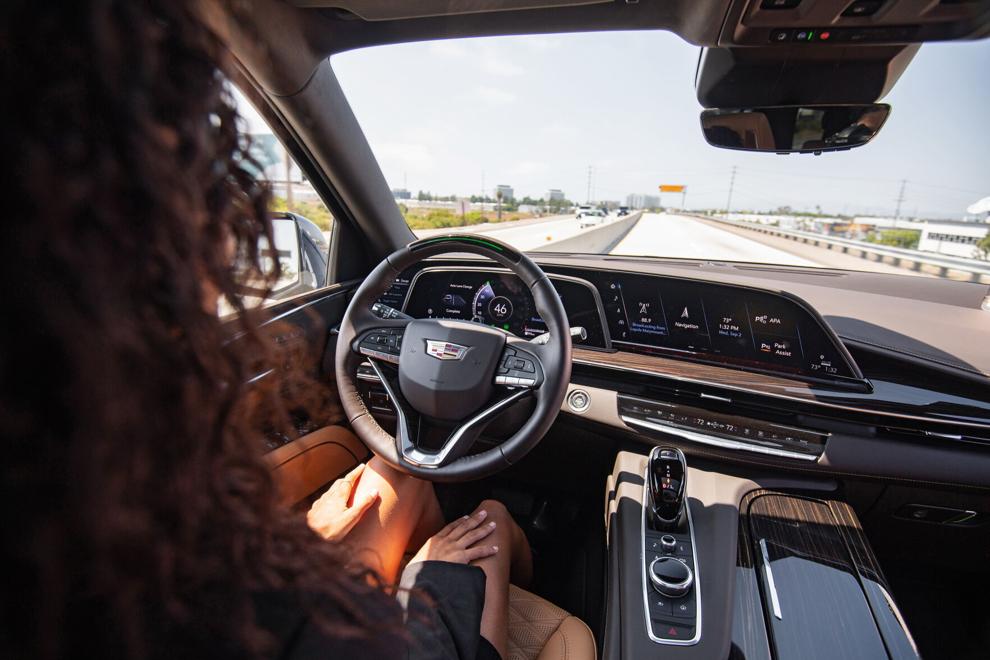 There is a cavernous 43-cubic feet of storage space behind the third row in ESV models, up from 25.5 in the standard Escalade, with 81.5 cubes behind the second row (63 as standard).
My tester easily accommodated the approximate 4,501 items required for a beach trip with a baby and did so without impeding on rear visibility. For those who have even more kiddos and stuff to pack, the rearview camera provides rear visibility when needed, and the Escalade can tow between 7,400 and 8,100 pounds depending on drivetrain.
All models come with a hands-free power liftgate and upper trims come with power-folding second- and third-row seats for easy loading.
In most regards, the Escalade is a perfect road-tripper, but it does come with some downsides, including its price tag.
While models start at about $78,000 — about the same as a base Lincoln Navigator, Mercedes-Benz GLS or BMW X7 — to truly separate the Escalade from a top-tier GMC Yukon, buyers should consider upper trims and a few options packages. My well-appointed tester broke the $105,000 mark, which would pay for a whole slew of luxury vacations.
And though the performance of the V8 is appreciated, it's not exactly parsimonious with fuel and will drink a gallon about every 20 miles on the highway.
More fuel-conscious shoppers should consider the 3-liter Duramax turbo diesel engine available on some 2021 models. While I haven't tested this engine in the Escalade, it is an absolute gem in the GMC Sierra and is rated for up to 23 mpg combined.
Another feature only available on some 2021 Escalades is Cadillac's superb Super Cruise semi-autonomous system. No other current system provides the kind of ease of use, accuracy and safety fallbacks as Super Cruise, but not all '21 models, including my tester, are available with the feature.
These complaints are small potatoes in the grand scheme of things, though.
Overall, the Escalade is fantastic family transporter that provides ample space for people and stuff, technology, features and comfort. While its price can be a bit a raiser of eyebrows compared to its GM stablemates, its imposing appearance and the prestige of the Cadillac badge will likely be worth the price of admission for many.