The Kia K5 GT is so close to greatness. It is beautiful inside and out, rich with amenities and creature comforts, practical across a wide range of uses and has a fantastic turbocharged engine under the hood that serves up ample grunt and power.
Like a great new romantic partner, it's easy to become infatuated with the K5. But like a new partner that complains when you don't spend every waking moment with them, there's a serious flaw.
The GT, not to be confused with the GT-Line trim, is the performance-focused K5, offering 290-hp and over 300 foot-pounds of torque from a turbocharged 2.5-liter, inline-four. It is a fantastic engine, offering gobs of grunt under acceleration that will hustle from 0-60 in 5.8 seconds, a figure from Kia that sounds incredibly conservative once you've had a go behind the wheel.
The GT feels faster than it its numbers would suggest. Power from inline-four is punchy, and throttle inputs are acted upon immediately.  
The 8-speed "wet" dual-clutch transmission is also a gem, serving up fast and practically seamless transitions through the cogs either left to its own devices or through the standard paddle shifters.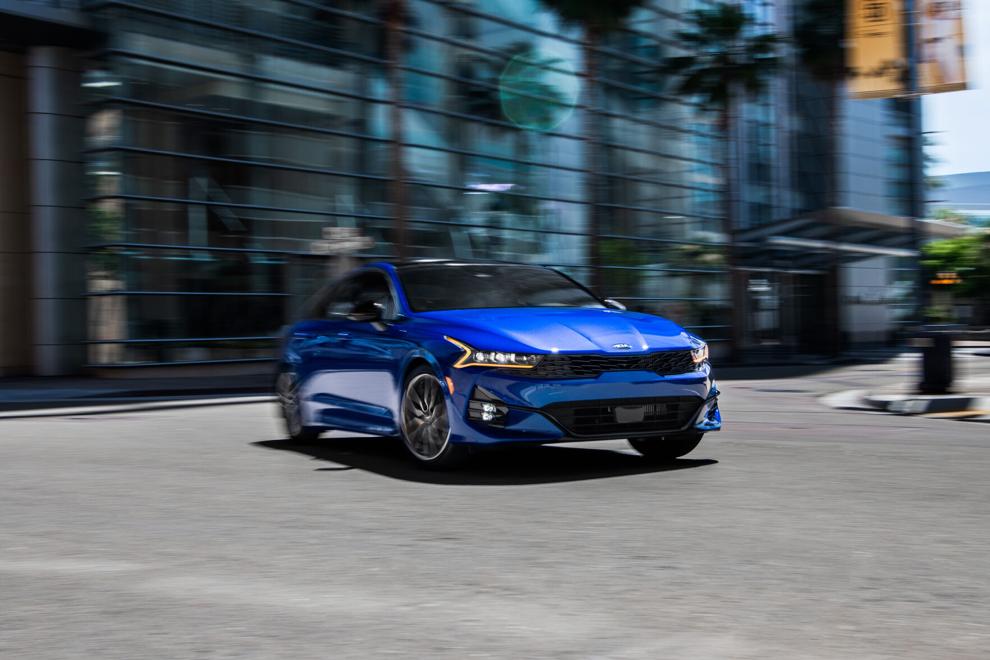 Steering is quick and accurate, with Sport and Sport Plus driving modes adding appreciable heft, and the brakes are effective with a feel that inspires confidence when approaching a bend.
Unfortunately, once the GT reaches that bend, its major flaw rears its head — lack of grip.
With only front-wheel drive available, the K5 GT is, dare I say, too powerful.  
Sending nearly 300-hp and all that torque exclusively to the front wheels results in constant, audible protests from the Pirelli P Zero all-season tires and understeer aplenty. The GT becomes like a small dog trying to run on damp hardwood floors, there's plenty of noise and drama, but not much motion in the direction intended.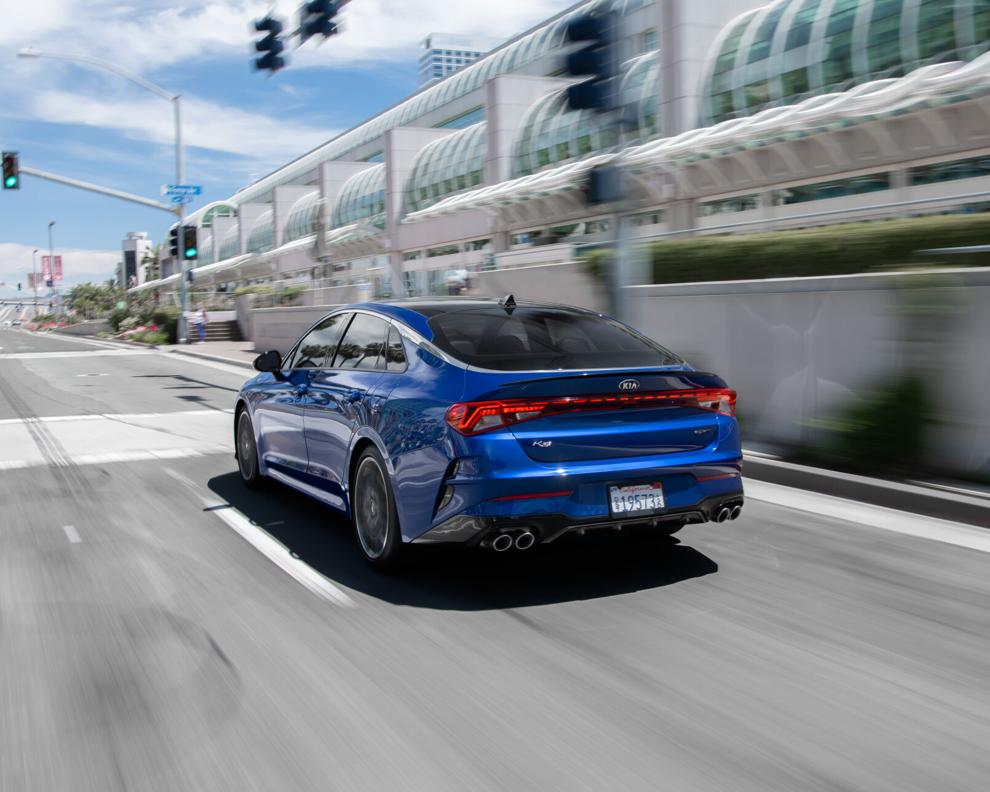 Unfortunately, this lack of grip dampens driver confidence when giving the GT a workout on backroads. Much of its power is left in reserve as drivers are forced to lay off the throttle for fear of those front tires losing traction. 
Putting the power down from a stop also shows the GT's lack of grip. Pulling away from a stop with any bit of a heavy foot will cause the front tires to screech more than my 2-year-old when you tell her she can't climb into a hot oven.  
The sportiest setting of the GT, Sport Plus, also becomes practically unusable because it turns off the traction control system, which Kia has thankfully made obvious through a graphic displayed when doing the driving mode is activated.
It's a shame, this, because with all-wheel drive and some stickier summer tires, the K5 GT would be practically without flaw. It's especially frustrating because all-wheel drive is available in less-powerful K5 models and on the GT's Kia stablemate, the Stinger.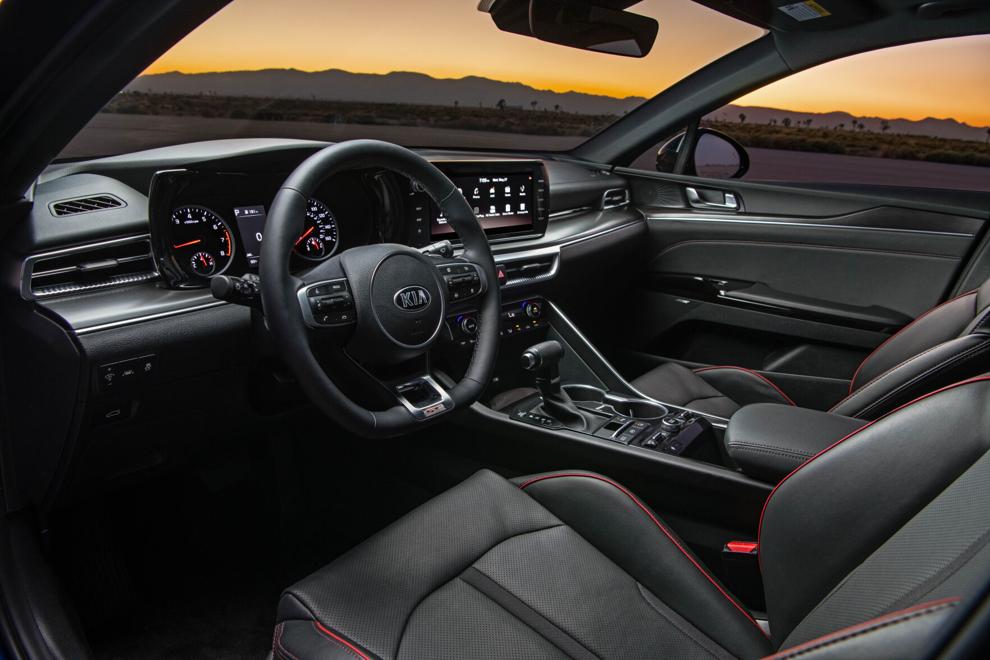 But despite this, I still love the K5 GT. Other than its lack of grip, it's a stellar affordable sport sedan.
The GT wears looks that are both aggressive and handsome, with its "shark skin inspired" grille, dual-tip garnished exhaust, "heartbeat" angular running lights, 19-inch alloy wheels and fastback shape. Inside, the GT is fitted with sporty, bolstered seats with pipped stitching and a driver-focused center stack.
The cabin is upscale in appearance and fit and finish — there is a genuine, quality feel to interior parts. The GT also sports the same gear lever used in Genesis products, and I could rave on about just how fantastic this little piece of kit is. It has fantastic ergonomics and feel, and clicking through the gears gives a nice, satisfying click in place.
The $4,000 GT1 Package enhances the overall experience with ventilated front seats, a heated steering wheel, 10.25-inch touchscreen with attractive, modern displays, navigation, a 12-speaker Bose audio system and a bevy of driver's aids, including intelligent cruise control.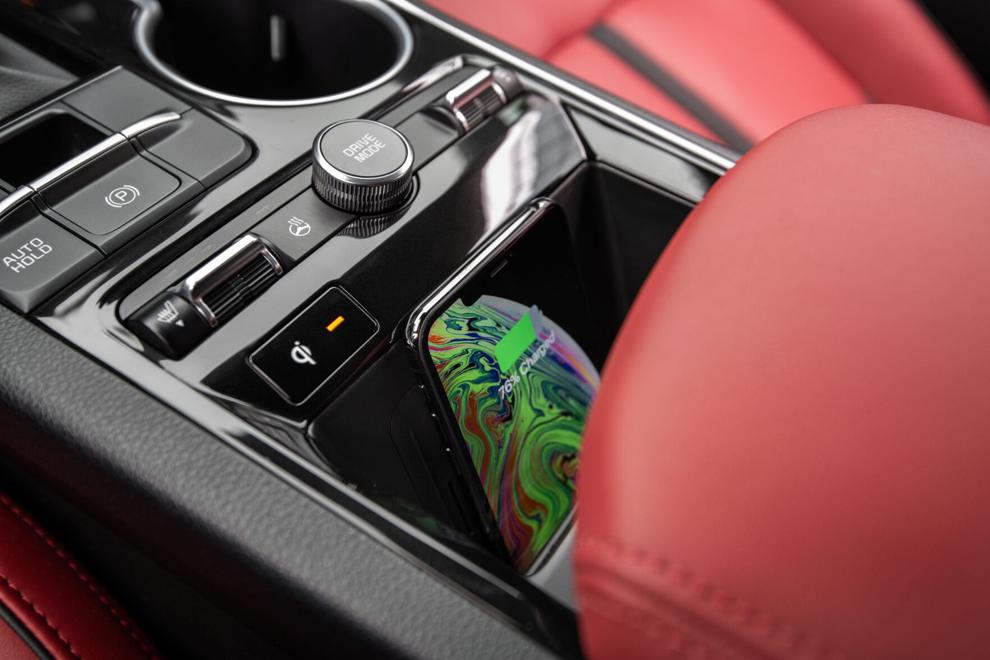 Overall, there's a lot of kit and upmarket quality to the GT, plus its ample power, that makes its as-tested price (with the GT1 Package) of under $36,000 a legitimate value.
On the daily trek, the GT's ride quality is still mostly comfortable in the face of its sporty tuning. The GT's suspension softens asphalt imperfections so that jolts to passengers are felt, but minimally so. It also keeps the GT in check through corners, until the grip runs out, anyway.
The K5's sloping roofline does cut down on rear headroom, but the Kia will still accommodate four average-sized adults without issue, and the short but long trunk provides a generous 16-cubic feet of cargo space.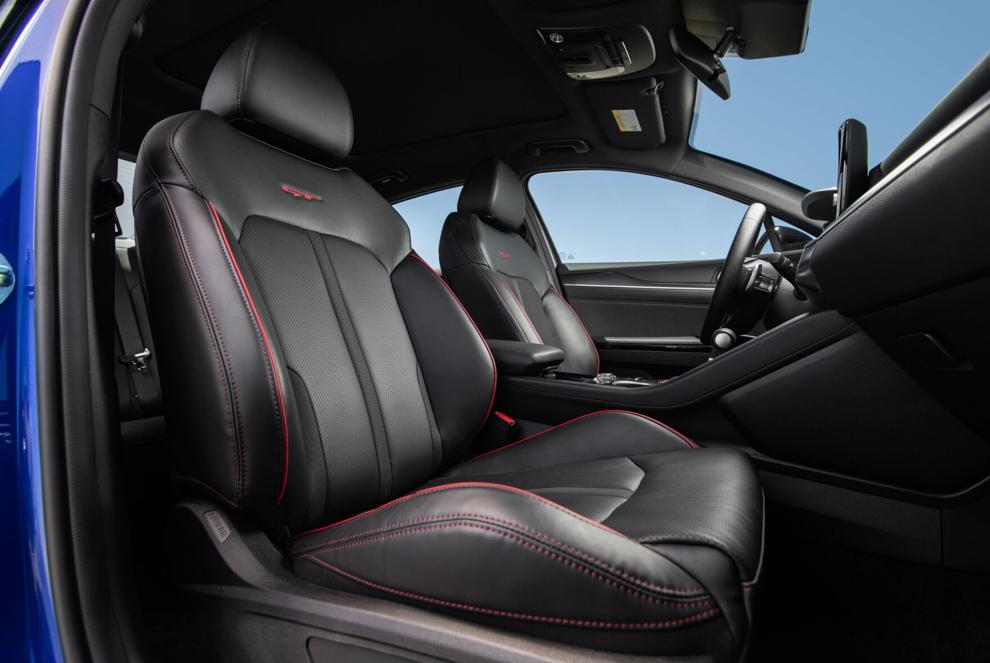 Outside of the GT's lack of grip, my grievances are just about nil. Um, the infotainment system can be a bit slow to respond, and sometimes the hip bolsters on the seat and curl up under your leg when you sit down. Yeah, that's about it.
The GT's lack of other downfalls makes the unavailability of all-wheel drive that more disappointing, because this is an affordable sport sedan that gets so little else wrong, it's a car I would seriously consider buying if only it could keep its handle on the road better.  
And that's just about the highest compliment I can give.