Thoroughly testing a car thoroughly involves driving it along various types of roads. Sure, a car may be agile on twisty backroads, but is it incredibly noisy or require constant steering input on while cruising along an interstate at 70 mph? Maybe it has plenty of power from a stop, but does it lack the grunt to effectively pass a sluggish truck on a state road? Maybe the ride quality is supple over well-maintained roads, but do you need to see a chiropractor after taking it along a thoroughfare more pockmarked than a teenager's face?
Now, with a sport sedan, like the 2021 Cadillac CT5, I typically keep most of my testing to the backroads and less-traversed byways to see how it can handle the bendy bits, leaving the boring interstate jaunts somewhat limited.
But in the CT5, that was reversed. I found myself sticking to the smooth, endless highways most of the time.
There's reason for that — the CT5 is a great cruiser. It's supremely comfortable and quiet and soaks up the highway miles with ease, providing a nice respite for driver and passengers with room to stretch.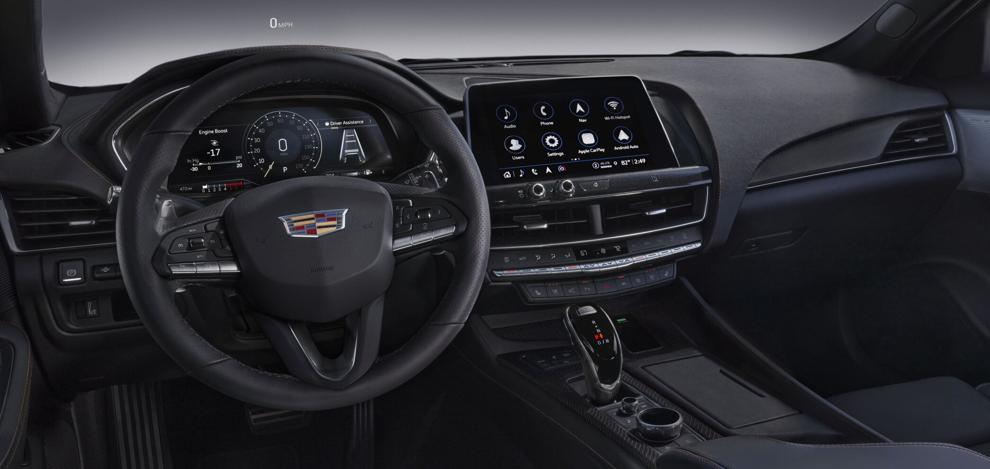 The optional turbocharged V6 fitted to my tester also meant I had plenty of passing power at speed. The V6, which offers 335-hp and a hefty 405-foot-pounds of torque, has plenty of grunt despite some initial turbo lag. Once the power comes on, it is velvety smooth and swift in its delivery of power, and shifts from the 10-speed are smart and practically unnoticeable in comfort-focused driving modes.
But on undulating backroads the Caddy is a letdown.
The CT5 leans through corners, resulting in weight shifts through switchbacks that limit its adhesion to the road. Its steering, though direct and taut in Sport driving mode, lacks feel and has the tendency to go light — seemingly at random — in its comfort-focused Tour setting.
Overall, the CT5 is more comfy cruiser than backroad bruiser, which isn't such a bad thing for those more interested in a small luxury sedan as a commuter and family car over a corner carver.
The Caddy irons out road imperfections, and bumpy bits that do impact passengers are still just gentle reminders that you are, in fact, on an undulating road surface. The cabin is whisper quiet, though the optional V6 does have a nice growl under acceleration, and the 10-speed automatic transmission keeps the CT5 square in the power band while delivering silky shifts.
The cabin is also roomy. While the sloping roofline cuts down on headroom for those of taller proportions, legroom in the CT5 is among the best in the small luxury sedan class. The trunk, while short, is still rather accommodating and has a low lift-over height.
A long list of standard features accompanies the CT5, including a 4G LTE Wi-Fi hotspot, SiriusXM radio, wireless Apple CarPlay and Android Auto, keyless entry with remote start, LED lighting, a driver information display in the gauge cluster, dual-zone climate control and a host of driver's aids/safety features.
And from the outside, the CT5 looks supremely handsome.
The CT5 also features Cadillac's updated and intuitive CUE infotainment system through a 10-inch touchscreen with a rotary controller and quick-select buttons in the center console.
For all its standard kit, the CT5 starts at just over $38,000, making it among the most affordable small luxury sedans available, and considerably cheaper than the starting price of some mainstays in the market like the BMW 5-Seires and Mercedes E-Class.
However, there are some downsides to that price point.
A significant portion of the cabin is covered in hard, veiny plastic, and many of those that aren't are still not pleasant to the touch and feel cheap. This could be overlooked in a Chevy Malibu, but when you are competing with the 5-Series, E-Class, Audi A6 and Volvo S60, these materials on the CT5 stick out like a sore thumb.
You also need to dish out quite a larger chunk of cash for the V6 engine. The CT5 comes standard with a twin-turbo four-cylinder offering 237-hp, but to get the V6, you either need to dish out for a Premium Luxury ($41,990) or Sport ($42,990) model and tack on another $3,500 for the additional 98-hp and 142-foot pounds of torque offering by the twin-turbo six-cylinder.
Add a few desirable options from that point, such as heated/ventilated front seats, navigation and a Bose audio system and some optional driver's aids like adaptive cruise control, and the CT5 no longer presents much of a bargain.
To get Super Cruise, Cadillac's fantastic semi-autonomous driving system, buyers have to tack on a load of options packages.
And the pricier the CT5 gets with add-ons, the more its shortfalls — mediocre sport credentials and cheap interior bits — become apparent.  
The CT5 is, literally, an attractive way to break into the small luxury sedan market at an affordable price, and it offers a supple ride, plenty of passenger space and a long list of features. However, many of its rivals offer the same characteristics with better overall driving dynamics and a more upscale feel.