Those interested in the 2021 Toyota 4Runner need to ask themselves two questions.
For starters, will I take it off road?
And I don't mean off road in the sense of driving over lawn clippings your neighbor sprayed onto the neighborhood street or the half-mile drive up a well-maintained gravel road to some small vineyard's tasting room. I mean serious, there-is-a-chance-we-could-get-stuck-here, out in the wilderness, hope-we-didn't-forget-the-toilet-paper kind of off roading.
If the answer is no, take a pass.
However, an affirmative to that query still begs another question. Am I willing to sacrifice on-road manners, fuel economy and refinement to make those treks?
If the answer is no, take a pass.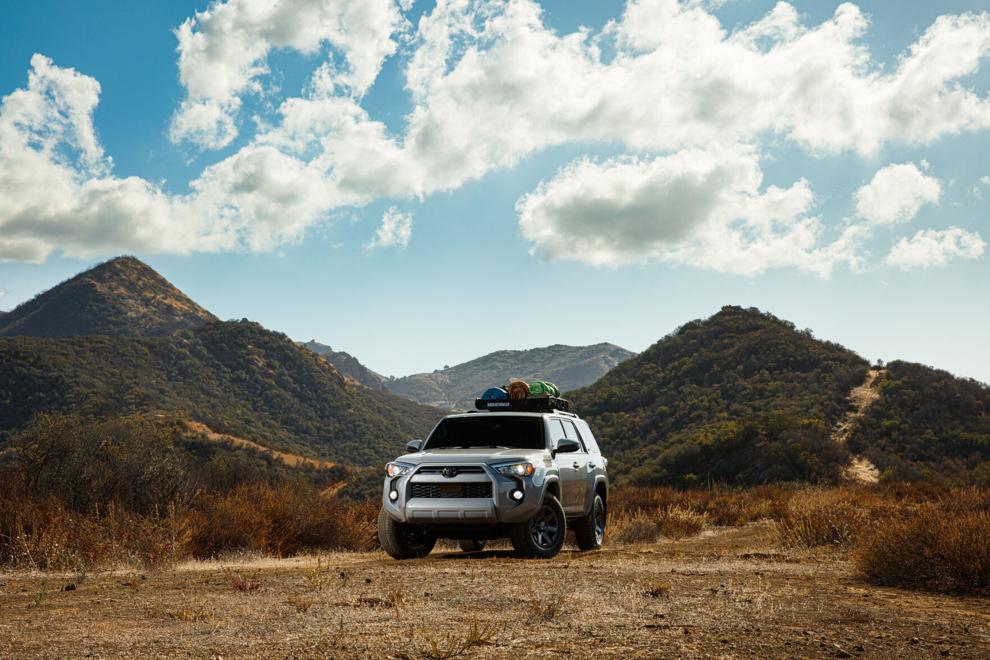 The 2021 4Runner harkens back to the dawn of SUVs, both in its capability and overall performance. While SUVs dominate the school pick-up line and Target parking lot despite most spending about as much time on unpaved paths as a coffee maker, the 4Runner still prioritizes tackling untamable areas while offering workhorse capability and headstrong ruggedness.
For better or worse.
Like the Jeep Wrangler, the 4Runner is pretty abysmal on the daily trek. It handles with the acuity of an unwieldy pallet jack with about the same level of elegance. It chugs gas like the SUVs of decades gone and has an appearance to match. And like the Wrangler, it's not some bargain-bin utilitarian implement, it's fairly pricey for its level of fit and finish.
On pavement, the Toyota feels like a truck, which makes sense considering it still employs body-on-frame construction. Steering is extremely vague, body roll is immense, the ride is flouncy and the brake pedal is spongy.
The cabin is awash in hard plastics and cheap-feeling materials, even in upper trims, and its entire appearance is outdated.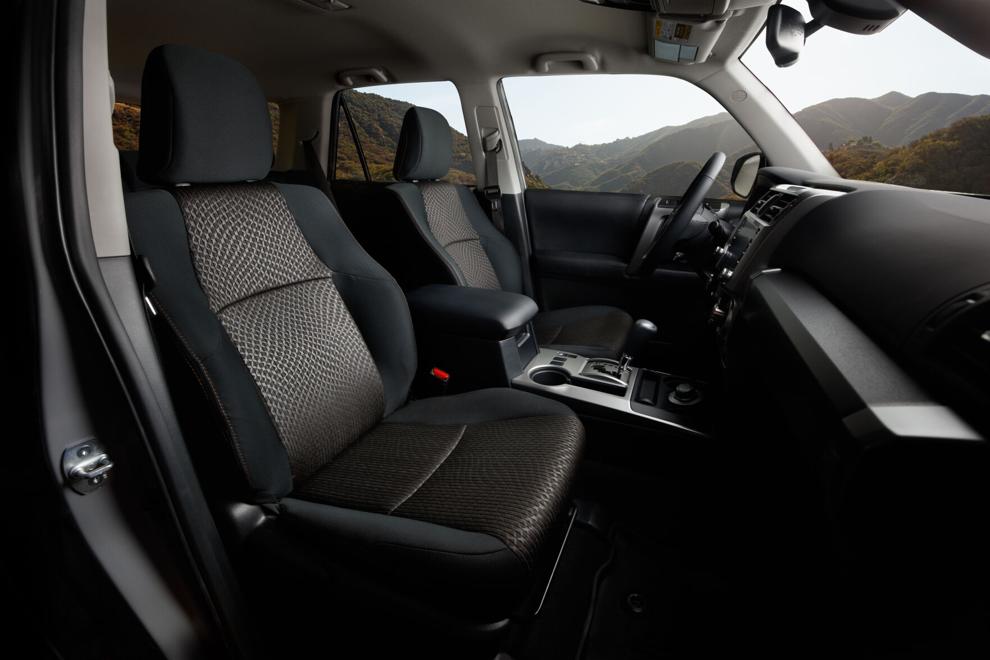 The 4-liter V6 serves up 270-hp and 278 torques but feels underpowered with the 4Runner's hefty curb weight. The transmission is an ancient 5-speed automatic, which doesn't do any favors for the 4Runner's 18 mpg combined fuel economy rating in either two- or four-wheel drive models.
The exhaust is also noisy, especially considering the sound at the back can best be described as a drone.
Still, for those who can look past this long list of flaws, the 4Runner is still an attractive option for buyers that prioritize off-road chops.
All models come laden with skid plates for the undercarriage, LED lighting and 17-inch wheels for unchartered territories.
For 2021, Toyota has introduced a special Trail Edition 4Runner and will offer a limited run of 4,000 models that include 17-inch TRD off-road wheels with knobby tires, a rear cargo tray, rooftop basket, all-weather floor liners and some unique styling features. Either two- or four-wheel drive is available.
With the Trail Edition's limited run, off-road enthusiasts will likely gravitate to the base SR5 trim, TRD Off-Road or TRD Pro models.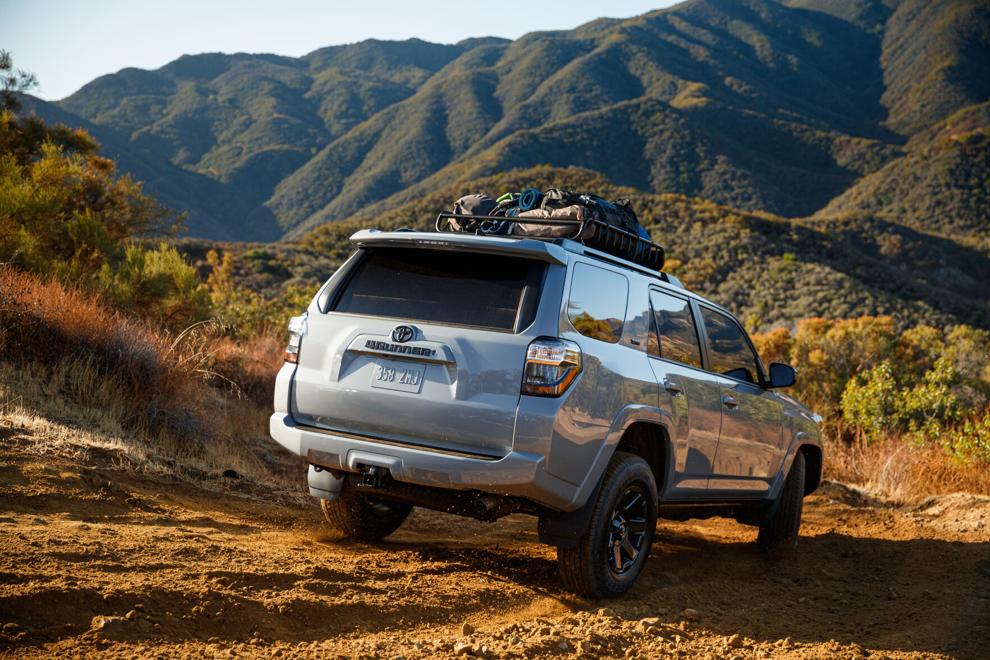 The TRD Off-Road gets butch looks with a hood scoop, rocker panels, and other styling upgrades, plus Toyota's Multi-terrain select tool for various off-road driving situations with Crawl Control. The system automatically adjusts the brakes and throttle on low-speed settings to allow the driver to concentrate on steering over uneven or rocky terrain.
Off-Road Premium models add easier-to-clean leatherette seats and other features.
It's a big price jump to the top-tier TRD Pro model, but the trim offers a good dose of added features.
TRD Pro models come with 2.5-inch Fox internal bypass shocks on the front and rear with tuned front springs, a cat-back exhaust, an aluminum front skid plate, P265/70R17 Nitto Terra Grappler tires, a JBL audio system, power moonroof and other add-ons.
SR5 and TRD Off-Road models get a high/low transfer case while top-grade Limited models are fitted with an electronically controlled rear differential.
All models come with a two rating of 5,000 pounds.
No matter the trim, the 4Runner's cabin is utilitarian with a dated appearance, hard plastics and cheap-feeling knobs and buttons. While that can be expected of a model designated to get be filled with muddy boots and dusty bums, it's hard to overlook when my TRD Pro test model came with a price tag over $52,000.
While its cabin lacks refinement, there are plenty of tech and features.
All models get an 8-inch touchscreen operating Toyota's easy-to-use but frill-less infotainment system with Android Auto, Apple CarPlay and Amazon Alexa connectivity, five USB ports and a Wi-Fi hotspot.
All trims get a pre-collision system, lane-departure alert, automatic high beams, a bevy of airbags and radar cruise control.
The cabin is also accommodating with plenty of room for adults with ample cubby areas. Third-row seating with a sliding second row is an option, but it cuts the cargo area to just 9-cubic feet. With the third row folded away, or without it, cargo volume is an impressive 47-cubic feet and up to 90-cubic feet behind the front seats.
Loading items in the cargo area can be a workout with the 4Runner's high rear deck, but a pull-out cargo deck is available to ease the burden.
When viewed as a tool for taming the outdoors or a toy for making them fun, the 4Runner is capable and practical. But its lackluster on-road characteristics and cheap cabin limits its appeal to anyone who stays on the beaten path.
Again, buyers interested need only ask themselves two questions.