To put some perspective on the potency of the 2021 Mercedes-AMG E63 S, it is powered by the same bi-turbo V8 that powers AMG's largest three-row SUV, the GLS 63 S, which is significantly larger, weighs over half-a-ton more and is ridiculously quick in its own way.
To slot that same engine in the E63 S is, well, a bit ridiculous. And I love it.
The E63 has eye-popping performance. With 603-hp on tap, it will rocket from 0-60 in just three seconds and on to a top speed of 186 mph. Its brakes have the stopping power of driving into wet cement, and it grips even the curviest of roads like it was riding on rails.
Meanwhile, it's loaded with luxury features with pristine fit and finish, the cabin is ultra-modern in appearance and it's practical for everyday use.
The E63 is, in short, a fantastic, hyper-sporty sedan.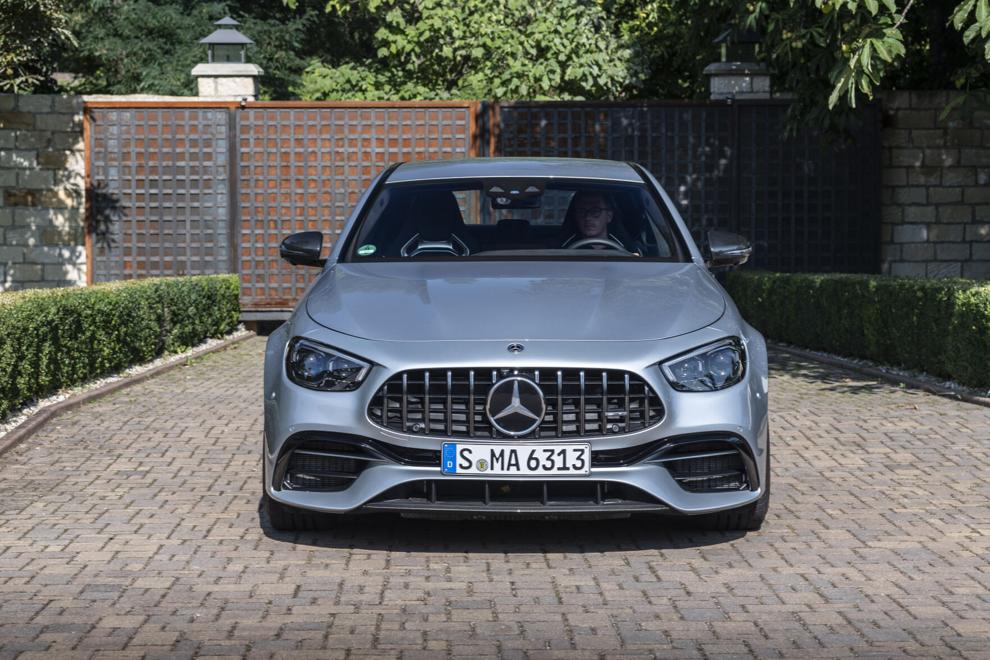 Power from the bi-turbo V8 is instantaneous and brutal. The huge dose of power is sent to all four wheels via AMG's 4MATIC+ permanent all-wheel drive system with variable torque distribution, but it definitely caters to the rear under acceleration and is happy to give its high-performance summer tires a workout.
For the truly brave, 2021 models are also fitted with a drift mode. I must admit, a drift mode with the 63's vicious power was not something I was brave enough to test on public roads, but given its overall performance, I don't feel like I missed out on any fun.
Gear changes from the AMG-specific "multi-clutch" 9-speed automatic transmission are lightning fast, and while paddle shifters are fitted, at no point did I feel they were necessary. In all driving modes, shifts are quick, smooth and smart. A wet clutch replaces the torque converter to save weight and increase responsiveness, and the system has a double-clutching feature. It is a gem of a transmission.
That aids the 63's acuity in corners, where it really shines. Sporting AMG Ride Control+ — with its multi-chamber air suspension and adaptive dampening system, a rear limited-slip differential, aluminum suspension components and independent wheel control — the 63 S a bona fide corner carver.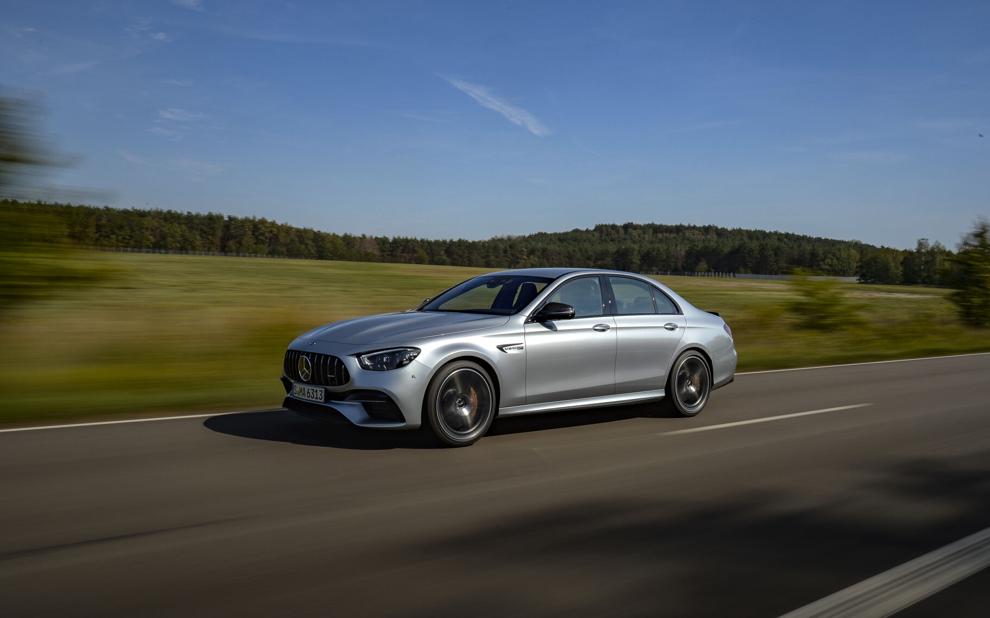 It provides simply astonishing level of grip and prowess through turns with nary a protest from the tires thanks to the supreme composure of the ride.
Between its power and handling, public roads, no matter how hard they are attacked, simply can't challenge the 63. The AMG dismisses even the curviest of mountain roads with ease, like Michael Phelps being challenged to a freestyle race against, well, me.
And all the while, there is a wonderful soundtrack coming from the adjustable, sport exhaust.
Though the 63's powerplant is fitted with two turbos, engine noise doesn't suffer. The V8 purrs, growls and bellows the type of tune that causes body hair to stand at attention. Its noise is so good, something else might be standing at attention when the engine is in the mid to high rev range.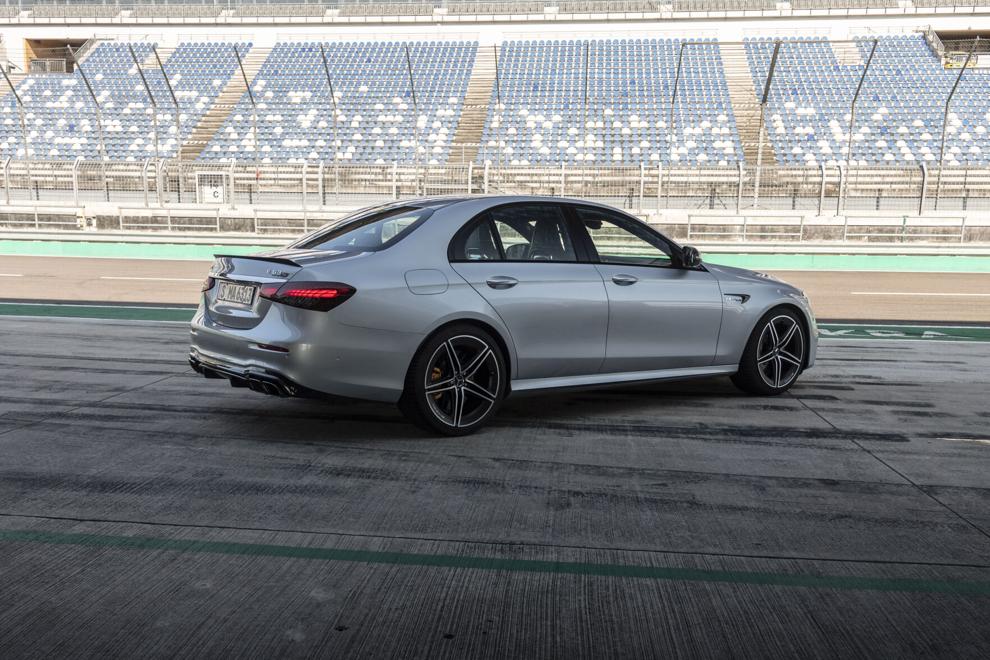 The sport exhaust is adjustable and can be changed either via a knob on the restyled steering wheel, or with a button on the center stack. But as far as I'm concerned, these buttons are useless — I never ran the 63 in its quieter setting.
When driven with gusto, the E 63 S has little competition. But what makes it stand out so well is its ability to comfort passengers on the mundane, everyday drive.
The 63 pampers passengers with rich amenities like supple leather, carbon-fiber trim and top-tier materials in a modern and stylish cabin.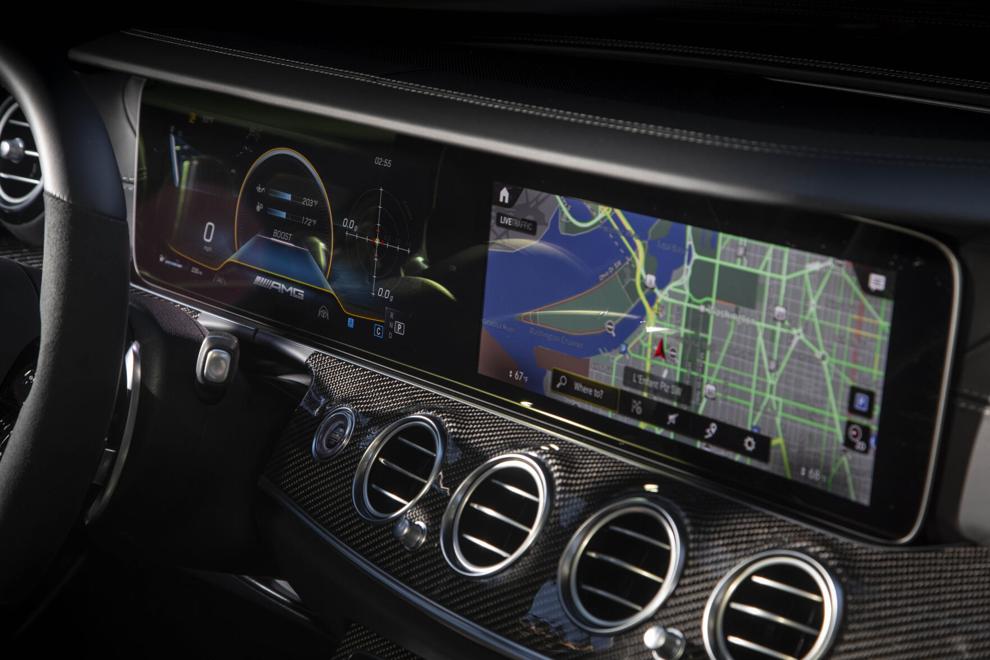 And though the 63 may be a snarling beast when called upon, the V8 is content to cruise around town without much drama. The lux cabin is also quiet and will easily accommodate four adults with a generously sized trunk.
Ride quality in the 63 is not as velvety as the standard E-Class, road imperfections will be felt, but it's not too harsh to be unusable on a grocery run.
Apple CarPlay, Android Auto and wireless charging are standard along with two 12.3-inch screens serving as displays for the gauge cluster and infotainment system. While there are knobs for inputs like climate control or driving settings, using most of the infotainment features requires using the touchpad system, which can be finicky to use. The revamped steering wheel also comes with touch controls and are similarly annoying to use.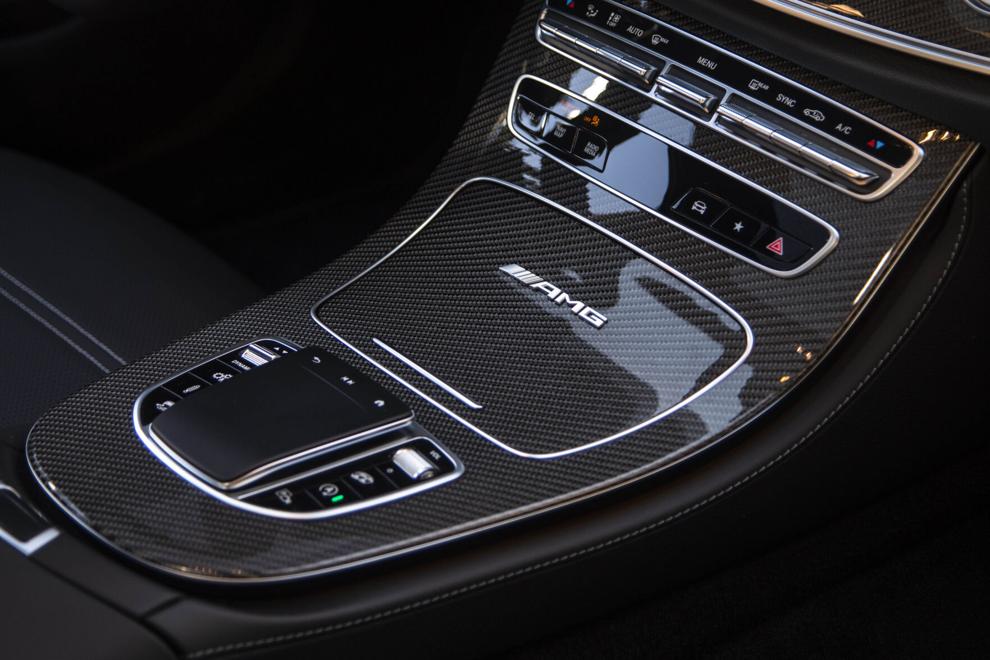 Overall though, the E 63 S is easy to love Still, there is an elephant in the room — its price. Models start at $108,550, and ticking off a few options, such as an upgraded Burmester Surround Sound system, head-up display, premium paint and the Driver Assistance Package with its loads of useful driver's aids, and the 63 will topple the $120,000 mark.
The 63's price tag brings into question whether it is worth the jump up from the E 53 sedan. Sure, the 53 is way down on power compared to the 63 with 429-hp on tap, but it presents a staggering cost savings of about $34,000.
According to AMG's online "build and price" tool, you can outfit a E 53 with every non-conflicting option — every single one, including premium paint and the most expensive optional wheels — and it still would come up about just short of the 63's starting price.
Is that worth the sacrifice in power? From the driver's seat, probably not. But it is certainly worth bearing in mind.  
Then again, it's hard to put a price on just how great the E 63 S is.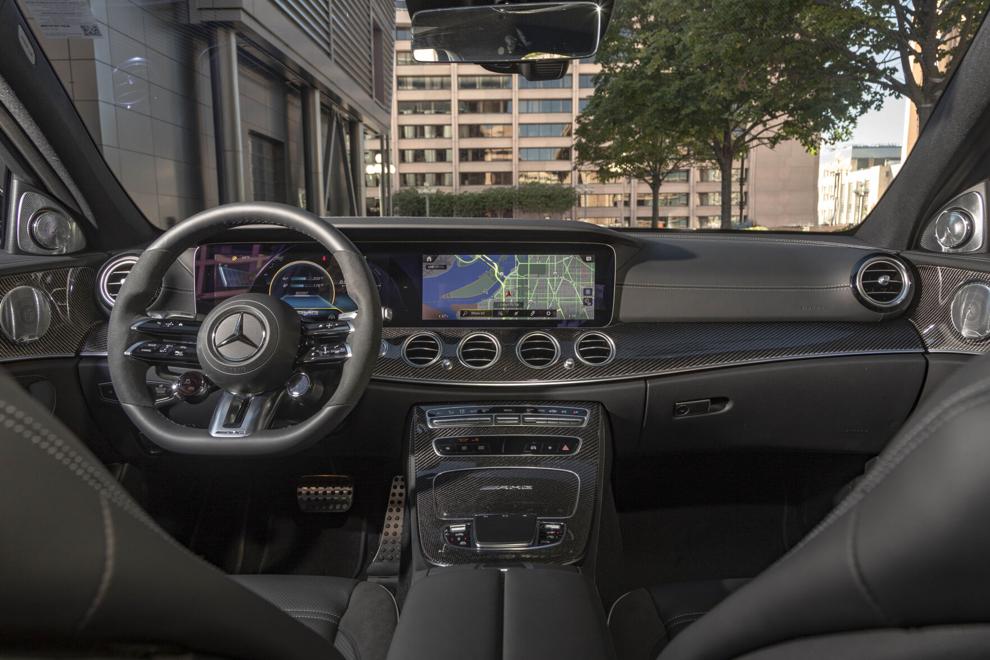 It provides incredible performance in an upscale, sumptuous package that hits all the right buttons whether it's taken through its paces or used to the drop the kids off at school.
The E 63 S is a gem of an ultra-sporty sedan.