JOHNS CREEK, Ga. — About two dozen children joined Daffodils 4 Hope Oct. 16 for a field trip with Johns Creek Convention and Visitors Bureau to plant 300 daffodil bulbs at Johns Creek City Hall.
Johns Creek Beautification was formed to enhance and preserve the natural beauty in common areas and public spaces through landscape improvements, environmental preservation and public works of art. Working with CanCare Atlanta, a community of cancer survivors, Johns Creek Beautification formed Daffodils 4 Hope to provide support and awareness for those battling and living with the condition.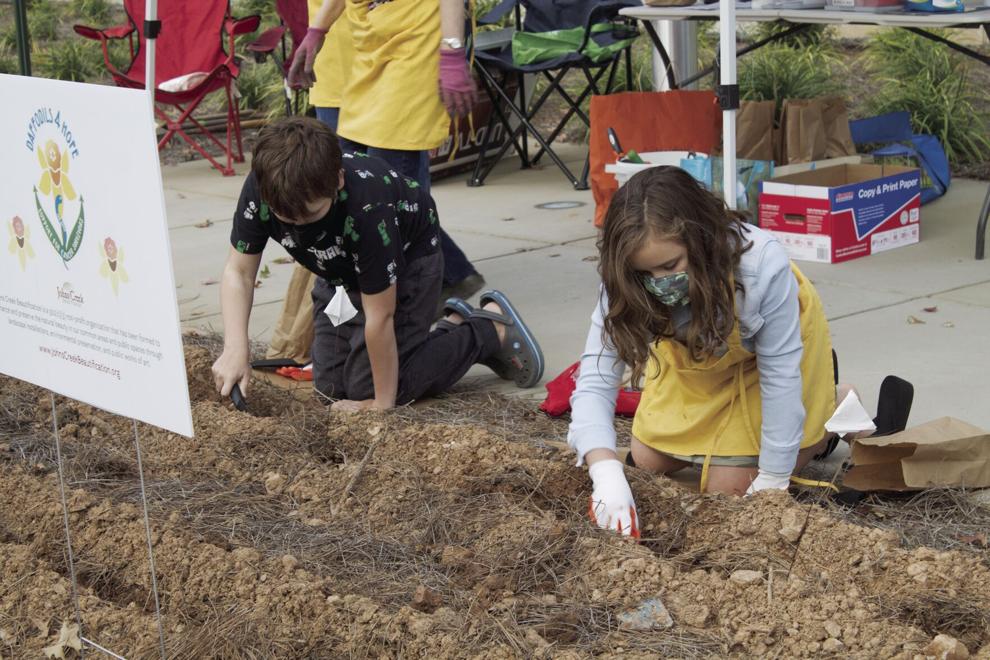 Marilyn Davis, coordinator for the Johns Creek Daffodils 4 Hope effort, said the daffodil has become a symbol of cancer survivorship.
"The daffodil regenerates and regrows each year in the spring," Davis said. "There are cemeteries where the daffodils have been blooming for 100 years. Not only are they beautiful, but they are everlasting."
The first step, Davis said, is to find a site for the plantings. Once City Hall was selected as a site for one of this year's plantings, the next step was to find a group to lend a hand.
The Johns Creek Convention and Visitors Bureau was at the ready.
CVB Executive Director Stacey Gross said the planting was incorporated into a newly developed series of field trips designed to bring kids out from behind their computers and experience hands-on learning in a safe outdoor environment.
"Education is a foundational pillar in Johns Creek, so the CVB wants to take this opportunity to show both those within Johns Creek and outside of our city limits the great history, art, science and memorials that are present here," Gross said.
The third step in the process is fundraising. Typically, the groups planting the bulbs do their own fundraising year-round.
The organizations buy the daffodil bulbs in bulk, Davis said. A thousand bulbs can cost around $400 and fill a space the size of a parking spot, or 200 square feet.
Before the children planted the bulbs, Dr. Neal Kuhlhorst, development officer for CanCare Atlanta, spoke about what the flowers mean and the gift that they were providing to cancer survivors and those battling cancer.
"CanCare provides the gift of hope to people fighting cancer that they can get healthy again," Kuhlhorst explained. "These bulbs that you're putting in the ground are going to become these beautiful flowers, and every year they're going to come back up. They are symbols of hope, which means that when we plant them, we believe and we hope that they're going to spring forward and they're going to blossom."
The Rotary Club of Johns Creek partnered with Daffodils 4 Hope for a dig on Oct. 24 around the Peace Pole at Emory Johns Creek Hospital. On Nov. 1, both Johns Creek Methodist Church and Johns Creek Presbyterian Church will sponsor digs.
Davis said another goal is to plant 58,000 bulbs at the Veterans Memorial in Newtown Park, one for every name on the Wall That Heals memorial.
Those wishing to learn more about how Johns Creek Beautification can bring the Daffodils 4 Hope program to their school, church or community group, can contact Marilyn Davis at marilyn@johnscreekcpa.com.
The Johns Creek CVB will host another field trip Nov. 13, the last scheduled outing until April. Parents can register for these field trips on the Johns Creek CVB Facebook page, facebook.com/visitjohnscreek.