JOHNS CREEK, Ga. — Poised for a Halloween like no other, about 40 Kingston Crossing residents lined up in costume Saturday evening, standing on colorful chalk pumpkins spaced 6 feet apart for the neighborhood's first-ever Halloween parade.
Soon after, a golf cart with two skeletons in its back seat began to drive slowly around Johns Creek's Kingston Crossing Circle, leading a tour of 78 houses.
Some kids carried plastic pumpkins, and others wielded toy weapons. Parents accompanied several of the younger children and took photos. Neighbors, dressed for the occasion, stood on their lawns — they rang cowbells and wished the paraders a happy Halloween. Several costumed dogs joined the day's festivities.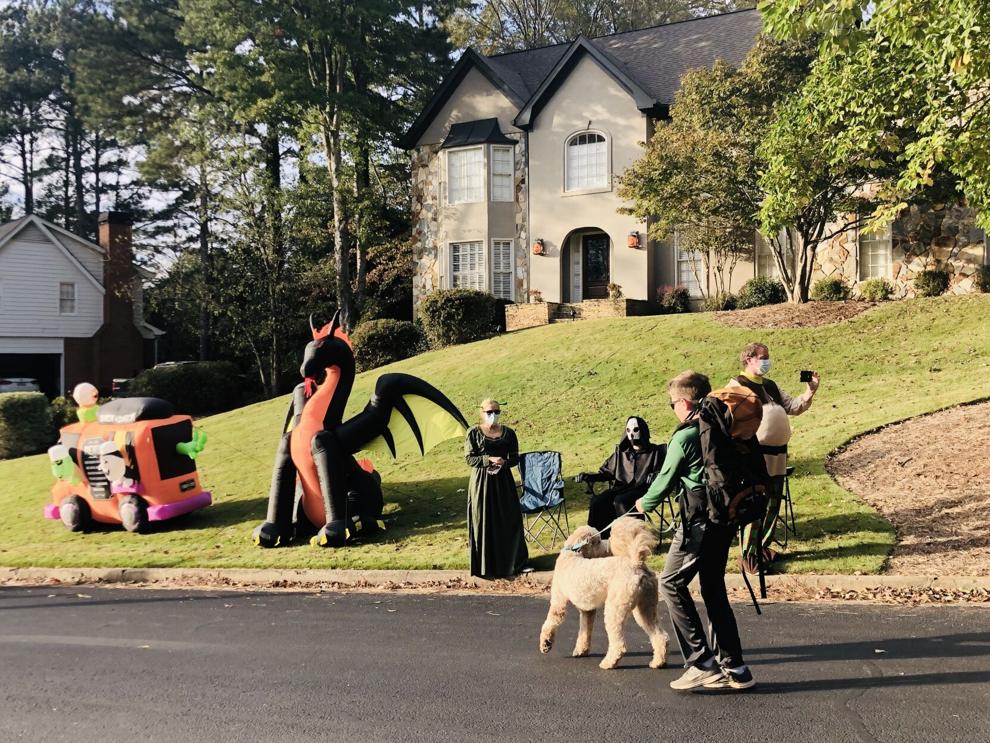 The night before, event organizer Tanya Deal sent residents a poem, from the Kingston Crossing Social Committee. An excerpt: "The candy is bagged, masks and costumes on hand / because our ghostly group of kids need some loving KC fans."
Neighbors bagged candy and placed it at various stations along the parade route. Clusters of siblings, families or close friends remained socially distanced as they marched around the neighborhood.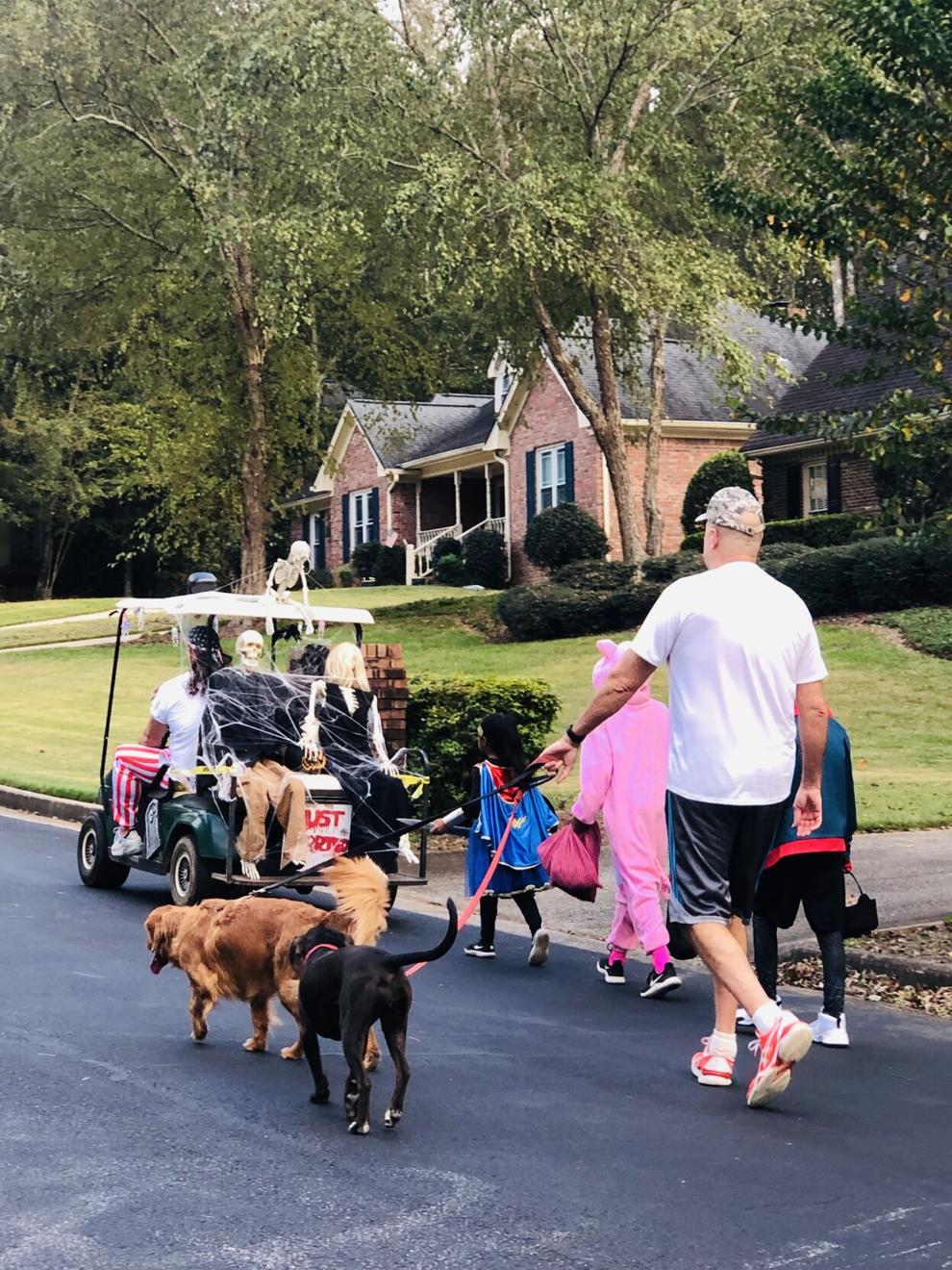 Christie King, whose family has lived in Kingston Crossing for eight years, said they usually have "a lot of trick-or-treaters." With suspension of traditional trick-or-treating this year, King said the parade "gives the kids something exciting to look forward to, especially when [this year] has been kind of a bummer."
King's son, Barrett, donned an astronaut suit for the parade.
"We go to different stops and collect candy," he said, adding that candy is his favorite part of Halloween.
Resident, Sheilah Cane said the parade has created a "neighborhood bond."
"It's more fun, because everyone's together instead of kids running from house to house," Cane said. "Having kids all together at once [makes] the difference in what we're going through right now."
Cane's two daughters were first in line for the parade, dressed as Wonder Woman and one of the "Three Little Pigs" — they said they usually go trick-or-treating, but that the parade was "fun" and "really good" too.
Neighbors donated candy and other supplies, manned candy and drink stations and sat on their lawns in costume to wave as the parade passed their homes.
Amy and Ron Owen, dressed as an "adult baby" and a Bubonic plague doctor.
"[The costumes] don't really go together, do they?" Amy posed.
The Owens have lived in Kingston Crossing since 2007. Ron said Halloween has always been a "big thing in this neighborhood," where families gather at their home and go trick-or-treating from there.
But Amy said that the parade is a good way for kids to do something with their families, too.
At the parade's end, neighbors passed out extra candy. Conversation, laughter, dog barks and festive music filled the air. Some residents began to walk home.
A one-toothed scarecrow in a purple dress and orange-and-black leggings smiled.