JOHNS CREEK, Ga. — Sounds of gunfire, screams and chaos rang through Johns Creek City Hall on July 19.
But there wasn't any danger.
The gunshots and screams were all recorded or reenacted, and the chaos was all on video, played to a about 50 people in the City Council chamber assembled for a Johns Creek Police Department course on how to respond to an active shooter event.
Police Public Information Officer Lt. Deb Kalish, who served as instructor, said last week's class was one of the best turnout's they've had.
"Normally, I might get half of the people that show up, that actually sign up," Kalish said. "It was a packed house, and people were really interested. The more people I can teach how to respond, the better."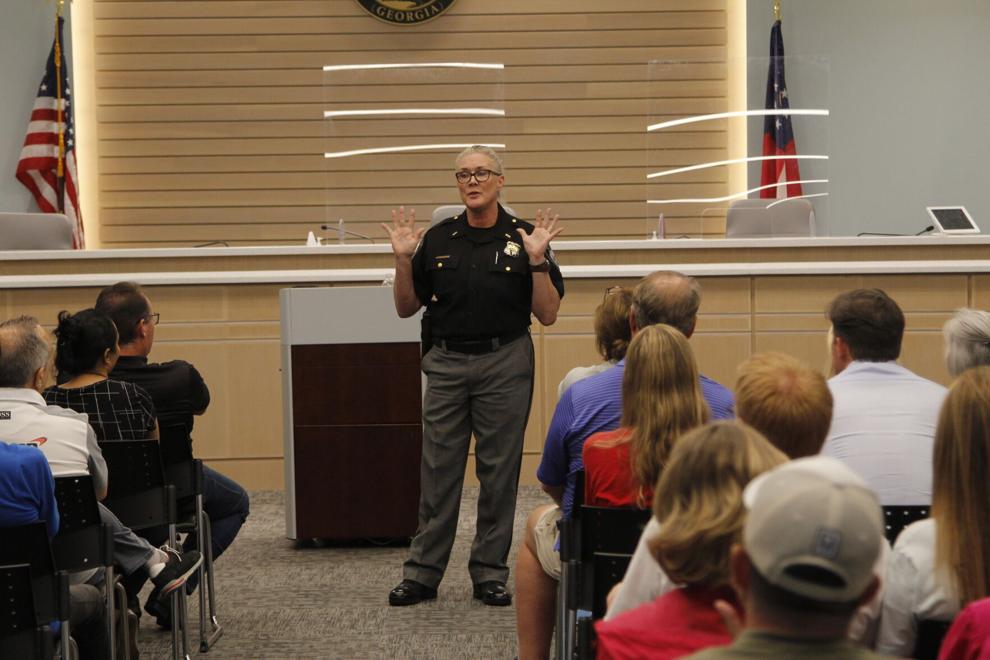 Kalish said they always have a bigger turnout when there are active shooter events in the recent months, as people become more concerned about the safety of their family and coworkers.
"I always say, 'it doesn't matter until it does,'" she said.
The class is based on the nationally recognized Advanced Law Enforcement Rapid Response Training (ALERRT) system, which prioritizes action by all involved in an active shooter situation. It differs from other, more conservative systems taught nationally in the past.
Here are some of the top takeaways from the Johns Creek Civilian Response to Active Shooter Events Class.
Decisive action is your priority
Kalish said the most important takeaway from the ALERRT system is that it's up to each of us, to break through the fear and stress that accompanies a disaster situation or active shooter event, to get people moving and out of danger.
That decisiveness is hard to find sometimes, she said, because social proofing – the natural human response to look at what others are doing and model our behavior after them – can get in the way and make us wait for others to act.
But as soon as you realize what's happening in an active shooter event, it's your responsibility to get people moving and out of danger.
"When something happens, you need to get others moving, to stand up and say 'let's go' and get them moving in the right direction," she said. "Decisiveness. Get people moving and get them out."
Denial can be overcome
To start the class, Kalish played several clips from the 1999 Columbine High School massacre, some real and some simulated, to illustrate to the audience what being in an active shooter situation is like.
One clip contained audio of a teacher who was on the phone with 911 and had been shot.
Kalish said the teacher didn't immediately realize she had been shot and told 911 that the shooting and guns were part of a film production, because she was in denial of what was happening to her.
That sort of response is common, Kalish said. People should also expect a dramatic increase in their heart rate, tunnel vision, diminished hearing, a slowed perception of time, memory loss and false memories – all part of a person's fight or flight response.
In these situations, Kalish recommends using a technique called "Combat Breathing," slow four- second inhales and exhales, to control heart rate.
"You're going to be scared, you're going to be more scared than you've ever been in your life, rightfully so," she said. "You have to switch that emotion, shift it to anger."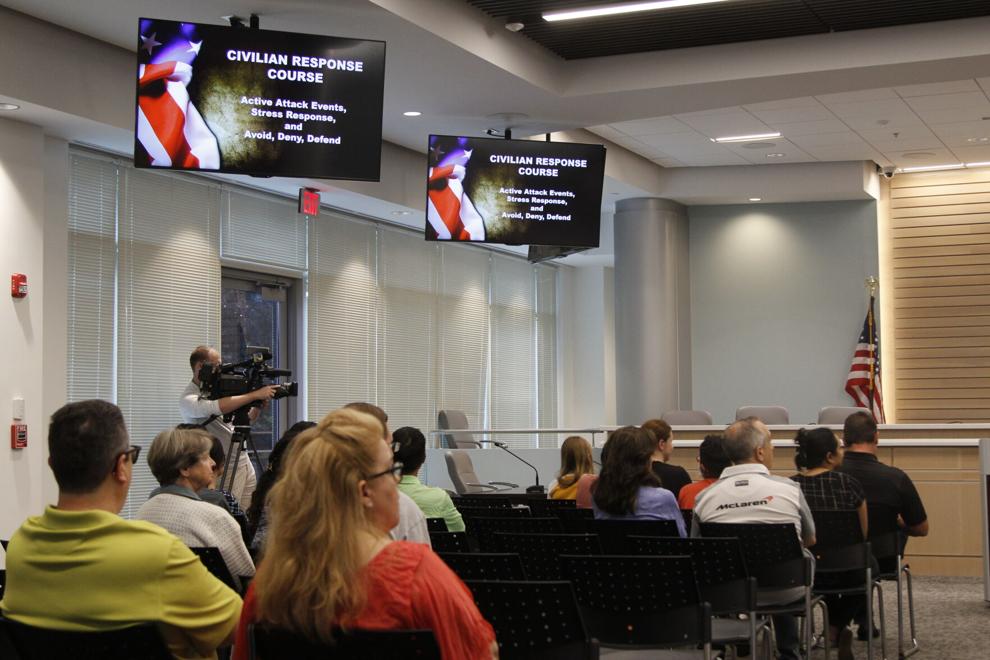 Avoid, Deny and Defend
Kalish said that the ALERRT system is built on the principals of Avoid, Deny, Defend, which means that you aren't going to hide and wait to be saved in an active shooter situation.
"I do not want you getting down and getting under the table and hiding," she said. "Playing dead is not an option in an active shooter situation. Hiding and holding is not an option."
Kalish said that your only options in an active shooter situation are to Avoid – to get as far away as possible by whatever means possible; Deny – to deny the attacker access to victims by barricading them away; and Defend – to fight the attacker like your life depends on it.
"I want pens and pencils coming out of eyeballs, their necks, their ears, their throat everything. You've got to stop them with whatever you have," she said.
Have a plan
Kalish said that on average in the United States, it takes police three minutes to respond to an active shooter situation, so anything you can do to keep wounded people stabilized, will help save lives.
Most important on that list, she said, is stopping serious bleeding however you can.
Kalish recommends people get trained on how to use first aid kits, tourniquets and AEDs, and to keep them stocked in their homes and businesses.
"Because if something happens, you only have a couple minutes to save your coworkers life, before they bleed out," she said. "You can do things to save their life until we can get them the medical attention that they need."
Along with the equipment, you should also have a plan for yourself, your family and your business on what to do during an emergency, she said. That plan should be readily available and known to everyone.
Kalish said it also doesn't hurt to have pepper spray or another form of self-defense, but only if you know how to use it and train with it regularly.
"If you're going to carry any kind of weapon, you need to train," she said.
For more information on the Johns Creek Civilian Response to Active Shooter Events Class and sign up for the next session, follow the police department on Facebook and look out for event notifications.