JOHNS CREEK, Ga. — Roughly 100 residents and local officials made their way to The Standard Club Sept. 23 for the first formal City Council candidate debate of the season.
Mayoral candidates Brian Weaver and John Bradberry primarily discussed issues on which they generally agree, addressing the town center plan and stormwater. The two diverged on some past issues regarding public safety and department leadership.
Since the city's inception in 2006, residents and officials have discussed a potential town center for Johns Creek reminiscent of those in surrounding Alpharetta and Duluth. Fifteen years later and the wheels are officially in motion. A plan for the town center will be presented and discussed at the city zoning board's next meeting.
Weaver and Bradberry both expressed support for the town center during the debate Thursday evening, but they had differing visions for what role the center would play and what exactly it should include.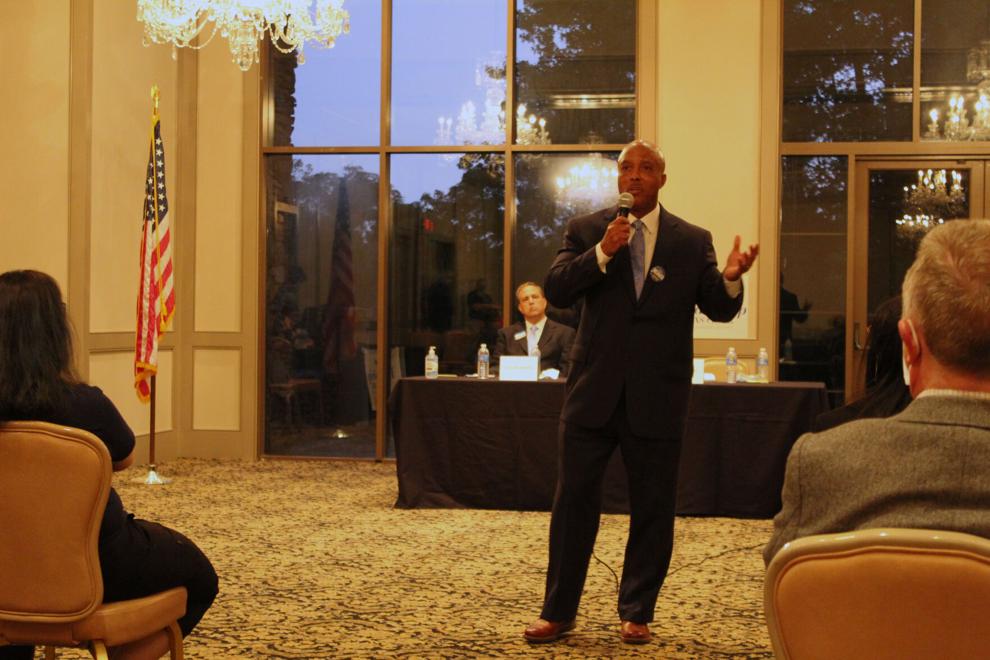 Former City Councilman and retired major in the Johns Creek Police Department, Weaver painted a picture of a town center featuring a five-star hotel, retail shops, a performing arts center, housing and a park.
Post 3 City Councilman Bradberry's vision was similar, picturing restaurants and retail, the same performing arts center, a place to "grab a beer and watch the game," but with less housing and no mention of a hotel.
Bradberry shared his anti-density views, saying an increase in housing and affordable housing in particular would change the character of the city and overwhelm local school districts. He said he viewed the town center more as an amenity for existing residents rather than a draw for newcomers.
Conversely, Weaver left the door open for many forms of new housing within the town center, but he said it would be up to residents and the City Council to make a final determination.
Bradberry also said he would like neighboring Forsyth County to foot a portion of the Johns Creek town center bill. He provided no details on how he would negotiate an agreement.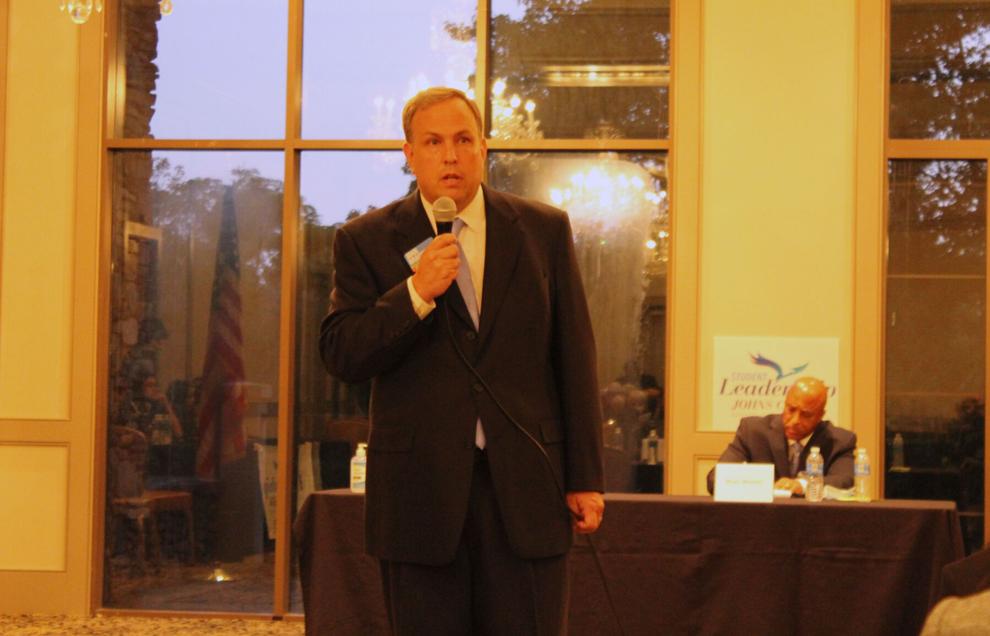 Both candidates discussed the issue of stormwater, claiming progress with the recent formation of a stormwater utility.
The stormwater ordinance allows the city to collect fees from residents based on the amount of impermeable surface they have on their property. It also awards credits based on runoff mitigation efforts. Both candidates supported the measure when it passed on June 21.
Weaver called the issue of stormwater "horrific and devastating," but said he was proud of the recent efforts of the city to quell the rising waters. He specifically mentioned the utility and the recent hiring of three people who will focus solely on stormwater management and improvements.
Both candidates said they consider public safety a priority for the city and their individual campaigns.
During the debate, candidates discussed the city's settlement with former Police Chief Chris Byers and its impact on the department and the city.
An investigation concluded that Byers had violated the city and departments' sexual harassment and conduct policies. He then settled with the city for $325,000 in August 2020.
Bradberry voted in favor of the settlement and defended his position during the debate, citing advice from the city attorney and a desire to help the city move on.
"The real thing that was invaluable was that the police department was able to heal, we were able to move on and we were able to get permanent leadership," Bradberry said.
Weaver, who voted against the settlement, said it had the opposite impact on the city's police department.
"You talk about healing in the police department," Weaver begins. "That was not healing. That was one of the worst things that could've happened because it ripped the police department apart. You tell them that there are policies in place, rules in place to follow … but then you let this one individual who had been in the position for only three months get away with it."
He continued, saying the correct decision would've been "showing [Byers] the door," instead of settling.
When asked how he would help integrate the police department with the community, Weaver referenced a program he called Johns Creek Explorers and a tuition reimbursement program for Johns Creek public safety officials. Bradberry lauded recently appointed Police Chief Mark Mitchell's efforts towards "community policing."
Pandemic-related issues also were addressed during lightning-round portions of the debate wherein candidates had to provide yes or no answers to questions.
Asked whether they would support a mask or vaccine mandate if advised by public health officials, Bradberry said he would not support either, and Weaver said he would support both.
On Sept. 30 all nine City Council candidates vying for Posts 1, 2, 3 and 5 are scheduled to debate at The Standard Club. The event will begin at 6 p.m.
For more information on the debates, visit studentleadershipjohnscreek.com.
Early voting begins Oct. 12 and Election Day is Nov. 2.