JOHNS CREEK, Ga. — After 15 years and four terms in office, Johns Creek's first and only mayor, Mike Bodker, will officially step down at midnight on Jan. 1, turning over the reins to Mayor-elect John Bradberry.
Dozens of community leaders gathered at Country Club of the South Nov. 18 to hear the mayor's final address.
"Here we are so many years later, and I still feel so humbled to have been entrusted with the great honor and responsibility since the inception of our city," Bodker said.
City staff put together a handful of videos for the occasion, showcasing the growth of Johns Creek under Bodker's leadership as well as making some final playful jokes.
The word of the day was gratitude. Community leaders and friends of the long-time mayor shared memories and thanked Bodker for his decade-and-a-half in elected office.
Bodker reciprocated, spending the majority of his address thanking the many individuals he worked with both before the city was incorporated in 2006 and in the 15 years since.
"With my term coming to a close, I've reflected on this journey, and I am so thankful for all the help that I received along the way," Bodker said.
At the Thursday morning event, Georgia State Sen. John Albers (R-Roswell) awarded Bodker with a proclamation from the Georgia Legislature honoring him for his years of service.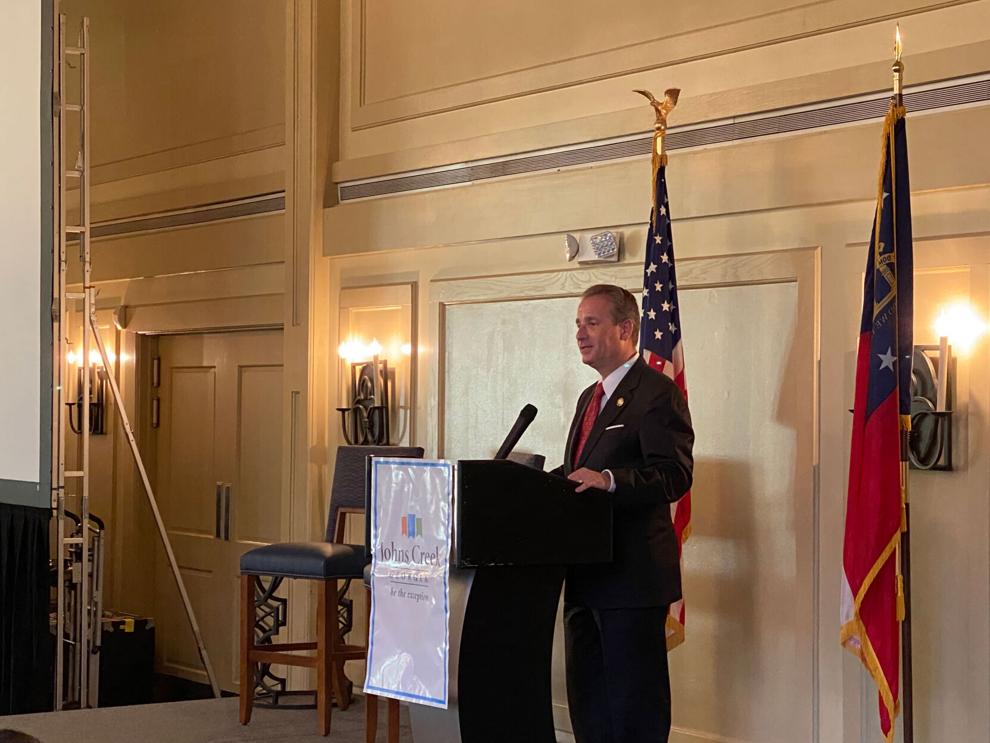 Fulton County District 1 Commissioner Liz Hausmann also presented Bodker with a proclamation on behalf of the county for his work as Johns Creek's mayor.
During his address, Bodker touted improved quality of life, partnership with local schools and increased public safety as his most prized accomplishments of his tenure.
"We've accomplished critical success and further elevated Johns Creek to the exceptional city that it is, let's continue to work together," Bodker said.
CBS46 Anchor and Johns Creek resident Karyn Greer introduced Bodker before his address and facilitated a Q & A after his remarks.
For her last question, Greer asked Bodker to share his advice for the city's mayor-elect John Bradberry.
The first piece of advice, Bodker said, was "patience." The second, "don't keep score."