JOHNS CREEK, Ga. — Georgia veterans, their families and friends, were honored Saturday at the induction ceremony for the Class of 2020 Georgia Military Veterans Hall of Fame.
This 8th annual ceremony was delayed due to COVID from November 2020. The ceremony has in the past always occurred at St. Luke's Ministry Center in Columbus, Ga.
The Johns Creek Veterans Association and the City of Johns Creek helped co-host and sponsor the event so that it could take place in The Mark Burkhalter Amphitheater at Newtown Park.
The park is also home to the 4-acre Veterans Memorial Walk and the Wall That Heals. The walk features a trail with black, granite monuments recognizing each conflict involving American armed forces since World War I. It also includes special monuments to Purple Heart recipients, POW/MIAs and women in service.
"This city is a very patriotic city, it's a Purple Heart City," Col. Rick White, director and chairman of the board for the Georgia Military Veteran's Hall of Fame, said. "It is home to the largest privately funded veteran's park in the United States."
The 2020 class was made up of 16 veterans who were honored for service, valor and achievement.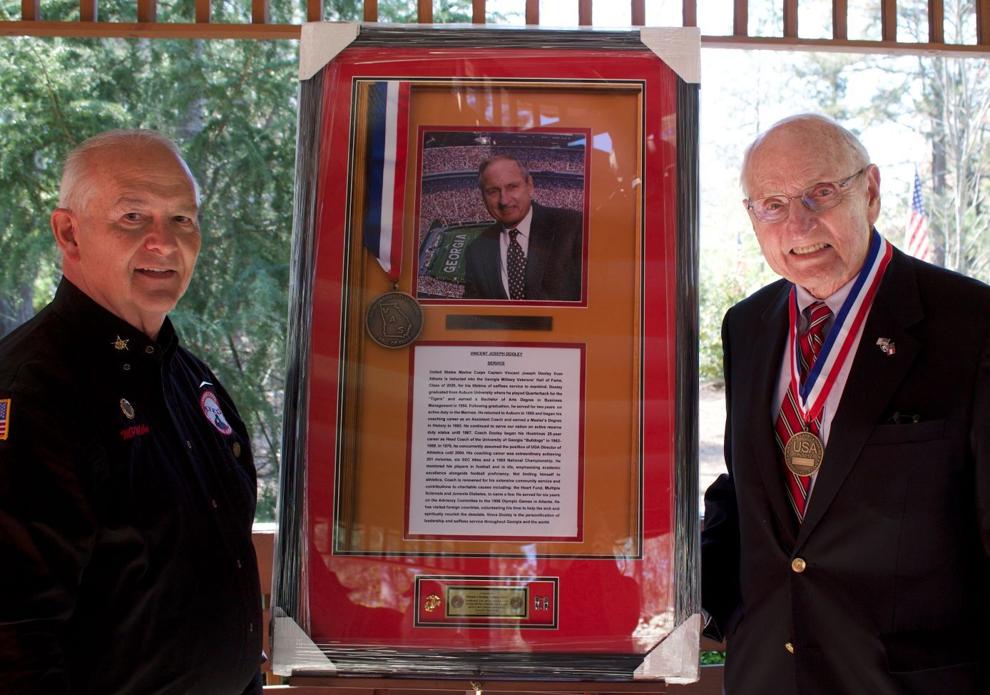 Five of the inductees honored Saturday had been killed in action or were inducted posthumously. 1st Lt. Alexander Bonnyman Jr. and Maj. Charles Livingston Kelly were killed-in-action, and Master Sgt. James Rylance Greene, Rear Adm. Irve Charles "Chuck" LeMoyne and Lt. Gen. John Nicolas McLaughlin were inducted posthumously.
An honor bell was rung as these men were inducted, and family and friends accepted the awards in their place.
Col. Robert Shane Kimbrough was also unable to attend the ceremony because he is in a quarantine before his third space mission this month as commander of SpaceX Crew 2. Kimbrough has logged 39 hours of spacewalking time in 189 days in space. He received his induction for achievement.
The Navy Junior Reserve Officers' Training Corps, or JROTC, of Allatoona High School, assisted in the ceremony. They posted the colors and presented each inductee plaque.
Col. Rick White said that their involvement during the ceremony gave him faith in the young people of America.
"One quick thing about JROTC, it's about leadership," White said. "And the U.S. military is a vehicle to teach leadership, they're doing great things for America."
Among those inducted into the 2020 class was legendary University of Georgia football coach Vince Dooley. Dooley joined the Marine Corps for two years in 1954 and then reverted to reserve status until his honorable discharge in the rank of captain in 1967.
Around 20 of Coach Dooley's previous football players showed up to support him including some from his 1980 National Championship Team.
The Georgia Military Veterans' Hall of Fame is working with Dooley to create a scholarship for JROTC students in Georgia.
Last year, the Georgia Military Veterans' Hall of Fame awarded five Georgia ROTC students with the intention of going into military service upon graduation with $3,000 scholarships.
"When you have 200 to 300 ROTC cadets around the state that competed in a program physically and mentally and then you can only give five scholarships, it kind of hurts," Lt. Col. Mike Mizell, president of the Johns Creek Veterans Association said. "We'd love to give them all one."
Mizell said that they hope that having Dooley join the effort will bring more attention to the scholarship program. He said they hope to implement the Vince Dooley Memorial Scholarship Fund for ROTC candidates by this fall.
The other inductees of the class of 2020 include Capt. John Daniel Allen, Maj. Gen. Peter James Boylan, Jr., Col. Earnest Wayne Dill, Col. Mayo Addison "Bill" Hadden, III, Capt. Edward "Rusty" Holman Hightower, Chief Warrant Officer Robert "Bob" Edward Pennington, Lt. Col. John William Phillips, Sgt. Maj. Michael Earl Roby and Capt. Dr. James Llewellyn Story, Jr.