JOHNS CREEK, Ga. — The Johns Creek City Council honored five police officers Nov. 7 for their efforts in an August homicide investigation that resulted in murder charges against a man accused of killing his wife.
Council Chambers were packed with the officers' families as city officials applauded Johns Creek Police Sgt. George Hodge and officers Troy Morgan, Dominique Nguyen, Bradley Rosenquist and Shafaa Sammander. 
Johns Creek City Manager Ed Densmore introduced the award presentation.
"There's moments that you're faced with," Densmore said. "When those moments come, you can either let that moment define you or you can choose to define that moment. And that call came in, those officers that responded chose to define that moment."
Densmore, with a shaky, emotional voice, praised Hodge for his leadership. He said Hodge's guidance allowed those officers, along with training, to handle the incident in an "outstanding manner."
Johns Creek Police Chief Mark Mitchell presented the Police Cross awards, worn on Class-A uniforms. He said none of the police officers sought special recognition for their work.
"They serve this city with a purpose, and they definitely had a purpose that day," Mitchell said, "in serving the citizens that were involved in that incident, in the community and each other."
The incident 
Police records say Officer Morgan responded to a shooting on Bramshill Drive in Johns Creek Aug. 23. En route to the scene, radio dispatch informed him that a female caller was in possible danger after she called to say her husband made threats to shoot her and himself. 
When he arrived, Morgan noticed the front door was open. Officer Rosenquist was already at the scene attempting to pull the suspect, later identified as JC Rayo-Mancilla, outside to make contact. While Rosenquist commanded Rayo-Mancilla to exit, Morgan heard a "single bang" inferred to have been a gunshot. 
Rayo-Mancilla fell to the ground, face covered in blood. After Rosenquist removed Rayo-Mancilla from the home into the roadway to receive medical attention, Rosenquist along with Morgan and Nguyen approached the residence. They cleared the first floor, forming the "single stack method" which uses a shield as the primary cover from oncoming threats, then proceeded to the second floor. 
At the top of the stairway, Morgan noticed a woman lying on her back, later identified as Tania Rivera. Rivera, wife of Rayo-Mancilla, was pronounced dead on scene. Police also found a family member of Rayo-Mancilla in the home, but hewas not injured in the shooting. 
Rayo-Mancilla was charged with murder and two counts of aggravated assault. A preliminary hearing occurred on Sept. 30. As of press time, no further information could be obtained. 
In other action Nov. 7, the City Council recognized Johns Creek Police Sgt. Ronnie Young as the Gold Medal Winner at the 2022 World Police Fire Games in the CrossFit Event. Densmore said he's known Young for 25 years and he is "one of the most humble people," one time nicknaming him "Hollywood" as the antithesis of the idea.
"True to his nature, he sought no recognition," Densmore said. "I felt it was very, very important to recognize him not only from [the City Council] and the community, but his peers."
Cauley Creek Park update
At the City Council's work session preceding the formal meeting, city staff provided an update on Cauley Creek Park plans. City Engineer Erica Madsen discussed a 10-acre property along the Chattahoochee River, acquired after the conceptual master plan for the park was created. 
The property includes five buildings, which would all require renovation before reuse. The City Council discussed four types of development set for the property — special event space; dining additions (restaurant and café); restrooms, bike rentals, pickup/parking; and an elevated walkway.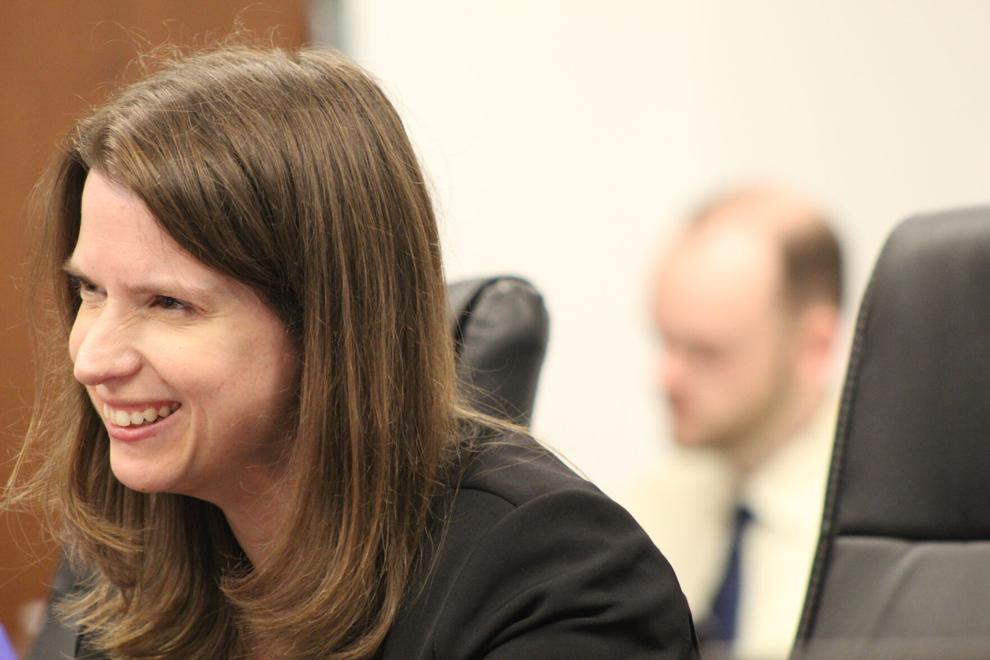 Councilmembers also discussed additional amenities for the area, including outdoor games, a demonstration garden, a colonnade space, nature engagement, and a spray and mist pad.
Direction from the City Council will eventually be integrated into the Recreation and Parks Strategic Plan update, which will involve community feedback. While there were some questions and concerns about intended uses, councilmembers agreed the plan is moving in a positive direction.
Assistant City Manager Kimberly Greer led discussion on the water reclamation plant, previously marked for two main uses — a makerspace and a space for robotics. Greer said she wants to lean into the robotics community.
"It's one of the strongest groups without a home that we have right now," Greer said.
Councilman Larry DiBiase voiced a need to have a balance among all potential uses to satisfy multiple community needs. 
But Mayor John Bradberry said the council needs to be realistic.
"I don't think we're going to be able to be everything to everybody, at least not immediately," Bradberry said.
For next steps, Greer plans to meet with a robotics team as well as host broader focus groups.
"Some kids go out back, and they throw the football," Greer said. "Some kids are in the corner in the basement making really cool amazing creations that they try to get to fly or to drive or to move. And that is a really valid and important part of recreation, that at this point, we haven't really captured — you're getting to do that with this project."