JOHNS CREEK, Ga. — After months of heated discussions, the Johns Creek City Council voted Nov. 15 to end its contract with the city's Convention and Visitors Bureau.
The vote was 4-3, with Erin Elwood, Chris Coughlin, Stephanie Endres and John Bradberry in favor. Mayor Mike Bodker joined council members Lenny Zaprowski and Stacy Skinner voting against.
Before the official vote, Bodker urged the council to push the decision until January, after three more newly elected members of the City Council are sworn in. Bodker also said he would consider using his mayoral veto.
However, after pushback from Elwood who argued the debate did not need to carry into the new year, Bodker relented, saying he may reconsider at the next council meeting.
Council members first began working with staff to update the existing agreement with the Visitors Bureau at a Sept. 13 work session. At the time, one of the key issues centered around an accusation that the CVB had not abided by Georgia Sunshine Laws which govern open meetings and records.
Before a subsequent Sept. 27 work session, Councilwoman Endres went a step further and called for terminating the agreement entirely, but that effort failed when the council voted 4-2 to continue negotiations.
Since then, the city manager's office has worked to hammer out an agreement, and the latest draft was scheduled for consideration by the City Council Monday night.
Elwood cites economics
In her motion to terminate, Elwood said the latest contract draft was insufficient, and the financials supported ending the contract.
"When I consider this, I really regret any part I played in escalating the emotional hostilities between the city, council and members of the CVB board, but it is also an economic decision, it is an efficiency decision," Elwood said. "And as we bring on an economic development director and a brand-new council tasked with bringing forth the town center, we need to be completely in concert, and we need to be focused and strategic."
Elwood said she thinks the city has "outgrown" the outsourcing of economic development and is ready to take on its own tourism promotion.
In seconding Elwood's motion, Endres said she was "very disappointed" in the situation.
"What started as some basic questions of the city attorney has turned into a pretty chaotic temperament," Endres said.
Endres first raised questions about the CVB's compliance with Georgia Sunshine Laws in 2019, she said.
The situation escalated last April when the CVB filed an ethics complaint against Endres alleging harassment over a seven-month period beginning in September 2020. The CVB charged that Endres had threatened to defund the CVB if it did not amend its bylaws to comply with what she determined were deficiencies in observing with the Sunshine Laws.
The ethics complaint was closed June 1 with a finding of no wrongdoing on the part of Endres.
Endres renewed the argument at the Nov. 15 meeting.
"Again, what's the argument?" Endres said. "What's the fight? Its transparency is what we're here for."
Volunteer service touted
Councilwoman Stacy Skinner refuted Elwood's points, saying she saw the situation differently, and she pushed for an updated agreement. Because the CVB board is made up of volunteers, she did not agree the service should be brought in-house.
"I think we need to utilize the volunteers that we have," Skinner said. "I would really like to see clear expectations laid out in the new contract, and if there are issues with that then the new council can deal with it, but I think we need to wipe the slate clean."
But that plea proved fruitless when council members Coughlin and Bradberry said they'd had enough.
Coughlin cited economic efficiency, increased transparency and accountability. He referenced conversations with the CVB about the contract and said that the organization failed to keep discussions amicable and "without histrionics" as he had requested.
"We don't need to bring this [drama] here and separate us from priorities," Coughlin said. "And finally, it will provide accountability for the council. This will be ours to own and there has to be accountability for that purpose. Taxpayers don't have accountability for the CVB at the moment."
Coughlin also cited a case in early 2019, when he had disagreed with the CVB's use of funds to establish gateway markers around the city. He said it was not a wise use of taxpayer dollars.
"There's an oxidizing agent on the current sign at Kimball Bridge and State Bridge," Coughlin said. "So, the gateway marker was built without the material we're supposed to use to prevent rusting. We have rust dripping down the sign. … So that is not a good look for a sign we paid $65,000 for."
After voting against the gateway markers project, Coughlin received heated text messages from CVB Chairwoman Lynda Lee Smith which were documented in the Nov. 15 City Council meeting agenda packet.
Swing vote falls to Bradberry
Councilman Bradberry, who will be sworn in as mayor in January, then spoke in favor of ending the contract.
"This has evolved into a proxy battle of sorts, with high emotions on both sides, and that's certainly not the best way to govern or make decisions," Bradberry said.
Bradberry also cited the town center as a driving force behind his decision. All the City Council candidates from the Nov. 2 election, he said, agree that the town center is an important initiative for the community.
"It's going to be a big nut to crack, and it's going to require us firing on all cylinders and rowing in the same direction to get this done and to get it done well," he said, adding that "being smart and making the tax dollars go as far as possible is more important than ever."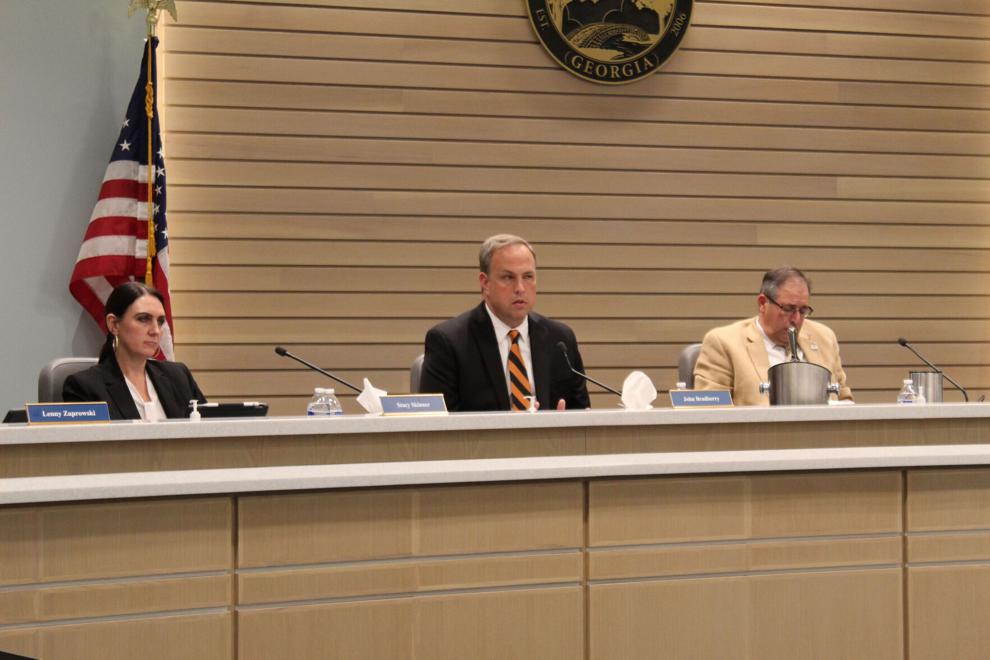 Zaprowski was in disbelief.
"Just when I thought this council couldn't hit a new low, we're here," Zaprowski began, criticizing Bradberry's shift in position from earlier meetings.
He also took after the others who favored ending the contract.
He accused Endres of "going rogue" in her investigation of the CVB, and he charged that Elwood's vote ran counter to sentiments she expressed in an earlier letter in which she had offered to resign as council liaison to the agency after it threatened her with an ethics complaint.
Zaprowski also praised the CVB's work over the past 10 years.
"You guys know what you're doing and you're vested in this work," Zaprowski said. "I'm beside myself right now."
Bodker charges 'hypocrisy'
Finally, Bodker decided to weigh in.
He said the CVB board members had been mistreated and he did not appreciate the leaking of text message screenshots between Lee Smith and Coughlin which he alleged started the "histrionics."
"This thing has been full of hypocrisy from top to bottom, and we treated a partner like crap," Bodker said.
Bodker said he would consider vetoing the measure at the next council meeting, Nov. 29.
A mayoral veto effectively kills a measure unless it is overridden by a vote of at least two thirds of the council members within 60 days of the veto. The mayor can count as one of the five votes needed out of seven.
Immediately following the council's vote, CVB Chairwoman Lynda Lee Smith shared her "disappointment" with several members of the City Council and her "embarrassment" for the city as a whole.
"This (termination) is an embarrassment to our city and who we are, and our neighbors are laughing right now if they're watching this meeting," Lee Smith said. "Roswell, Alpharetta, Suwanee, Cumming, they're all laughing, Duluth is laughing because they know this is a step backwards for our city."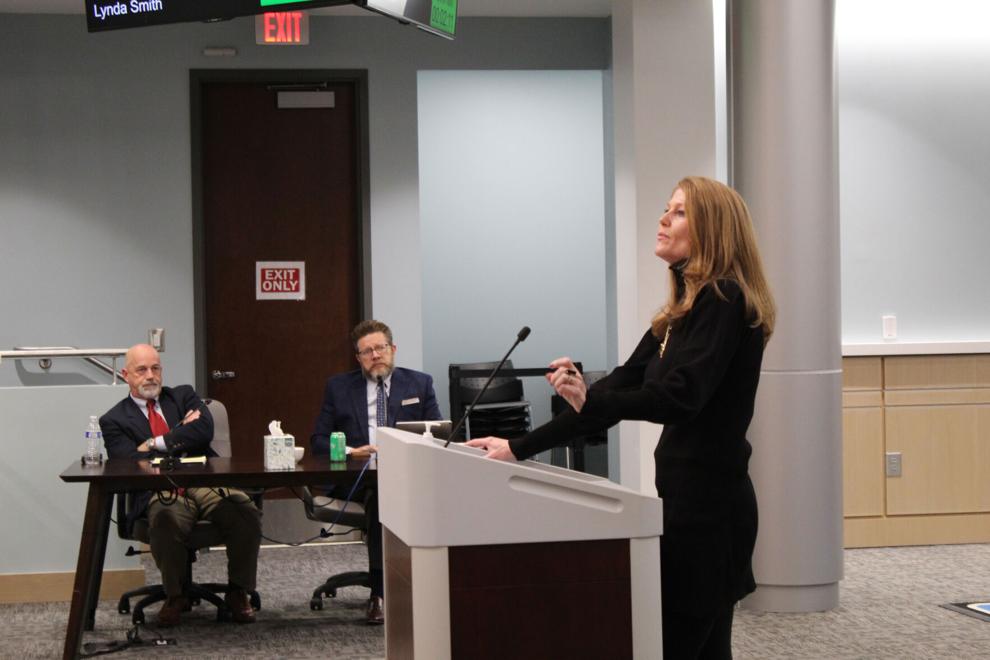 She said the termination insults CVB board members.
"This is the disrespect you give them for all of the hard work, their dedication," Lee Smith said, adding she hopes the newly elected council members will act differently after they are seated.
Monica Gilroy, legal counsel for the CVB, also delivered public comment Monday evening calling the City Council's decision "disgusting."